The Buzz Behind Spike's New Anticipated 'Teams' Solution Going Head-to-Head with Slack
The proliferation of digital communication tools in recent years has enabled organizations to establish seamless and efficient means of connecting with their entire workforce.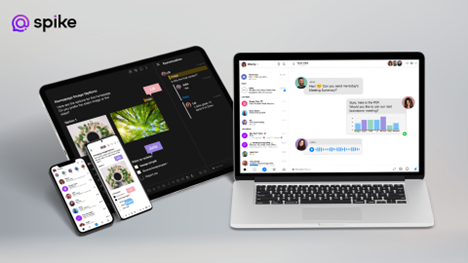 The convenience and flexibility of these tools have been particularly beneficial in the post-pandemic era, where remote work and digital workforces have become the norm. However, they also come with several hiccups that are often overlooked.
One of the most significant challenges is the constant switching between different applications and contexts that users must undertake to carry out their daily tasks. This can include switching between email and chat apps, or between different video conferencing platforms. This constant task diversion can lead to gaps in productivity and workflow disruption, as well as increased mental fatigue and decreased focus.
Recent metrics have highlighted the extent of this problem. A survey conducted by Asana found that 42% of respondents reported spending more time on email than they did one year ago, while 40% reported spending more time on video calls. Furthermore, 52% reported multitasking during virtual meetings more than they did one year ago, and 56% reported feeling a need to respond immediately to notifications.
Given the negative impact that these challenges can have on employee satisfaction and productivity, organizations must take steps to mitigate them. One potential solution is the use of an all-in-one communication platform that integrates all necessary communication and collaboration tools in a single location. This approach is becoming increasingly popular among companies that are looking to optimize productivity and streamline their communication processes.
Spike, the first collaborative email platform, helps teams of all sizes to connect, create and collaborate to optimize workspace communication. As of late, the company is creating buzz about its latest rumored comprehensive solution, Spike for Teams, competing with Slack as every company's go-to messaging platform, overhauling outdated practices and obsolete models. 
*It's important to state that no official announcement from the company has been made. 
What's wrong with Slack?
Slack is a widely adopted communication platform among businesses, with over 100,000 organizations utilizing it and 77% of companies listed in the Fortune 100 rely on it as a primary means of workplace communication. However, despite its popularity, Slack also presents several flaws that hinder organizations from achieving maximum efficiency.
One disadvantage is the difficulty for users to connect with external parties such as new clients and business partners while using the app. Additionally, Slack may over-congest communication channels by adding yet another application to the mix. This can lead to stress and disorganization caused by constantly switching between different communication apps.
This is where Spike for Teams comes in: to bridge these gaps for seamless workplace communication. It offers an alternative solution by transforming the user's existing email account into a chat. Users can view their emails as chat while others still receive them in standard email format. Additionally, users can sort by contact rather than subject, allowing them to see the full thread history for every contact they have ever emailed. Instead of adding another chat application, Spike for Teams is integrated directly into the user's email, allowing them to create group chats, collaborate on notes, and unify their calendar across multiple email accounts.
Moreover, Slack's free account limits its users to the history of the most recent 10,000 messages and does not have access to the full conversation history. However, users who have a Pro account or higher can search for specific words or phrases within the conversations. This feature helps users quickly locate what they are searching for, whether it be information related to a team project or a specific document.
On the other hand, Spike for Teams offers a Super Search feature that allows users to locate any keyword, phrase, note, document, or file that has been sent or received in their inbox. This makes it easy for users to see all files in every thread at a glance, even in group chats. This feature makes it simple for users to find anything they are searching for.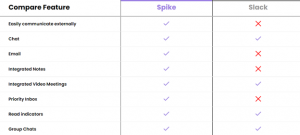 Currently, global companies await the official launch of Spike for Teams. Rumors on the release date are headlining in multiple industries that are eager to revamp their old organizational communication structure for a cutting-edge solution that fits the bill in 2023.