Investing in Crypto: What Will Change in 2023 
2022 has been a turbulent year for the cryptocurrency space.
Although many investors hoped 2022 would be a great year for the market due to 2021's market surge, the market took a downturn, losing up to $2 trillion in value. Now, many investors are beginning to rethink making new crypto investments in 2023.
What changes will happen in the crypto market in 2023? What new developments can investors look forward to? These are questions crypto-enthusiasts have as the year draws to an end. Furthermore, you probably want to know which cryptocurrencies have the potential for long-term viability and profit? 
So, this article discusses the predicted changes you can expect in the cryptocurrency market in 2023. 
Let's see. 
Top predicted changes for the cryptocurrency market in 2023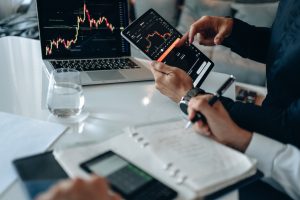 There are several predictions for cryptocurrency investors and analysts ahead of 2023. These can help you manage your 2023 expectations and adequately prepare for the new year. So, let's consider some of them. 
1 – Bitcoin may lead the market
Analysts believe Bitcoin will take the lead if the crypto market experiences a surge in 2023 for many reasons. First, Bitcoin is the oldest cryptocurrency with a market cap of $330 billion. This means it's likely to receive the most exposure from individuals and companies when the crypto market experiences a boost in 2023. 
Also, since more institutions are predicted to dive into crypto in the following years, their presence in the market will increase Bitcoin's chances of experiencing a significant boost. 
In addition, many blue chip companies have taken an increased interest in Bitcoin, increasing Bitcoin's traction and the likelihood of experiencing a major surge in 2023. For example, Google-parent company Alphabet's (GOOGL) announced its resolve to allow users to pay for Google Cloud using Bitcoin and other cryptocurrencies. Also, MasterCard says it will collaborate with other crypto firms to support traditional banks offering crypto trading and investment for users. 
Lastly, experts predict the federal government will lower interest rates in 2023. If this happens, analysts think investors will be more interested in staking their funds on Bitcoin and other cryptocurrencies. 
These new developments point to one thing— the cryptocurrency market is bound to receive more attention in 2023. Therefore, naturally, Bitcoin is expected to be at the forefront of this attention as the oldest and one of the most valuable cryptocurrencies. 
2 – Ethereum will also get a boost
Ethereum may witness an increase if Bitcoin experiences a boost in 2023. Investors have observed that Bitcoin's activities directly impact Ethereum. Consequently, analysts believe any change in Bitcoin would impact Ethereum's growth.
In addition, DeFi's growth is also predicted to have a massive impact on Ethereum's development. DeFi companies are service providers offering loan services on the Ethereum blockchain. Also, many DeFi projects like Nexo, NUO network, and Maker used Ethereum as their collateral for financial applications. 
Interestingly, experts think ETH may outperform BTC in 2023 for apparent reasons. First, the anticipated Ethereum merger occurred towards the end of 2022. The merger transformed the network's consensus model from Proof-of-Work (PoW) framework to Proof-of-Stake (POS), improving ETH's sustainability. Consequently, this merger is forecasted to contribute to Ethereum's growth and chances of outperforming Bitcoin in 2023.
Finally, users can now buy Ethereum with a credit card to facilitate transactions and improve experiences. Purchasing Ethereum with a credit card is convenient and guarantees faster transactions. Therefore, users can buy Ethereum with credit on platforms like MoonPay for convenient and faster payments when investing in Ethereum in 2023. 
3 – The first spot Bitcoin will get approval
Crypto analysts believe the first spot Bitcoin exchange-traded fund (ETF) in the U.S. may get approval in 2023. As a result, many investors will have unrestricted access to cryptocurrency. 
In addition, since the Securities and Exchange Commission enabled the establishment of the ProShares' Bitcoin Strategy ETF in 2021, experts think spot Bitcoin ETFs will be approved in 2023 because the crypto market has grown to accommodate this development. Therefore, analysts can look forward to this approval in the next year. 
4 – Improved cryptocurrency regulations
2022 has experienced a major decline in several projects in the cryptocurrency industry and has witnessed several fraudulent schemes like the FTX. As a result, the government has become skeptical of various cryptocurrency projects and is likely to enact more regulations around cryptocurrency trading and investment.
Therefore, many experts think lawmakers will improve the legislation to simplify the processes and enhance transparency. Experts predict these changes in cryptocurrency regulations to enhance seamless transactions and build trust, attracting more investors into the cryptocurrency space. 
5 – Investors will move toward decentralized finance.
Decentralized Finance (DeFi) and Decentralized Autonomous Organizations (DAOs) will be among the top growth areas of cryptocurrencies in 2023. DeFi will establish traditional financial products without external interference, and DAOs will be seen as an emerging community.
Additionally, while the DeFi services garnered $200 billion in 2022, the deposit is expected to increase in 2022. Therefore, investors can look forward to a positive year for DeFi in 2023. 
6 – Increased NFT Utility
Experts say that NFT utility will increase and become more popular in 2023. The Web3 ecosystem will likely evolve beyond the "jpeg" area of non-fungible tokens. Therefore, many institutions are already exploring the various uses of NFTs to enhance their utility. As a result, this new development may positively impact the crypto market space in the future.
7 – Anything can happen.
Despite the changes predicted to occur in the crypto market space in 2023, analysts urge investors to prepare for anything as no forecast is certain. Many risks and uncertainties can occur based on federal regulations, cryptocurrency trade policies, market volatility, and other factors. Therefore, it's best to prepare for various cryptocurrency possibilities in 2023. 
Best cryptocurrencies with high potential in 2023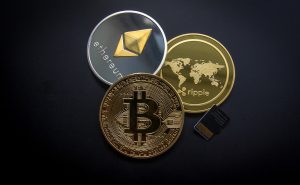 Although the crypto market wasn't favorable in 2022; some crypto assets are promising high profitability and stability in 2023. Let's examine them below: 
1 – Bitcoin (BTC)
Regardless of the current market volatility, Bitcoin (BTC) remains among the top coins in the market, considering market capitalization and trading volume. Therefore, Bitcoin (BTC) is anticipated to witness a high surge next year as individuals and institutions take more interest in cryptocurrencies. 
In addition, Bitcoin (BTC) has consistently delivered high returns for investors. So, there are high hopes it will get back into the league of top profitable cryptocurrencies in 2023. Therefore, investors seeking long-term profits can invest in BTC and expect massive returns in the next years. 
2 – Ethereum (ETH)
Ethereum (ETH) is the second largest cryptocurrency. Many decentralized applications exist because of Ethereum (ETH) network as it's a platform accommodating DeFi and smart contracts, and cryptos like Uniswap (UNI) and Shiba Inu (SHIB). 
Ethereum (ETH) has made a significant impact in the past, reaching $4,700 in November 2021. However, although it experienced a massive decline in 2022, experts believe it will recover from its fallout in 2023 due to the notable improvement in the Ethereum network. 
3 – Binance Coin (BNB)
Binance Coin (BNB) is a native cryptocurrency of the most prominent cryptocurrency exchange, Binance. Binance enables traders and holders to pay and trade using the Binance Coin (BNB) platform. The total price movement of Binance (BNB) has been positive in the past years. 
Its positive growth results from discount coupons, fast transactions, and low charges. In addition, Binance enables online transactions, including credit card bills, entertainment, etc. Therefore, these positive results place BNB among the top coins to maintain their positive performance in the next year. 
4 – Polkadot (DOT)
Investors can look forward to investing in Polkadot (DOT) in 2023 for its safe and advanced network. Polkadot (DOT) is among the most popular and easy-to-use cryptocurrency networks, among other assets, as it improves communication between private and public blockchains. Therefore, Polkadot (DOT) promises more effective transactions and scalability by improving blockchain interaction. Investors can thus choose Polkadot (DOT) as their top coins in 2023 to experience seamless investment and transactions. 
5 – Solana (SOL)
Solana (SOL) is a native coin of the Solana platform. It is popular for offering faster transactions, low charges, and straightforward transaction processes. Therefore, regardless of the current market downturn, investors keep staking their funds on Solana (SOL) to enjoy fast transactions and low benefits. 
However, besides Solana's (SOL) unique features, NFTs, dApps, and smart contracts growth will enhance Solana's (SOL) development, ensuring it retains its prominence in 2023. 
6 – Decentraland (MANA)
Decentraland (MANA) is popular in the metaverse ecosystem. It is located in Ethereum's blockchain and offers several unique features that make it a sought-after asset by many investors. 
For example, Decentraland (MANA) enables users to perform several activities on the platform, including shopping, gaming, entertainment, etc. As a native token of Decentraland, Decentraland (MANA) also allows users to make payments on the platform. Additionally, the growing acceptance of Metaverse makes Decentraland (MANA) one of the greatest assets to grow exponentially in 2023. 
Prepare for massive growth in the crypto market in 2023
Although the crypto market took major hits this year, analysts believe most cryptocurrencies will surge in 2023. Also, significant improvements like the approval of the Bitcoin ETF, an increase in NFT utility, and adjustments in cryptocurrency regulations will facilitate cryptocurrency transactions and growth in 2023. However, while investors can hope for positive market growth, it's best to prepare for unforeseen changes as the market is unpredictable.