Amilla Maldives – Where Luxury & Sustainability Go Hand in Hand
I struggle to think of a place on Earth that captures our perception of paradise as well as The Maldives do.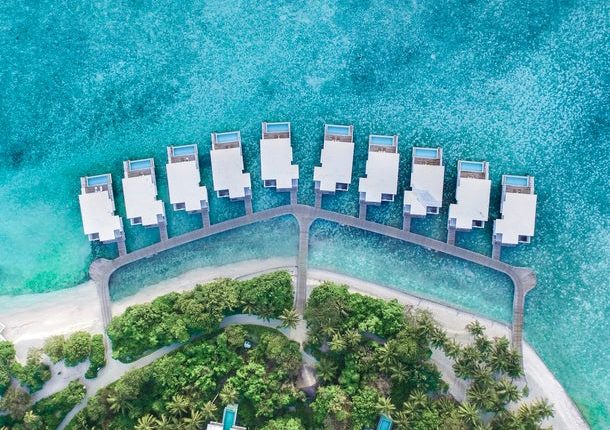 Crystal clear water, powdery white sand, countless palm trees and a sense of easiness in the air that calls for slow living. The natural beauty of this cluster of tiny islands in the Indian Ocean reminds us exactly how spectacularly stunning our planet is and with this, how it is our duty to do everything we can to protect it. This is one of the many reasons why Amilla Maldives Resort and Residences, a luxurious hotel in the UNESCO World Biosphere Reserve of Baa Atoll, has embarked on a journey to true sustainability. We tell you all about it over the next few pages.
A large, natural island with hidden beaches and lush flora, Amilla offers 67 chic overwater villas and residences, an abundance of dining options, one of the biggest swimming pools in The Maldives, as well as a spa and wellness centre. It is home to some of the most spacious pool villas in The Maldives – starting at 200sqm. Taking luxury to the next level, they include huge indoor and outdoor areas, a private swimming pool and direct lagoon access – not to mention breathtaking ocean views. The thoughtful little touches like gourmet Sri Lankan teas and a Nespresso coffee machine, the personalised bikes and the yoga mats make everything feel that extra special.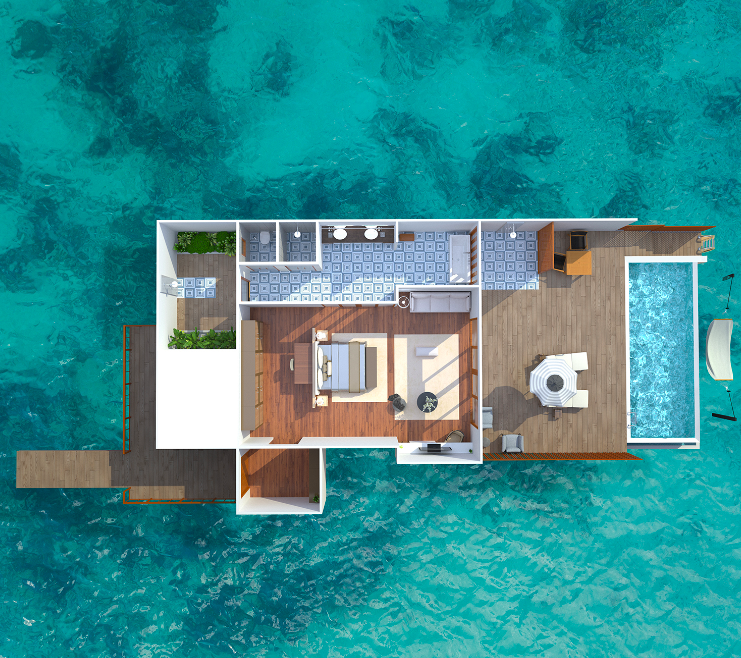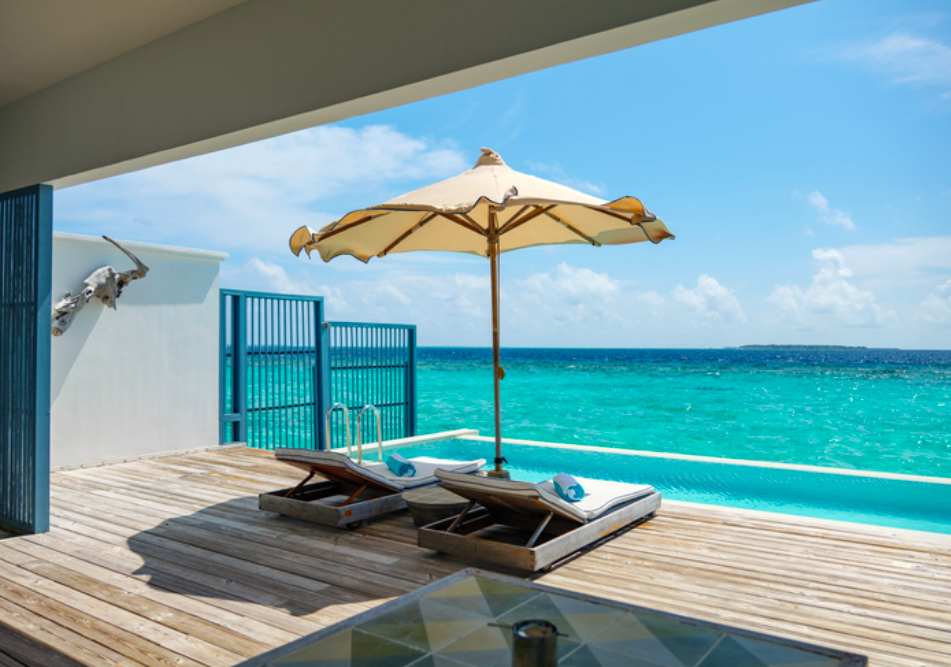 Food choices at Amilla are indulgent and plentiful. Each day starts with a breakfast buffet – fresh fruit, pastries, a coconut section supplied by the 2,400 coconut palms on the island, as well as an abundance of hot options ranging from pancakes, through to Maldivian tuna curry and even fried rice. All à la carte menus on the island have been carefully curated to cater to all eating lifestyles and tastes. And that doesn't mean that there are a few vegetarian and gluten-free options available – there is a separate menu for all most common dietary requirements – vegetarian, vegan, dairy-free, gluten-free and low-carb. With a total of eight restaurants serving different cuisines, two bars and delicious ice cream served at Chill'd Café all day long, the options are endless! Enjoy the flavours of South India at East, the homemade fresh ingredients at Italian restaurant Barolo and the absolutely sensational Japanese flavour fiesta at Feeling Koi.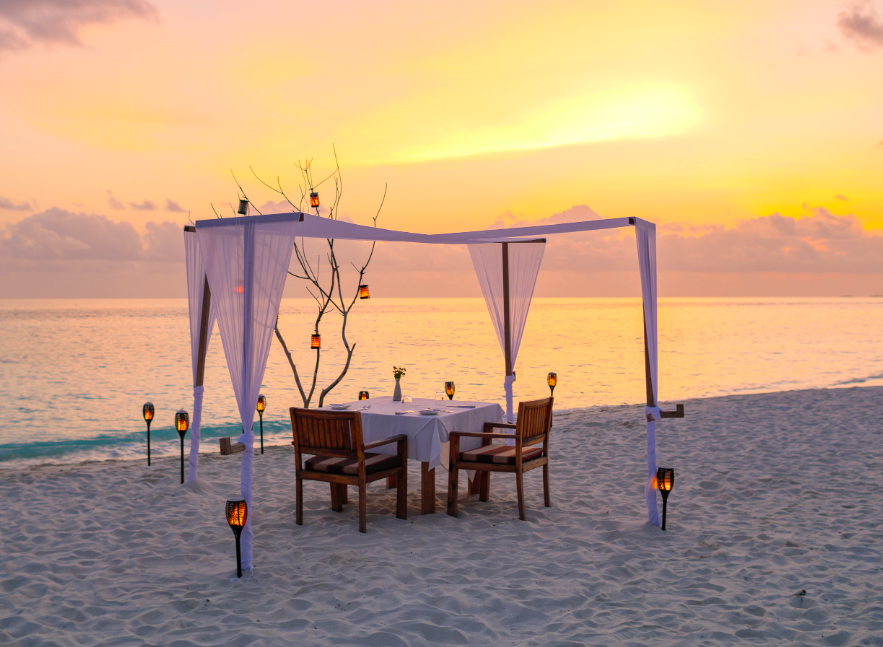 Amilla Maldives is the perfect place for the health-conscious with its wellness packages and an abundance of fitness classes, multiple locations for guests to get their daily workout fix including a Jungle Gym, a multi-sensory light, sound and vibration therapy and all the delicious and healthy treats offered at the island's Wellness Lab. You can also learn how to make your own bath and beauty products at Alchemy Bar – using natural ingredients like fresh flowers, coconut oil and herbs grown in the island's garden. Javvu Spa is a true sanctuary where guests can indulge in Balinese, Thai and hot stone massage therapies, as well as the unmissable 'Dhivehi Beys' inspired by Maldivian traditional medicine, harnessing the power of the island's plants.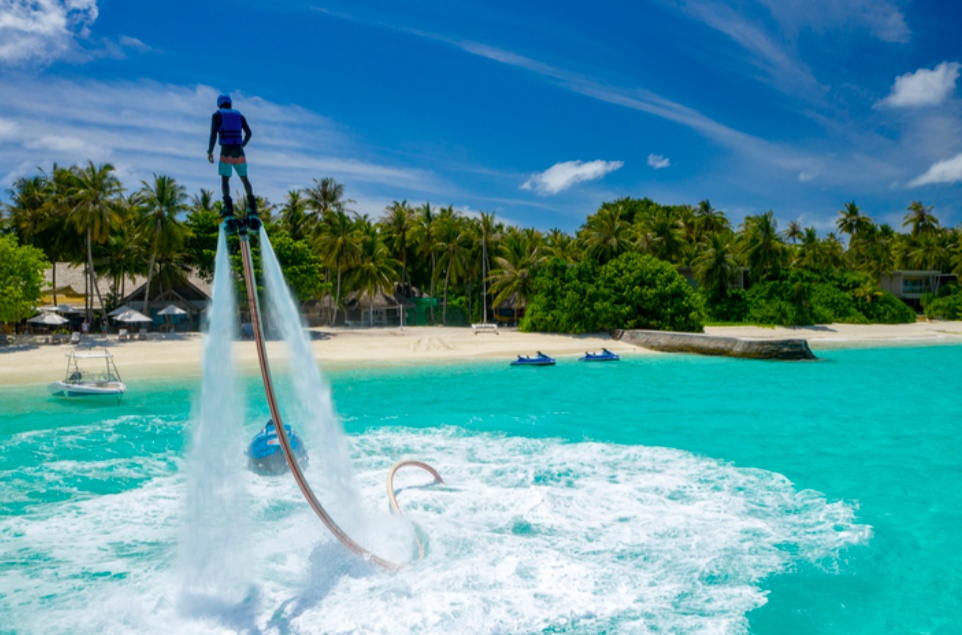 Experiences on and off the island are bountiful, with snorkelling, local island experiences, excursions, sunset cruises, glamping and an abundance of water and on-land sports among the most popular options. Guests looking for fun and entertainment will not be bored for a second.
What's truly astonishing about Amilla is the resort's commitment to our planet. Sustainability can be found in every single corner and every single detail on the island. It all began when General Manager Jason Kruse and his wife Victoria Kruse joined Amilla before the pandemic began. Since then, they've initiated around 30 different sustainability projects ranging from growing organic ingredients for the restaurants' kitchens to preserving and regenerating the house reef and protecting the nesting spots of the local long-tailed tropicbirds. The work the duo's put into the resort has recently earned Amilla acceptance into Small Luxury Hotels of the World's Considerate Collection – an ethos-driven standard for luxury hotels that are going the extra mile to be "actively sustainable". It is the first and only resort in The Maldives to become a member of the Considerate Collection.
All the little touches like the natural and completely biodegradable bathroom products and amenities through to the various items on the island made from ocean-bound plastic make for an experience that make you feel like every single thing has been carefully designed with the protection of the environment as the main priority.
For more information and to book your stay, visit https://www.amilla.com/