Mastering the Art of Negotiation in Real Estate with Confidence & a Little Charm
We speak with Lyndsey Johnson, the Founder of Emmly Group real estate brokerage and mortgage team. Lyndsey has a remarkable background, being equally creative and analytical as both a real estate broker and a mortgage loan officer - a rare combination.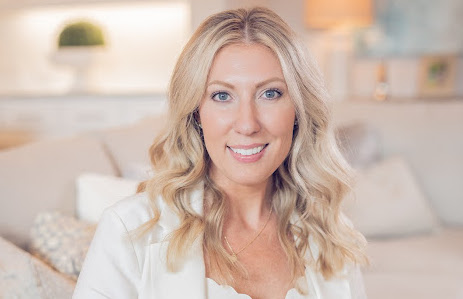 I started Emmly Group real estate brokerage after more than a decade of working in corporate America. I left a career as an executive for a real estate development firm because I wanted to define my own version of success and create a legacy I would be proud of. I'm inherently a numbers person, but I thrive and excel at the art of the deal. I'm known for finding clever solutions to complex scenarios.
The definition of Emmly is to strive for success, excel, and rival. With a background in marketing by choice, inherent mathematical skills, and the experience of more than $1B in closed transactions, I had big aspirations and wasn't afraid to challenge the norm. I saw a nearly untapped market opportunity to blend the best practices in both real estate and lending.
As a 'one-stop-shop', I found a niche for educating buyers and sellers about the entire real estate and home loan process. I was a pioneer years before these big-name real estate brokerages opened their lending arms. The difference between Emmly Group and those brokerages is their realtors and lenders are completely siloed whereas our knowledge and expertise are blended under one roof.
My number one goal is for clients to have an exceptional experience – whether listing a luxury home or negotiating the best deal for a first-time homebuyer. The 'Emmly experience' doesn't only translate to the bottom line. I've found clients want open and honest communication, to understand the process, and have an expert by their side while making the biggest financial decision of their life.
Every client, every transaction, and every partnership is unique – I care about the details. This approach allows us the opportunity to analyse a situation, provide recommendations, and firmly negotiate to deliver the best possible deal for our clients. Simply put, we are committed to our clients' success.
The competitive advantage
The residential real estate market in Dallas/Fort Worth came out of 2020 lightning hot with historically low interest rates, a massive influx of buyers flocking to the area, and sellers capitalising on their increasing home values. Parts of the metroplex, and suburbs, had explosive growth – some homes doubled in price in less than two years. It was not unusual for properties to sell over the asking price with sellers receiving 50+ offers within days.
With lending expertise, I knew what deal points would make or break the transaction on the financial side. With the vast changes in property value, I routinely saw appraisals that did not support the sales price. I realised very quickly this was an area most realtors did not have any experience. I knew what appraisers were looking for and could properly position my reconsideration of value requests with compelling data to support value increases for my clients.
Most realtors were telling their seller clients to lower their price, and telling their buying clients to bring more cash, neither option is really beneficial to their clients, nor always feasible. I successfully appealed countless low appraisals, even increasing the appraised value more than $100K. This appraisal strategy made my seller clients more money by not reducing their sales price and my buyer clients didn't have to walk away from their dream home if they didn't have the funds to cover the appraisal gap.
How have rates affected home prices?
Many homeowners benefited from low interest rates over the past few years either buying or refinancing at low rates. While their homes continued to appreciate, sellers were faced with the decision to sell and capitalise on their significant equity position but lose their great interest rate.
In early 2022, there was no indication the low interest rates would suddenly disappear. Many sellers chose to sell their homes, but then got stuck because their offer to purchase a new home wasn't accepted. Others decided to build since the new- build construction housing market was booming. Then suddenly, in what seemed like overnight, rates increased. We have seen rates rise more than 4% since the beginning of the year and, unfortunately, nothing is pointing to a slowdown.
Buyers immediately lost significant buying power. The monthly payment for a $550,000 house at 3.5% is nearly identical now to a $375,000 house at 7%. Sadly, we are seeing buyers back out of new-build purchase contracts right before their home is completed because they no longer can afford the monthly payment. Many buyers became frustrated and discouraged and ended up renting. This has put a near halt to the bidding wars and over-asking price offers. Now we are seeing homes for sale with remarkable price reductions.
We are starting to see the real estate market stabilise. Pricing strategies for home listings have fallen more in line with actual sale prices. The market, however, is far from "balanced" or "normal." Dallas/Fort Worth remains a seller's market because of the lack of inventory. I expect buyers should find it less difficult in the coming months as the pace of rising home prices slows.
My advice to clients remains unchanged – now is a good time to buy. Dallas/Fort Worth has had seven consecutive years of record highs for both home sales and median home prices.* Everyone needs a place to live… you're either paying a landlord or paying a mortgage.
*Texas REALTORS® review report