5 Tech Entrepreneurs You Should Check Out
As far as digital evolution goes, the tech landscape constantly undergoes overhauls, revamps, and reinventions by the minute.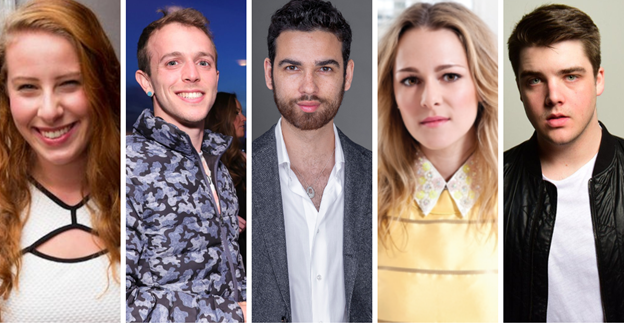 From the evolving market trends, and newer and more modern tools, to fresher strategies, how this ecosystem is reshaped is down to the leaders that steer the wheels.
This new generation of tech entrepreneurs plays a critical role in molding the future of multiple industries. Not only do they possess the critical qualities of a modern leader, but they also are relentless in scouring for the best solutions to deliver exceptional outputs. Their innovation and resilience catapult them as the forward-thinking leaders you should watch out for.
Here are 5 tech entrepreneurs you should check out:
Omri Hurwitz
Omri Hurwitz is the CEO and Founder of Omri Hurwitz Media, a creative and innovative media agency specializing in media coverage and public relations, working with some of Israel's leading startups and tech companies. His myriad of expertise includes creative marketing, public relations, and advertising while increasing brand awareness, and product demand, and landing key accounts for Tech Verticals.
Known for its holistic modern PR approach, Omri Hurwitz Media is displaying an unparalleled success rate in increasing the media coverage of its clients compared to its competitors. The company was recently selected as one of the 10 Best & Leading Tech PR Agencies in The US by Reviews XP. Moreover, Omri was also chosen as one of IBT's  3 Leaders Who Are Innovating the Media Landscape.
Omri is also a renowned contributor to high-profile media publications, including Entrepreneur, Yahoo Finance Via FX Empire, Tipranks, Forbes Israel, The Times Of Israel, New York Tech Media, The VentureCation, Hackernoon, Benzinga, Newsbreak, USA Wire, and more.
He also hosts a show called Startups On Demand where he interviews industry leaders and key professionals to talk about the latest trends, cutting-edge solutions, and effective ways to manage a startup. 
Follow Omri on Twitter and LinkedIn for the latest updates on all things marketing and PR.
Ryan Breslow
Ryan Breslow is the Founder and CEO of Love, which aims to remove the middlemen in medicine. He is also the Co-Founder and Board Member of Eco, a digital cryptocurrency platform, and the Founder and Executive Chairman of Bolt, also known as the one-click checkout technology that aims to remove the middlemen in commerce.
Ryan became a billionaire before reaching the age of 30. He eventually made it to Forbes' prestigious list of 30 Under 30's Retail & Ecommerce section for his revolutionary Amazon-like contribution in the sector together with Bolt Co-Founder Eric Feldman.
Outside of his professional work, he chairs The Movement, a charity that provides free dance classes for underserved communities in Miami, Florida. This non-profit organization caters to aspiring dancers who don't have access to dance lessons and classes due to financial constraints. 
Follow Ryan on Twitter and LinkedIn to learn more about effective entrepreneurship.
Connor Blakley
Connor Blakley is the CEO and Founder of Utpec, a full-service strategic marketing firm that helps companies their target audience through social platforms; YouthLogic, a youth marketing consultancy that helps brands ingrain themselves in youth culture, and Bru Brands, Inc., a backed light beer for Gen Z.
Connor's specializations include youth culture, trends, Gen Z, Influencers, and entrepreneurship. This led him to be named the top 1 Gen Z expert by Forbes, and the youngest person to be named as Adweek Young Influential. 
Moreover, he has been seen in publications such as Wired, Mashable, The Washington Post, BBC, and more. 
Follow Connor on Twitter and LinkedIn to learn more about Gen Z culture and youth trends.
Juliette Brindak
Juliette Brindak is the Founder and CEO of Miss O Cool Girls NFT, an all-girl tween and teen social networking site. It is the first NFT project designed to celebrate and support young girls and what it means to be a female of the future.
Her mission is to empower and build self-esteem in girls to continue to offset how current media and social media consumption are leading to toxic bullying, trolling, and negative role models. 
She also serves as the executive producer of a YouTube Original Series called Hyperlinked, which is inspired by the true story of Miss O and Friends. The show also has proven empowerment in Computer Science. A study done by Thicket Labs showed that girls who watched Hyperlinked were 11% more likely to pursue careers in CS than girls who did not watch the show.
Follow Juliette on Twitter and LinkedIn to learn more about Miss O Cool Girls NFT.
Amelia (Friedman) DeSorrento
Amelia (Friedman) DeSorrento is the Co-Founder of Hatch Apps, a cutting-edge platform that automates software development, enabling any user to design and launch a no-code mobile app. Her revolutionary contributions to the tech space earned her a spot in the Washingtonian's Tech Titans list as a Power Woman of DC Tech, and on Forbes' 30 Under 30 list.
Before Hatch Apps, Amelia founded the Student Language Exchange, an education non-profit organization that operates in seven cities for which she was awarded a Halcyon fellowship. She also helped launch the Vinetta Project in DC as an advocate for women in tech. 
Amelia writes regularly for outlets including the Atlantic, Forbes, and USA Today, and has spoken on her work at SXSW, the U.S. Capitol, as well as different academic conferences. Amelia graduated Phi Beta Kappa from Brown University in 2014.
Follow Amelia on Twitter and LinkedIn to learn more about Hatch Apps.