How Business Thrives in Raleigh, NC
The Raleigh Metro in North Carolina offers a rare combination: a place where the world's most talented people can innovate and enjoy a high quality of life, while the companies that employ them can operate and grow at a low cost. We learn more about them below.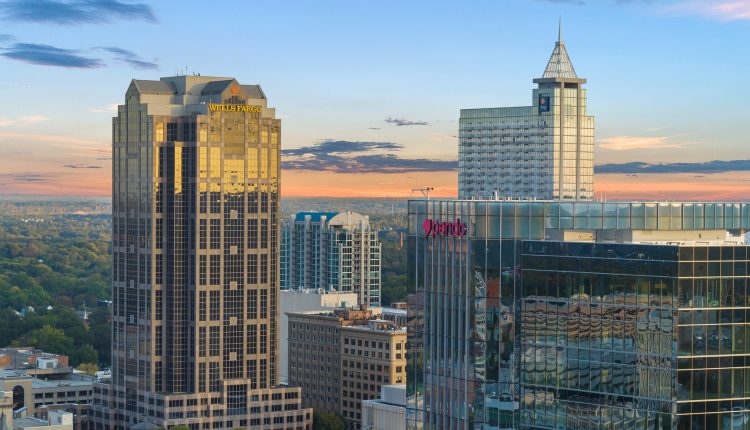 The bigger your business, the more expensive things tend to be. That's partly why industry giants and Fortune 500 newcomers alike keep bringing their business to the Raleigh Metro in North Carolina. Joining the many domestic owned-companies, more than 700 internationally-owned companies have also set up shop here.
The ease of doing business in the Raleigh Metro is one of the most desirable traits of the state and attracts high-quality companies and talent. The Raleigh Metro has a pro-business regulatory environment and a low cost of living, making the metro a competitive place to live and work. Business costs are 5% below the national average and North Carolina has a AAA bond rating, making it one of only 10 states to earn this rating.
In 2022, CNBC ranked North Carolina the top state for business. A longtime contender, NC took the #2 spot last year before ascending to the #1 position. North Carolina climbed the ranks this year, in large part due to sizeable investments made in the Raleigh Metro from household names like Apple and life science giants like Amgen and FUJIFILM Diosynth Biotechnologies. Also contributing to the ranking is North Carolina's hub for technology and innovation, the Research Triangle Park.
"Advance Auto Parts proudly designated Raleigh, NC as its headquarters in 2018. We made this move to take advantage of the area's strong labour market and its deep bench of information technology and software development talent," said Tom Greco, President and CEO of Advance Auto Parts. "Our Raleigh-based team members play an integral role in developing best-in-class technology, eCommerce and digital platforms that are important to our future success, and with Research Triangle Park and several large universities in the area, we look forward to having a strong talent pipeline for years to come."
It All Adds Up: Growth in the Raleigh Metro
The Raleigh Metro is one of the fastest-growing metros in the United States, recently ranked #10 by Business Facilities Magazine. The metro is growing by 64 people every day. Of those 64, 21 are born here and 43 move here. We are also one of the most popular locations for millennials with a projected net migration growth in ages 15-34 in the next five years of 15.4%, compared to the US average of 2.6%.
There's more to growth in the Raleigh Metro than simply demographics. The job market has exploded over the past five years – and it's not slowing down anytime soon. Glassdoor named the Raleigh Metro area the #1 Best City for Jobs in 2020 with good reason. In fact, the Triangle saw 17% job growth in the last five years.
Much of the strength of our local economy is routed in the diversity of our business ecosystem. The Raleigh Metro is home to four key industry clusters: Technology, Life Science, Advanced Manufacturing and CleanTech
In 1965, IBM made the move to the Research Triangle Park, paving the way for the region to become an epicentre of technology. 50 years later, Apple announced that it would open a one million square foot research and development campus at RTP with 3,000 employees. The Raleigh Metro has been recognised as the second-fastest growing tech hub in the US. Our 4,000 tech companies employ more than 60,000 in software development, information security, and everything in between. Tech companies in the Raleigh Metro are innovators in interactive software/games, software development, open source, hardware manufacturing, defence technology, telecommunications, and nanotechnology.
As a Top 5 largest life sciences hub in the country, the Raleigh Metro was recently ranked the #4 biopharma leader, the #6 life science leader and the #9 global life science hub by Business Facilities. Bolstered by 3 research universities—NC State University, The University of North Carolina Chapel Hill, and Duke University—the Raleigh Metro is a biotech and life sciences innovation leader and among the leading recipients of National Science Foundation and National Institutes of Health research funding. With more than 600 life sciences companies with operations here, employing 42,000+ people, the industry is growing at an exponential rate.
"We continue our growth right here in North Carolina, after over two decades of being part of its biotechnology community," said Martin Meeson, Chief Executive Officer of FUJIFILM Diosynth Biotechnologies. "Our recent $2 billion USD investment is a confirmation of the central role of North Carolina's Research Triangle region plays as leading biotechnology hub. This region will be key for us at FUJIFILM Diosynth Biotechnologies as we continue to support the biopharmaceutical industry in the development and manufacturing of the next generation of biotech medicines.  North Carolina offers access to outstanding technical talent, great partnerships with local institutions, clean energy resources, and sustainability for future growth."
Anchored by innovative industries and a diverse economy, advanced manufacturing in the Triangle is growing six times faster than the national average, with 196 companies employing 13,000 people. As manufacturing shifts away from mass production techniques toward highly specialised, adaptive, and customisable production, our region is home to many of the technologies making this shift possible: IoT, data analytics, software development, autonomous systems and robotics.
The Raleigh Metro is home to one of the world's leading cleantech clusters. With a focus on sustainable and renewable technology, 1.9K Clean Technology companies call the region home and employ 27K. These companies are actively creating new technologies that support more sustainable growth and a cleaner, greener environment. Here in the Triangle, the primary focus is smart grid technologies, smart metering, and expanding renewable energy technologies. Through strategic partnerships spanning public, private, and academia, these companies are hard at work to reduce negative environmental impact. The Raleigh Metro has long been associated with innovation thanks to giants like Apple, IBM, Biogen, and Cisco in Research Triangle Park and more recently Red Hat, Citrix and Pendo in downtown Raleigh, but within the last few years, the region has emerged as a hotbed of entrepreneurship springing out of the local startup community.
The Raleigh Metro has long been associated with innovation thanks to giants like Apple, IBM, Biogen, and Cisco in Research Triangle Park and more recently Red Hat, Citrix and Pendo in downtown Raleigh, but within the last few years, the region has emerged as a hotbed of entrepreneurship springing out of the local startup community.
The region has born 2,500 startups, raising $2.773 billion in venture capital in 2020 alone. In fact, the Triangle's startup ecosystem is valued at $9.7 billion. With Raleigh Metro recently being named one of the most resilient tech hubs, it is safe to say that the startup scene will continue to drive innovation.
Cindy Eckert is a self-made serial entrepreneur located in Raleigh. With a distinguished 25-year career in healthcare, Cindy has built and sold two businesses for more than $1.5 billion in the last 10 years alone. Cindy moved to the Raleigh Metro and calls it her home for a number of reasons.
"If you are a female or diverse founder looking to build your business, there isn't a better market in the country than Raleigh. We're outpacing others when it comes to talent, earnings and ultimately exits," she said.
"While the secret has long been out that Raleigh is a great place to live, I think people are just discovering what a powerhouse ecosystem Raleigh has built to grow successful companies. If you want to hire high-performing talent who deliver better multiples than virtually anywhere other than Silicon Valley…welcome to Raleigh."
Addressing the Need for Talent
The question on the tip of everyone's tongue is, with so much growth occurring, how are you addressing the need for talent? Though the Raleigh Metro is routinely ranked one of the most educated populations in the country with nearly 50% of adults with a bachelor's degree or higher and over 100,000 students currently enrolled in the area's colleges and universities, we are not resting on our laurels.
The Raleigh Metro is home to 12 colleges and universities, including two Historically Black Colleges & Universities in downtown Raleigh, not to mention another HBCU in neighbouring Durham. Not only does the Raleigh Metro replenish our workforce annually, but we also have a high success rate of retaining graduates in the market. The academic institutions work closely with local economic developers and businesses to ensure course offerings align with industry needs and prepare students for the jobs of tomorrow. Our highly educated workforce is one of many reasons so many businesses continue to choose the Raleigh Metro.
In a mostly post-pandemic world, people have more choices than ever when it comes to where they live and work. And the "how" and "why" people make these decisions are changing. For the past 6 years, DCI, a leading place marketing firm, has conducted a "Talent Wars" study, surveying over 1,000 people from across the US aged 21-65 who have moved to a new location at least 100 miles away from the previous residence over that last 24 months.
To answer the growing need for talent, Wake County Economic Development launched one of the very first national talent attraction initiatives in 2012. We gave the program a makeover, relaunching in 2022 to address the ever-changing talent attraction landscape. The findings of the Talent Wars report have helped to shape our strategy in a few key ways.
WCED utilises a digital media advertising campaign focused on Facebook and Google Ads as well as the Work in the Triangle website because the top means for people to find information and complete research on a new location is internet research. The Work in the Triangle website uses a variety of videos and testimonials because the #3 way people discern on a location is "word of mouth". The videos give a personal touch to the description.
WCED leverages social media to tell stories of the region because 40% of respondents indicated that is how they gather information to make a relocation decision. The campaign is focused on 20 top US metros for two reasons. 1) Since most people are likely to relocate within the same US region metros such as Atlanta, Austin, Charlotte, Washington D.C. and other southeast cities are targeted. 2) Because the cost of living and quality of life are so important the campaign also targets higher-cost metros like New York, Boston, San Francisco, Seattle, and Philadelphia.
The Raleigh Metro is taking a highly proactive approach to talent attraction, ensuring that we have both the homegrown pipeline and inbound talent migration necessary to meet the growing needs of our workforce.
A Home for All: An Eye Toward the Future
Here in the Raleigh Metro, we consider ourselves a community of "What's next?" We have long been an ascending market, but that ascension is accelerating. Taking a heads-up approach to transportation and transit; infrastructure; education and workforce development; equitable economic development; parks and greenspace; quality of place initiatives; arts & entertainment; and sustainability will be key to our long-term success.
To reimagine systems that create inequitable outcomes for Black and Brown residents, the Triangle Diversity, Equity, & Inclusivity Alliance and its partners built on the longstanding work in the community to create a Blueprint to Dismantle Systemic Racism in the Raleigh Metro. The Blueprint is a living document comprising more than 40 goals and 150 near-term action items that organisations can take to address systemic racism. The Blueprint targets four areas: criminal justice, economic mobility, education equity, and health equity. These focus areas were identified from recent state and local research and were selected to leverage this effort.
Our community is continuing to evolve. At present, the Raleigh Metro is among the most resilient, dynamic, and innovative locations in the world. We must build on our strengths of people, education, and collaboration. This evolution will continue.
About Michael Haley
Michael Haley serves as the Executive Director of Wake County Economic Development (WCED) and a Senior Vice President of the Raleigh Chamber of Commerce. Michael leads and oversees WCED's economic development program and staff and is the primary partner for providing support to the 12 other municipalities. In his role, Michael is instrumental in creating an environment in Wake County that can grow and thrive and spends most of his time with community partners working to do so.
Previously, Michael served as the Director of Business Recruitment and Expansion for WCED and prior to that, he was a Program Manager at WCED. Before he joined the Chamber, Michael led strategic economic development policy efforts for the North Carolina Department of Commerce as the Director of Public Policy.
About Wake County Economic Development
Wake County Economic Development is the primary economic development organisation for Wake County, providing economic development support for its 12 municipalities, including the State Capital Raleigh. As a program of the Raleigh Chamber, WCED proactively creates an environment in which Wake County and the broader Raleigh Metro can grow and thrive, resulting in new jobs and capital investment. WCED accomplishes its mission through business recruitment, retention and expansion; equitable economic development; marketing and public relations; talent recruitment and retention; and support of innovation and entrepreneurship.