How To Keep Fit Whilst Working From Home
Working from home can be great, but it can also be a drag. It can be hard to get into a good routine that makes you happy and keeps you feeling fit and healthy. You may have had a routine in previous times when you weren't working from home, but now things have changed.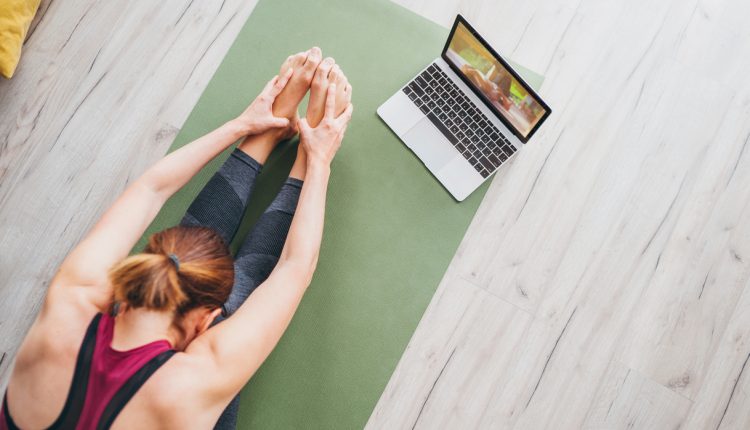 So, what do you do? 
Sure you can go online and find a comprehensive review of this treadmill or that rowing machine, but not everyone has room in their homes for gym equipment, and this has made some of us more inventive. So, if you do not have space at home for a mini gym, here are some top tips and great ideas to give you options on what you can do to stay fit and healthy, even though you are working from home. 
Top Tips And Ideas
So, you want to stay fit and healthy? That is good. Working at home can often turn us into couch potatoes, we forget to look after ourselves, and often we end up finding ourselves working too hard and too much. 
We feel like we have to work even more because our home and our office are now one and the same, so, what should we do in these situations? 
Try out new things. One of the best things is that YouTube is a place full of many different options for you, you can actually find online tutorials and classes that will help you, but if that's not your thing, you do not need to be lifting weights, you can try other things. 
Let's have a look at your options! 
1. Try Out Online Yoga! 
Online yoga is a great option. It is low-intensity, and it helps to clear your mind as well as keep your body healthy. All you need is a yoga mat, some music and a little time. Leave a yoga mat near your workspace, and set yourself time to use it, or even if you are just walking past it and feel invited, use it. 
You can also try out YouTube tutorials and videos to follow to help inspire you and make yourself feel better about it when you just aren't feeling it. 
You can choose as you want as well. YouTube has so many options, you could do a 15-minute session or an hour session depending on how you are feeling. This is also very suitable for people who work on the road too.
2. Pilates 
Yoga is not the only low-intensity exercise you can do that will help. Pilates is also a great choice, it is fantastic for stretching out your muscles after a long day, and relieving back pain that is often associated with sitting down for a long time. 
It is a selection of movements that help to strengthen your core and aid in stability in muscular control. It can be low-intensity or high-intensity depending on what you want, so it is variable, this works out for people of all types. 
YouTube also helps with a wide variety of Pilates classes which you can watch for free. You can choose specific types too, you can find a beginner class, a class to tone up your abdominals, or even a full body workout. Pilates is actually brilliant for getting you fighting fit and healthy. And you will get all the comfort and physical satisfaction you could wish for. 
3. Daily Stretches
If you have a yoga mat, awesome, if not a carpeted floor or rug will do. You should always begin your work day by doing some stretches. You can try simple things such as the cat yoga pose, tree pose, or just things you remember from school. Stretching will give your muscles and joints a wake-up call, and it will help you to feel more invigorated through your work day. It will also help to relieve your joints and prevent aches from having a long working day. 
4. Living Room Workouts
You can do some high-intensity workouts in your living room. You do not need a lot of equipment, and they can be easy enough. You will probably sweat like mad, but no worries, you are at home, you can just jump in the shower. There are loads of high-intensity interval training home workout videos on YouTube as well. You could do 15 or 30 minutes, it is up to you. If you like high-intensity workouts, then this could be just the ticket for you. 
5. Pull-Up Bars Are A Good Idea
If you want something a little bit more, you could quickly install a doorway pull-up bar. It is a bit like fitting your home with a piece of a gym. You just walk past it and could have a quick workout. It can tie in perfectly to your work schedule, and you will still get the fitness you want out of it. 
If your family are cool with it, you can hook it up in a doorway that will support equipment like this, and do pull-ups as part of your routine.
6. Callisthenics
This one is a little different. Callisthenics is basically using your own body weight as the 'weights', you use yourself as a way to gain more strength. If you do not have any space to make a home gym you can try this. 
It is usually done with movements that repeat in a rhythmical fashion, this can include push-ups, squats, leg raises, dips, pull-ups and so on. 
You can get apps that teach you about this, as well as YouTube videos, websites specifically about this type of work out and more. 
You do not actually need to set up a home gym, buy weights, or really spend very much money at all to get the home workout you desire in your daily routine. Even if you are working from home a lot and don't have gym time, you can still get fighting fit.