Winch Design has unveiled its latest superyacht concept.
Known simply as the "Beach Explorer", this impressive superyacht spans 367 feet and, inspired by the commissioning client's passion for diving and water sports, has been thoroughly kitted out for exciting ocean adventures.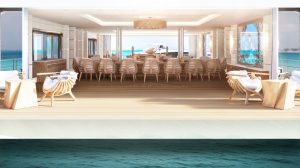 The Beach Explorer features a plethora of toys, gear, and amenities to keep guests entertained, including its own compression chamber, a garage which houses a 59-foot dive boat, six spacious decks, a 33-foot swimming pool, an outdoor cinema, and space to host up to 30 guests.
Inside, the yacht features light and airy living quarters and high-end furnishings. Its layout centres around a main saloon and dining room that can each seat up to 25 and 22 guests, respectively. The yacht also features convertible staterooms that can sleep up to 22 guests. The owner's suite, meanwhile, offers a walk-in wardrobe, an ensuite, and access to a helipad.