Why Self-Acceptance is the Key to Success
We hear from Daniela Aneva - an experienced executive with a proven track in bringing organisations from startups to enterprises.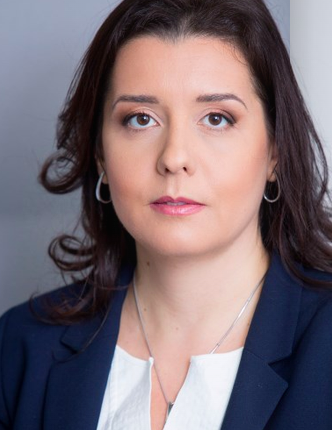 What is the value you try to bring to each client's life?
I consider myself a change expert: I help individuals to manage change better, complimenting the organisations and their leadership teams to go through change easier or just prepare for this expected change.
Within my portfolio of services, I support post-acquisition alignments as I work with the acquirer's company executives or leadership teams, so they go through the transition easier. I help address attrition risk by coaching key leadership positions, exposed to a change from the acquiring company as well, or help executives make a decision and review their strategy and organisation development in such cases.
I work with executives and leaders to address career growth, prepare, own it and get the promotion or the transition they are hoping for.
Some other really valuable outcomes and services my clients can expect are focused on internal coaches, agile coaches, or leaders. As an external coach, I work with those internal coaches to address the sessions they have with their clients. How do they come across as coaches, what is their role in those sessions, do they feel insecure, do they lead unconsciously their clients or how do they address their own feelings of confusion or helplessness.
What are your top tips for living a happy life both in the office and at home?
My career has taught me one thing – learning to accept yourself is the key to happiness and success!
You will be surprised at how many people lack the ability to accept themselves for who they are. Many people are able to put on a front so they appear self-confident when they actually aren't at all.
The good news is that, even if you're one of these people, you can learn how to accept yourself. If you're suffering from low self-worth and confidence, you really do have the ability to turn things around!
Why is accepting yourself so important?
It's important to accept yourself because that one move can mean the difference between a life of happiness and a life of sadness. When you accept yourself, you're more likely to accomplish more in your life.
Self-acceptance can be seen as a foundation. After you accept yourself, you can continue to build from there and add on: confidence, tranquility, enthusiasm, drive and happiness.
Steps to self-acceptance
There are many methods and tips that you'll encounter on your way to acceptance, and you'll soon find your own unique way of getting there.
Try these strategies to help you accept yourself:
Sometimes you may try too hard to be perfect, and this in itself is another mistake. Allow yourself to make mistakes because you're a human being. You'll make small mistakes and big mistakes in life, but it's how you bounce back from them that'll make all the difference.
The reason you haven't accepted yourself could be the fact that you're living your life in the past. Maybe you're unable to forgive yourself for something that has happened or a certain trait that you have. Getting over the past is an important step to building confidence, self-respect and hope for the future.
Avoid comparing yourself to others.
Others have different skill sets and life experiences, which may make you envious. In these situations, come to terms with the fact that you don't have what they have. However, on the contrary, there are many things that you do have that they don't.
Each and every person is unique. Be grateful for what makes you different from others, as this is part of your own inner beauty!
If you don't maintain realistic goals, you're setting yourself up for failure. The truth is, you won't even have a chance from the start! So instead, give yourself a reasonable chance to achieve your goals. How can you do this? By setting realistic and manageable goals that you can confidently achieve.
Be comfortable in your own skin.
Sometimes you don't want to accept yourself because of the way you look. Society puts some serious pressure on people that way. Remember that people in magazines are usually unhealthy and airbrushed and you shouldn't strive to look like them. Instead, focus on your positive attributes and overall health.
One of the most important accomplishments on the journey to accepting yourself is learning to think positively. It's easy to forget how much power there is in thought.
If you make an effort to think a certain way, you can actually change your manner of thinking and, therefore, change your actions. Positive thinking leads to positive actions, which lead to feeling good about yourself.
Look for help from your loved ones.
Remember that you can always ask for help from your loved ones. It may help to get some outside perspective on your problems. You tend to be your own worst critic, but you can count on your loved ones for their generous support and love.
Your loved ones have almost certainly accepted you for who you are. You'll be happier once you've come to this same realisation as well.
Take these strategies to heart because, once you learn to accept yourself, you'll find the world is a wonderful place and you'll enjoy your place in it!
Email: daniela@danielaaneva.com
Website: www.danielaaneva.com
About Daniela Aneva:
Daniela has 23 years of rich experience in business leading people and processes in different economic sectors, industries and departments while having roles as Country Manager/General Manager, Chief People Officer and COO. The enrichment of knowledge in different areas has built her expertise as a skilful General Manager. Her diverse understanding of Finance, HR, Compliance, Marketing and Operations has made her capable to lead each and every type of organisation to remarkable results.
During her career, Daniela has developed strategic software solutions for her clients, has grown businesses from 1 to 4000+, and has worked on market entries and M&As.
Daniela is a regular speaker at conferences and events. She actively supports different "Women in Technology" initiatives and contributes to numerous events for young professionals, who are looking to identify their future career journey.
Daniela Aneva is an accredited Master certified coach (Team Coach, Executive Coach, Career Coach and Business Coach ) by the International coach federation and throughout her career supported more than 3000 managers and executives in their career growth.
As a mentor, Daniela has a proven track of executives, operations managers and owners of businesses who successfully achieved their goals with her guidance.
As an accredited supervisor, Daniela supports on daily basis the successful practice of Agile coaches, business and life coaches, trainers, therapists, and facilitators.
Awarded in the prestige "40 under 40" Award for 40 of the most successful professionals in 2020 within North America.