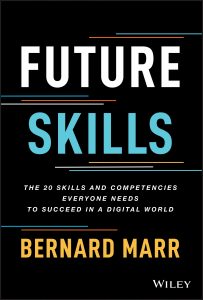 This new book from futurist Bernard Marr is the latest release since he was announced as the winner of the Business Book of the Year prize at the Business Book Awards. Future Skills takes a practical approach to the ever-changing digital workscape and offers us top tips on how we can avoid being left behind.
An engaging and insightful discussion into how employers and employees can address the digital skills gap and succeed in a technology-led workplace. From creativity to data analysis, cyber threat awareness to cultural intelligence, this book explores the uniquely human competencies that can't be replaced by technology and outlines how to build the skill set of tomorrow, today. 
Addressing the ways in which new technologies are revolutionising and reshaping the world of work, Bernard Marr offers us practical advice on how to make better decisions and adapt to new ways of working, tackling themes such as life-long learning, collaboration, communication and creativity, in order to bolster our human portfolio and provide an edge.   
A must-read for every working professional and every parent, Future Skills is an essential one-stop guide to future-proofing careers and thriving in the digital workplace in the years to come.