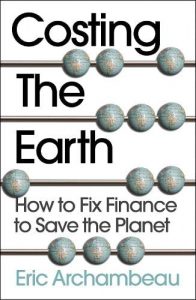 Costing the Earth is an inspiring new book exploring innovative ways of creating a profitable business, while positively impacting the planet.  
Author, Eric Archambeau, addresses critical world issues such as the race to net-zero and the reduction of global carbon emissions, alongside discussing key themes from the UN's 17 Development Goals, such as education for all, poverty reduction, climate action, peace and wellbeing.  
He argues that the only way to achieve some of these elusive ideals is to adopt the model pioneered by impact investors, which takes the three Ps- Profit, People and the Planet into account when valuing a company or tracking its performance. Only then, he claims, will business leaders all over the world be incentivised to place sustainability and the regeneration of the planet's resources at the heart of their operations and decision-making. 
Focusing on the Agri-food sector, one of the largest contributors to global greenhouse gas emissions, water consumption and biodiversity loss, Archambeau dissects the many hidden problems caused by our current financial system, making the case for a radical overhaul in order to engineer a more accountable system, where purpose and ethics work mutually alongside profit.