In the ever-changing world of business, it can be hard to find time to relax, re-evaluate and reflect upon the challenges you're facing on both a personal and professional level. Such pressures make taking a hard-earned break over the summer season all the more important, with a chance to recharge and get back to your energised best.
Vacations are also the perfect opportunity to spend some downtime reading. Here, we have picked out 10 of the best new books that will help you to reconnect with your personal goals and beliefs, refresh your outlook on work, life and global issues, and leave you reading to take on the world with clarity, intention and confidence.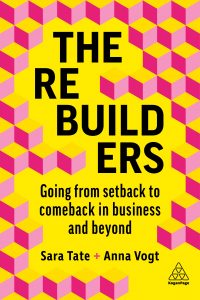 A welcome antidote to failing fast and moving on, The Rebuilders is a bounce-back bible packed with valuable practical insights into how to turn setbacks into success stories. 
Sara Tate and Anna Vogt, hosts of the hit podcast The Rebuilders, take a refreshingly optimistic approach to challenges and setbacks, reframing our attitude towards failure from the outset. With a host of practical tips, techniques and set-by-step exercises, this book equips readers with the tools to come back from challenges with confidence and clarity and to transform individual failures into a positive drive forwards, both at work and in life.  
Experts in the field of rebuilding, the authors spearheaded the successful turnaround of renowned creative agency TBWA London during the pandemic, and have turned their personal experiences in resilience and rebuilding into this inspiring guide for us all to benefit from. 
With a keen desire not to gloss over the current climate of frustrations and failures that the pandemic has kicked up from the dust, this book is a sure-fire way to meet our demons head-on, armed with all of the tricks, traits and triggers we need in order to remake, rebuild, or reboot something we love. 
For more Summer Holiday reads, click onto the next page.