The Set Collection & the Jewels of the Luxury Hotel Industry
Interview with its Executive Director Jean-Luc Naret
A hotelier by profession and a gourmet by passion, Jean-Luc Naret has had over 30 years of experience in the hospitality industry, allowing him to travel the world and visit some incredible destinations. Having recently joined The Set Collection as Executive Director, Jean-Luc has an expectational understanding and knowledge of operating and strategically leading hotels and resorts for luxury hotel brands worldwide.
Tell us a little bit more about the concept behind The Set Collection?  
The Set Collection is a new luxury brand representation company of the world's most exceptional independent hotels, run by hoteliers for hoteliers. It has been designed for owners, investors and management teams seeking an alternative to the traditional representation and distribution service.
There is an abundance of a large number of hotel brands in this dynamic and exciting industry today, most of which belong to large hotel groups (Accor for example has about 60, Marriott twice as many). Simply put, customers and owners get lost in this multitude of brands and need clearer reference points.
Our brand, The Set Collection was created by the four founding hotels of The Set Hotels brand -Lutetia in Paris, Cafe Royal in London, Conservatorium in Amsterdam and Mamilla in Jerusalem. Each of these hotels is undeniably recognised as one of the jewels of the luxury hotel industry and a leader in its market, for example, the Lutetia is the only Palace on the Left Bank.
By creating The Set Collection brand, we wanted to address hoteliers and owners who are looking for an alternative to traditional representation. We offer our members the possibility to safeguard their own hard-won identity and brand recognition without having to join a management brand and are able to provide them with a full range of a la carte services at both the commercial and representation level. Not only do we offer our talents, expertise and cutting-edge practices across multiple disciplines, but we also offer the opportunity to benefit from our strong commercial power.
What brought you to The Set Collection?
This is an easy question, with a simple answer – I like to make people happy. There is nothing more inspiring than seeing the joy that we can create in a guest by going above and beyond and engaging with them in an authentic way. There is also happiness for me in being a part of creating treasured memories – there are few professions that allow being witness to many of the most important moments in people's lives be it a wedding, a honeymoon or just a luxurious weekend away with the family.
What excites you about the future of The Set Collection and your role within it?
My current position involves carefully curating The Set Collection and deciding which hotels have the spirit, location, design and values that we feel would fit with the others represented. My current title is Executive Director, but I like to call myself Chief Creative Curator/Officer.
With our recent launch, and the fantastic new hotels in Asia that have joined us the word is well and truly out and myself and our owners are already receiving a number of enquiries, from both friends and strangers alike, which is enormously exciting. There is not one specific project that I would like to see become part of the Collection, this would be too limiting. Instead, I will say that I am looking for properties and the people within them that create that same intangible but wonderful feeling that I have when I am in one of our own founding properties.  We are bringing together the modern grand hotels of our time at the most outstanding addresses, in the world's most vibrant destinations – contributing to this is what I look forward to.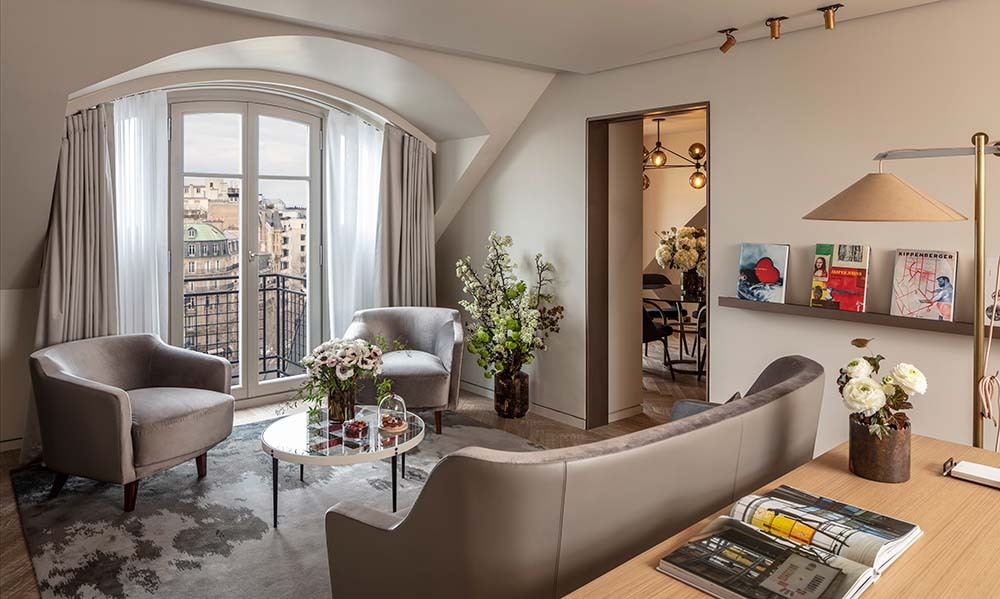 The Set Collection has recently announced four new property additions. Can you tell us more about them?
The Opposite House in Beijing, The Upper House in Hong Kong, The Temple House in Chengdu and The Middle House in Shanghai are all the most recent additions to The Set Collection portfolio. Each hotel is incredibly unique, from The Opposite House, with its striking architecture and intriguing art, The Upper House, a tranquil haven floating above Hong Kong's bright city lights. The Temple House, that is filled with heritage architecture meeting modern design and lastly, The Middle House, an ode to modern-day Shanghai in the middle of historic Dazhongli. Designed by Italian architect Piero Lissoni using a mixture of Chinese materials. They are extraordinary destinations to all those who stay with an impeccable sense of style a flair. 
What else is on The Set Collection's agenda for this year and beyond?
After the announcement of The Set Collection's expansion, the objective over the next few months is to work on new members joining that have the same spirit as The House Collective and our founding members. A carefully curated selection of properties worldwide is being created, by destination, and with the initial goal of 20 – 30 new members by the end of the year.   
As someone who's travelled the world, what's your favourite destination?
Too many to mention but I am always drawn to the water. The Maldives is hard to beat…