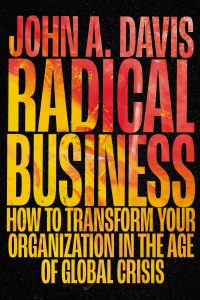 In Radical Business, best-selling author, award-winning academic and business leader, John. A. Davis provides a fundamental blueprint to help leaders and their businesses innovate to become a force for good in an age of global crisis. 
Addressing current issues such as the climate emergency, social and economic injustice, war, pandemics and recession, this book offers a refreshingly proactive approach to contemporary disruptions.  
Offering inspiring examples of companies that are already taking positive action, and captivating stories of their leaders, John. A. Davis presents a simple and innovative framework by which C-suite executives can put added societal value at the heart of their businesses and make a better world, whilst outperforming competitors in the process. 
This 'can do' manual is a helpful and down to earth companion for any change-making leader in the age of digital transformation.