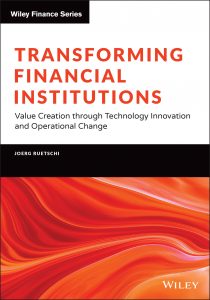 In this comprehensive two-part book, transformative technology expert, Dr Joerg Ruetschi, talks us through new ways to turn around operations and re-establish competitive advantage, post-crisis.  With particular detail given to financial institutions in the wake of the 2008 Global Recession, and drawing on a strong background in all things finance, the author identifies core concepts and managerial fundamentals, as well as exploring four critical areas of financial decision-making: analysis, valuation, modelling, and stress. 
With first-hand experience, currently heading growth strategies for prominent financial technology businesses, as well as AI Tech, Ruetschi discusses four emerging technologies – AI, blockchain, software and infrastructure solutions, and how these will shape the future and success of the financial industry. 
The second part of the book demonstrates how these topics are applied in practice, with special emphasis on turnaround and transformation, also addressing 'mergers', 'acquisitions' and 'investment' transformations.
With established experience as a growth leader and restructuring consultant, Joerg Ruetschi's book, Transforming Financial Institutions brings a high-level understanding of financial growth to the table that leaders in many other industries could benefit from.