Moving The Needle With Lean OKR's: Setting Objectives and Key Results to Reach Your Most Ambitious Goal by Bart Den Haak (Business Expert Press)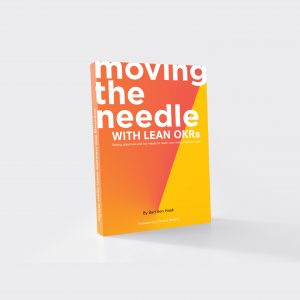 Drawing on 10+ years of expertise in using OKRs as a professional coach and business consultant, Den Haak's book offers aspiring businesses and their leaders the chance to understand and implement the 'Objective and Key Results' methodology that helped realise the transformational journeys of global giants such as Facebook and Google. 
Practical and to the point, this book combines a unique blend of structural and leadership tactics to help business leaders today realise their goals and achieve breakthrough corporate results. 
With a background in software engineering and a proven track record of advising big names such as NIKE and ING on their digital team strategies, the author's comprehensive guide offers us daily OKR practices that are simple to implement in a business of any size. Light-weight behavioural changes and a goal-focused way of thinking, Bart Den Haak's un-daunting methodology allows us to turn good ideas into great execution, heighten employee engagement and motivation and achieve measurable, innovative results. An essential book to help make our move into the digital revolution as comfortable, and natural as possible.