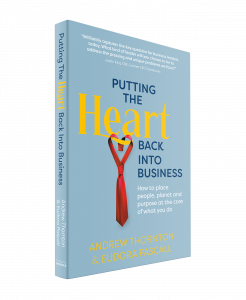 Putting The Heart Back Into Business is an engaging first-person account of the transformation that took place in a multicultural North London supermarket over the last twenty years. Andrew Thornton, founder of Thornton Budgens, an award-winning store, documents the huge impact and positive difference that running a heart-centred business can make on the lives of the people you work with and the world around you, from the top down.
Using the inspiring stories of the diverse range of individuals within the business, Andrew Thornton and co-author Eudora Pascall dare us to rethink vital ethical questions about our businesses and the world around us to put people and the planet first.   
Using first-hand knowledge of building a successful ethical business, Putting The Heart Back Into Business seeks to empower others to find their own positive ways to put heart into their business and establish strong values that can weather any storm, whilst still enabling profit and success as primary outcomes.