4. Dangerous Women by Jo Shaw and Abrisham Ahmadzadeh (Unbound)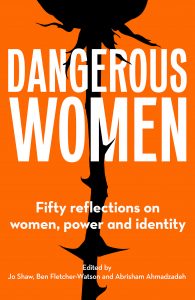 In Dangerous Women, writers, artists, politicians, journalists, performers and opinion-formers from a variety of backgrounds – including Irenosen Okojie, Jo Clifford, Bidisha, Nada Awar Jarrar, Nicola Sturgeon and many more – reflect on the long-standing idea that women, individually or collectively, constitute a threat.
In doing so, they celebrate and give agency to the women who have been dismissed or trivialised for their power, talent and success – the women who have been condemned for challenging the status quo. They reclaim the right to be dangerous.
This powerful anthology presents fifty answers to that question, reaching past media hyperbole to explore serious considerations about the conflicts and power dynamics with which women live today.