The business and leadership space is still dominated by male authors, but there are so many incredible books written by women. For International Women's Day, we have put together a round-up of some of our favourite leadership books written by remarkable female authors. These books will help CEOs to improve their leadership strategies, connect with their team, and improve diversity.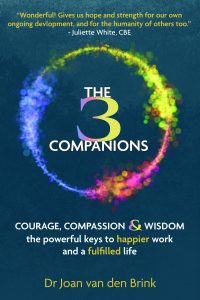 The drive for a cohesive working environment that nurtures diversity, wellbeing and sustainability is stronger than ever. In this powerful new book, Dr Joan van den Brink explores how courage, compassion and wisdom lie at the heart of transforming the workplace into a space where every employee – and leader – thrives. 
A vital guide for leaders, coaches and employees alike, it equips readers with the tools they need to tackle issues both big and small – from diversity and inclusion to our day-to-day disappointments and difficulties. It's packed with powerful and wide-ranging interviews collected from people of diverse nationalities, backgrounds, ages and ethnicities along with van den Brink's own experiences as a leading management consultant and Executive Coach. 
The book helps leaders discover their own self-compassion, personal values, personal boundaries, and supportive network as well as practice self-care. This assists leaders in balancing the drive for performance with a human approach and solving complex people issues so that they and their employees are happy and fulfilled. 
Click on the next page to see more books by remarkable women.