Annie Button, professional content writer and branding aficionado, recommends some winter sports to keep your competitive spirit burning during the colder months.
Winter is a time to find someplace warm and bunker down until the spring. But, this approach doesn't work for everyone, especially if your aim is to keep firing on all cylinders throughout the year. Business doesn't take a winter break, so CEOs and industry leaders must keep their edge throughout the tougher months. 
Failure to retain a positive mindset in winter can lead to seasonal affective disorder (SAD), otherwise known as the 'winter blues', which affects more than 12 million people across northern Europe. It would be easy to sit back, start the fire and wait until the sun comes back out. But, that's not the kind of spirit that can keep you or your business in peak condition.
Winter provides an opportunity for those striving for success to find it both in the boardroom and by beating others at sport. You can still enjoy the thrill of competition during the cold months and these challenging winter sports prove it.
1. Outdoor Swimming
Many of the world's top athletes maintain that to stay at the top of their game they have to have the right attitude. Engaging in outdoor swimming encourages a happy mind and body, allowing you to remain focused on the bigger picture when it comes to your business.
We could stay indoors and deny that winter is happening outside or we could embrace the chill. More popular than ever and with many reported health benefits, outdoor swimming:
increases metabolism

leads to better circulation

decreases inflammation

boosts the immune system

reduces stress
Events in the open water are held around the world throughout the winter, with competitors battling against the elements as well as their fellow swimmers.
2. Fat Biking
It might be unusual in name, but it is thrilling in action. Fat biking gets its name from the oversized tyres fitted to specially-adjusted BMX bikes. "The wide tyres provide you with extra grip and traction, and combined with a low tyre pressure", says Stuart Kenny of Much Better Adventures, "you'll find that you're able to pedal over terrain that'd make conventional tyres sink".
If you love jumping on the saddle of your mountain bike and testing your limits in the toughest terrains, then fat biking is a great winter alternative. With mountain biking trails all around us, you don't even have to go away to enjoy this sport.
Many bike shops rent out their fat bikes during winter, so it's just a case of picking a destination that matches your winter plans. That could be exploring Nordic trails or simply getting to grips with the landscape closer to home. You can pitch up somewhere like the Peak District and enjoy fat bike breaks from companies like Adventure Pedlars.
As for the competition, we think Mother Nature is a pretty fierce competitor on her own. Battling against her trickiest trails is challenging enough for some, but you can always throw some friends or colleagues into the mix to make things even harder.
Much like skiing, fat biking's adrenaline rushes combined with its tough cardio workout make it an ideal sport for maintaining fitness and reducing stress. With the stress of daily life often creeping up on us, fat biking is a great way to blow off some steam in the winter.
3. Downhill Skiing And Snowboarding
Hitting the slopes is a common winter retreat for people from all over the world, the number of skiers in the United States alone is around 14.9 million. Others are only in it for the apres-ski.
Downhill skiing and snowboarding offer competitive people the opportunity to prove just how quick they are. There can only be one winner. Winning a downhill race on the slopes involves some risk, so it's sure to get your adrenaline pumping. Adrenaline stimulates the release of dopamine in our nervous system, this helps you to feel a great surge of wellbeing once the race is over (which is true in any winter sport). Plus, you get to turn around and wait for your competition at the bottom of the slope, what could be more satisfying?
Skiing and snowboarding help to hone your instincts as one wrong move on tough slopes could result in disaster. It is also great for releasing endorphins and providing mood-boosting vitamin D to keep your spirits high in winter. Some of the most famous resorts like Val d'Isère or Whistler Blackcomb enjoy snow-capped mountains beyond the winter for extended seasons.
4. Biathlon
Perhaps running marathons is your thing throughout the year but slippery conditions put you off during the frosty winter. Why not try what is essentially a marathon on skis with the biathlon?
Biathlon is a cross-country skiing and shooting sport with roots in military training, requiring technique and stamina. This sport is good for you because it pushes you to your limits, testing your mental strength as well as physical. Fortunately, it is a low-impact, full-body workout but one that requires great control of your breathing.
While ideally enjoyed in the snow, it's possible to do the biathlon in all weathers, replacing skis with rollerskates. As snow isn't always around, many biathletes practise on their roller skates and translate the skills to skis in the winter.
5. Golf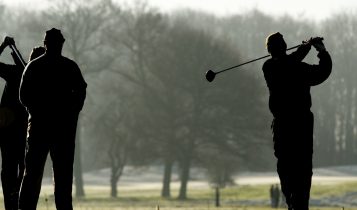 Finding a thrilling and adrenaline-inducing winter sport isn't always an option, especially if you live somewhere that gets little snow. Fortunately, there are alternative winter sports that still allow you to fight for success.
Although golf is a fair-weather sport for many, you can still keep things competitive throughout the winter. Firstly, getting out on the course remains an option, albeit one that requires wrapping up warm for. If you'd rather stay warm but can't let go of your clubs for the winter then consider installing a home golf simulator. They are an ideal way to keep your swing in shape throughout the winter months, plus you can rival your friends and colleagues.
Golfers can also enjoy some of the best courses from around the world on their simulators without having to leave the comfort of their own homes. Playing golf helps to improve mobility, reduce stress and boost focus levels. You can also keep up the social aspect of the sport on a simulator that often is forgotten during winter.
6. Tennis
Winter sports come in different shapes and sizes, with some being indoor versions of summer sports. Tennis is a great example of a sport that can be played year-round, so long as you find the right club or facility. Sure you won't be gracing the courts of Wimbledon in the winter but local clubs or indoor courts remain an option.
Tennis, much like squash or racquetball, is a great sport for supporting business meetings and boosting team morale. Tennis and country clubs offer tennis socials and training programmes to their members and they are a great way to stay competitive while also providing networking opportunities.
Competitors can let off some steam when playing but then you can talk numbers and business over a post-match drink or meal. Loser's buying, of course!
7. Curling
Not all winter sports have to be dangerous or get your heart pumping, and curling is a great example. It has come a long way from its past and now is a great sport for keeping your competitive spirit burning.
"Curling first originated in the 16th century in Scotland, which makes it one of the oldest team sports in the world", according to the International Olympic Committee. "Those early games were played on frozen ponds and lochs, using curling stones from the regions of Perth and Stirling".
However, just because it's slow-paced doesn't mean curling is an easy sport to just pick up and master. It involves a great sense of touch and direction. Curling not only requires a skilful shot, but it also needs high levels of communication and teamwork to ensure your sweepers follow your directions.
Players must push a large stone from one end of an iced surface to a targeted zone at the other end. This iced surface is known as a curling sheet and the game is reminiscent of bowls, boules or bocce. Imagine shuffleboard but on ice and you get the idea of how to play curling.