What Digital HR Tools Do 
A crucial part of human resources is setting clear goals and targets for company employees and keeping a close eye on monitoring employee performance and output. Managers must make sure they keep the HR department well informed on issues relating to staff performance. Digital HR tools provide vital assistance in helping managers and people working in HR to monitor and evaluate staff performance, meaning that everyone always has access to up to date information. Suppose you are a company looking out for a reliable digital automated HR and performance management platform. In that case, you may want to take a look at an automated HR Platform, which uses the latest cutting edge technology and real-time data on employee performance and engagement.
Why Digital HR Tools Are Important For Large Size Businesses Today
Large size businesses may have large workforces and hundreds of thousands or even millions of staff members working worldwide across the globe. Managing the performance, onboarding, recruitment, payment schedules, and paid holiday for many employees is a mammoth task for HR departments and managers to contend with. However, thankfully, today, there are digital HR tools out there that use digital technology to streamline tasks and make the lives of managers and people working in human resources in large companies a lot easier. 
The Advantages Of Using Digital HR Tools For Large Businesses 
Digital HR tools offer many advantages for large businesses, particularly those that use remote workers or offer flexible working hours. 
1. Efficiency And Streamlining 
A significant advantage of using digital HR tools for large companies is that they enable them to improve the efficiency of their HR processes. Digital HR tools help to streamline your company's HR processes by simplifying or eliminating unnecessary and inefficient HR tasks. Using digital HR tools can, therefore, save the HR departments of large companies a lot of expense and time and effort. And as is always the case in the world of business, time equals money.
2. Accelerate Your Company's HR Digital Transformation
Applicant Tracking Software (or ATS) is a crucial digital HR tool that can enable your company to achieve its HR digital transformation in a much shorter time frame. ATS acts as a centralised platform and a broad database for candidate screening, evaluation, and onboarding. Using ATS, therefore, allows your company to pinpoint your hiring procedures and effectively narrow down the candidates for roles. ATS systems also allow you to streamline recruitment processes throughout your entire company.
3. Eliminate Unnecessary Paperwork
Recruitment, staff performance-based evaluation, and onboarding are all HR processes that traditionally were very lengthy for large companies and required HR, management, and other staff members to carry out large amounts of paperwork. However, one of the significant advantages of using the digital HR tools around today is that they can significantly reduce or entirely eliminate the need for companies of all sizes to use paperwork during the recruitment and onboarding process. 
An additional benefit of opting to go with digital HR tools and using less paperwork for large corporate businesses is, of course, that it's a much greener option. Being socially conscious about the environment and recycling aligns with companies actively looking into various things they can do as a business to help protect the planet and reduce the damaging effects of climate change. Social responsibility (also known as CSR – Corporate Social Responsibility) is an essential consideration for large businesses today. Failing to behave in a socially responsible way may have dire adverse effects on a business, such as damaging a company's reputation, other companies not being willing to form business partnerships with them, investors deciding against putting their money into the company, and so on.
4. Optimise Payroll Processing
Innovative HR payroll software tools allow companies to report on labour expenses and manage compliance carefully. With minimal effort, your company can use modern payroll software to calculate employee bonuses, deductions, and alternate expenses accurately. This, in turn, means your company will be able to provide employees with more clarity and reduce the number of paycheck queries from your employees.
5. Minimise Human Error
Human error is inevitably a risk in vital HR processes such as recruitment, payroll, and onboarding employees. Digital HR tools, however, do not necessarily always provide you with results that are void of human error, as humans are often the ones who input the data, and errors obviously can be made. Today, you can choose to use artificial intelligence in payroll to streamline data management and effectively minimise human error. In the future, we will most likely see AI used more and more in the HR processes run by digital HR software. 
6. Improve The Productivity And Overall Performance Of Your Company Employees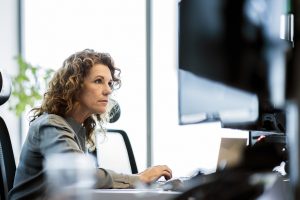 HR performance management software aims to help your company better grasp and understand your employees' productivity and overall performance levels. Performance management software tools support companies in goal setting, employee performance appraisals, and providing continuous feedback. These digital tools will also provide you with detailed reports and data analytics on results and staff output levels. 
Using performance management software to monitor and evaluate staff performance will also mean you are able to effectively retain staff more easily through streamlined incentives, bonuses, and motivation to all your staff. The ability to retain high-performing team members with impressive productivity and output levels is essential for large businesses to be successful and consistently generate money to make profits and perform well. Excessively high levels of staff turnover and continually losing valuable staff members can hurt any large business's performance and productivity.
7. Train And Develop Your Staff Members Through Learning Management Software (LMS)
For large companies, Learning Management Software (LMS) is essential for providing training, learning, and development programs to individuals across all your teams. Learning Management Software is also a digital HR tool you can use to track, document, and create reports on performance in employee assessments. You are able to provide staff with access to essential learning content and eLearning materials. Providing online learning opportunities for your staff through Learning Management Software also reduces your training and onboarding costs and means employees are able to gain valuable skills through working in-house with your company.
8. Online Time Tracking Software
Automated time tracking software is helpful for large businesses as it allows them to monitor and track employee breaks and work out wage calculations and bonuses. Therefore, time tracking software will enable companies to create productivity reports based on looking at the number of hours worked by employees vs company profits. Companies can also use the information they find on time tracking software to schedule and plan their time.
Digital HR tools should definitely be a vital part of your company's HR digital transformation. If you are a modern business after efficient, streamlined HR processes, then you are most likely looking to ditch the endless amounts of paperwork involved in the traditional recruitment, employee performance evaluation, and onboarding processes. In that case, you should look into using digital HR tools as soon as possible.