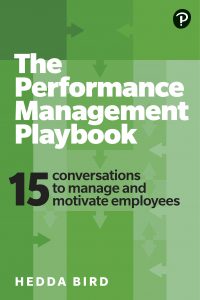 Performance management is one of the areas of leadership that is notoriously difficult and anxiety-inducing. How do you have awkward conversations that address the conflict between team members or missed deadlines and targets, in a way that leaves everyone feeling positive and engaged?
This new book, written by human engagement expert Hedda Bird, breaks down exactly how to handle 15 of these common performance management conversations in simple steps. It provides practical tools that are easy to use but also brings the ideas to life by drawing upon real-world examples from organisations of all shapes, sizes and industries.
If uncomfortable performance management conversations are one of the parts of your role that you dread, this book could become your go-to guide to make your life easier and more enjoyable in 2022.