How To Communicate Your Core Pillars To Candidates And Employees
Your company's core value pillars should outline the principles and priorities that guide your work. As your business expands and takes on new employees, it's important to make sure they understand your values and strive to uphold them.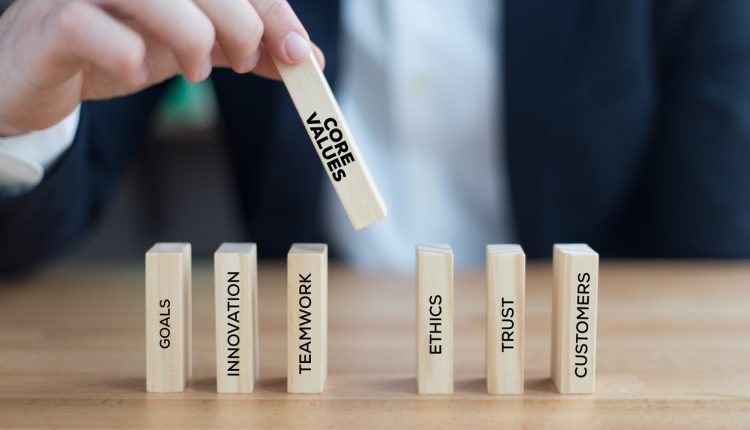 During the COVID-19 pandemic, many new employees may have joined your team while working remotely or in hybrid situations. It can be difficult to convey your value system to someone you've never met in person, but there are actions you can take to catch them up to speed. Read on for tips on how to communicate your core pillars, and make sure your business stays in step with your values.
Provide Examples
"Mission statements and value systems can often be too abstract. Vague wording tends to lose meaning – it's better to outline exactly what those values mean in the context of your business. Share examples of a situation that led to the founding of your company, for example, or a crisis that was averted because someone made the right judgment call. Employees and candidates want to have a clear understanding of what your mission means in relatable terms that they can apply to their work." – James Ville, Chief Product Officer of GunSkins
Incorporate Your Values Into Interviews
"When interviewing candidates for a role at your company, ask a few questions that speak to your value system. This is an opportunity to discuss the values that guide your business, and to make sure you're on the same page with any new hires. You want to make sure the new members of your team understand your core pillars, and it's important to set a clear tone from the start." – Anthony Puopolo, CMO of REX MD
Send Reminders
"Whenever you host a team meeting or take an important action on behalf of your company, that's an opportunity to reiterate your core pillars. If you expand into a new market, for example, or introduce a new product, take the time to reiterate to your team why this action reflects your core values. This instils a sense of direction and purpose, and it lets people know you that your values are more than just words." – Steven Vigilante, Head of New Business Development at OLIPOP
Integrate Your Values
"People interact with your brand in multiple different ways, whether they're checking your social media accounts, your website, or applying for a job at your company. Make sure your core pillars are fully integrated into your company's messaging. Your core pillars should be more than just a set of guidelines buried on page nine of your orientation materials; they should influence your brand's messaging across the board." – Jeremy Gardner, CEO of MadeMan
Engage Creatively
"Try to find creative ways to engage your team while sharing your core pillars. Instead of just printing your values on your website, try sharing videos of employee testimonials, or taking part in a company-wide service project. Host a workshop where employees can troubleshoot how they might respond to difficult situations in a way that upholds your values. People often learn by doing, or by relating personally to a story, and these methods will ultimately be more meaningful than just reading a list of words." – Yuvi Alpert, Founder and CEO of Noémie
Schedule Small Group Meetings
"As your company grows, it can be difficult to ensure each new member of your team understands your mission and core values. Schedule small group meetings with new employees to get to know them, and relate why your core pillars drive your work. These types of meetings will make them feel more connected to your company, and it gives you an opportunity to instil that value system from the very beginning." – Ted Toledano, Founder of Modloft
Include Staff At Every Level
"Make sure that your value system extends to staff at every level – including contract hires and freelancers. You want your mission to be integrated into everything you do, from the people answering the phones to the employees fulfilling orders. When you share your values with your team, make sure to include testimonials or examples that apply to entry-level staff as well as management." – Matthew Mundt, Founder and CEO of Hug Sleep
Open It Up To Questions
"Some members of your team might have questions about your core pillars, or how to apply them – this is a great thing! Give your team an opportunity to ask questions or bring up any concerns they might have. Your values should be part of an ongoing dialogue, both with your team and with your customers. Encourage an open dialogue, whether it's during a weekly team meeting or as situations arise." – Olivia Young, Head of Product Design at Conscious Items
Share Employee Testimonials 
"Sometimes showing is more effective than telling. This is why we include testimonials from our employees on our website in which they discuss why they enjoy working within our company culture. Many of them discuss how supportive and genuine the work environment is. Through the similar themes strung throughout these commentaries on our work culture, we are able to show the main values that reflect who we are as a company." – Joaquín Roca, Co-Founder and CEO of Minerva
Provide Context
"Your core pillars probably didn't come out of thin air. There's a reason you built your company around a solid value system, and it's important to share that context with your team. Instead of just telling new hires that you value family traditions, explain to them why that matters to you personally. Encourage them to do the same, and find ways to relate to one another. By sharing personal stories and anecdotes, they will feel a stronger connection to your values, and they will have a better understanding of why it drives the work." – Judy Nural, President and Founder of MicrodermaMitt
Lead With Integrity
"People are quick to notice hypocrisy, so make sure you demonstrate your values by leading with integrity. Your core pillars should be reflected in your actions and the actions of your company, and if they don't it will be confusing and discouraging for your employees. Your team will take their cues from leadership, so set an example that you want to see reflected at each level." – Seb Evans, Co-Founder of Banquist
Keep It Simple
"Your core pillars should be concise and easy to understand. If your mission statement is too diffuse, employees won't understand how to apply it to their work. Have a discussion with your team to determine a concrete, actionable set of core pillars that employees can lean on when they're engaging in their daily tasks. And then make sure you communicate it clearly, and often. Integrate your values into your regular messaging and training materials." – Shaun Price, Head of Customer Acquisition at MitoQ
Recognise Employees Who Walk The Walk
"A good way to communicate your core pillars is to call out team members who demonstrate those pillars in their work. Maybe someone went above and beyond to assist a customer – give them a shout out on your next team call, and let them know you appreciate their work. Your team will gain a more concrete understanding of how your values influence your work when they see it in action, and it gives you the opportunity to amplify those messages." – Miles Beckett, CEO and Co-Founder of Flossy
Hold Collective 'Sense-Making' Discussions
"As a company grows, its corporate identity matures and changes. That means core values and the way they are practised will change as well. A simple value communication can, therefore, backfire. To move toward authentic, ethical and innovative growth, companies can focus on a culture of collective sense-making so people can discuss their values and how they want to practice them." – Erika Jacobi, Founder of LC GLOBAL Consulting Inc.
Integrate Values Into The Employee Lifecycle
"Integrating values into each step of the job cycle, from hiring to advancement to exit, prompts a pause to ask: With which core value does this decision or action align? This practice connects daily behaviour to a company's impact, exposing whoever does not subscribe to the values. Open discussions could then show how values are embodied in diverse ways, fostering more inclusion versus groupthink." – Samara Hakim, President of CulturGrit, LLC
Keep your business moving forward with a sense of purpose and direction by establishing a clear set of values. Make sure your core pillars are an integral part of your company and communicate them with your team often. By communicating your core pillars, you foster a company culture that is both proactive and intentional.