Here's Why You Need an Image Consultant
We caught up with David McKnight - a certified executive coach and image consultant. David began his image consulting journey in 2006 after taking classes at the Fashion Institute of Technology (FIT) in NY. He did this while working full-time as a management consultant for Accenture. After completing his coursework, David began working with professionals on the weekends to elevate their personal and professional style. He would visit their homes to edit their wardrobes and then take them personal shopping. David swiftly built an impressive roster of high-profile clients based on referrals. Eventually, he was able to combine his interest in image with his corporate experience, by speaking on the topic at conferences, universities, and other corporations. These experiences led him to write his first book The Zen of Executive Presence.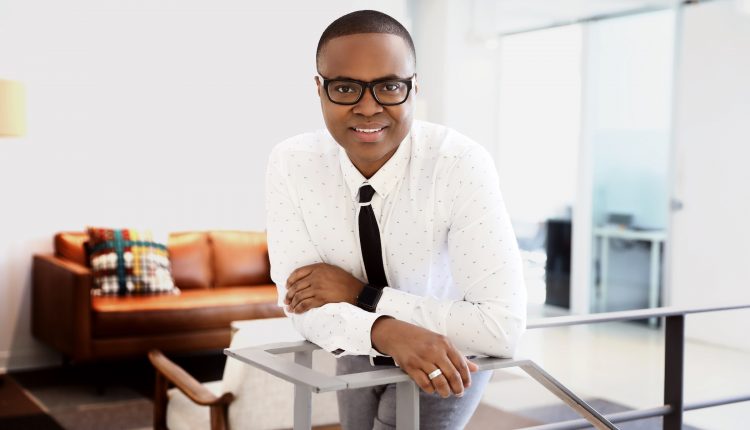 After two decades as a management consultant and financial services executive, David is now the president of McKnight Image Lab, which is an executive coaching and image consulting firm. His personal mission in life is to teach professionals how to transform and leverage their presence and brand. Applied correctly, it's a strategic tool to skyrocket their performance, effectiveness, and success in the workplace. We hear all about the importance of this below.
Tell us a little bit about image consulting? 
To me, image consulting is all about raising a client's awareness about the efficacy and power of their visual messaging, communication style, and presence. Prior to working with me, most clients had blind spots about their image and the signals it conveyed. Through our work together, I identify the blind spots, and we explore how they may be currently perceived. We then take action to strategically control and influence those perceptions.
Countercurrent to popular opinion, image consulting is not just about fashion. However, it is about teaching someone how to utilize clothing as a tool to support their message and maximize their impact. We don't stop there, we also work on communication, behaviour, and virtual presence. One recent client reached out to me because he was hired as the Chief Medical Officer of a large hospital system. We worked on his wardrobe, his presence, and also the decor for his office. As a result, he felt more confident in his role as a leader. In fact, he recently texted me to say that, after only one year, he was promoted to President of the hospital. He credited our work together as a key factor that contributed to his success.
Countercurrent to popular opinion, image consulting is not just about fashion. However, it is about teaching someone how to utilize clothing as a tool to support their message and maximize their impact.
Why is it important to have an image consultant as a CEO? 
According to the Fall 2021 Fortune/Deloitte survey with CEOs, the talent challenge is the biggest challenge that CEOs face. To support this, when asked to describe their role in 1-3 sentences, 42% identified leading talent as the top theme. My takeaway is that CEOs have an opportunity to show up as the inspirational leaders that talent wants to work for. In other words, they must be the example for others to follow. To start, they must be fully aware of how they are perceived, and then make adjustments where necessary.  As we used to say during my days of change management consulting, 'the tone is set at the top'.
Given today's post-pandemic world, CEOs will be measured by how to handle the virtual and hybrid workplace challenges. It's not enough to focus on products, service and competition. Without knowledgeable and satisfied employees, the company will fail.  Therefore, CEOs must be acutely aware of their personal brand and their message delivery. An image consultant can help her or him decode the messages that they may be unintentionally sending through communication, actions, and appearance. In turn, they can help devise a plan to remedy any gaps. As one of very few certified image consultants and executive coaches in the world, I'm uniquely qualified to work with CEOs to stress test their assumptions and identify blind spots. I enjoy becoming a trusted partner to help them navigate personal, organisational, political, and people challenges.
Tell us about your Executive Presence mini-course and your book. How can they help people? 
For those individuals who may be looking for self-led transformation, I have two resources to offer. The first is my book, The Zen of Executive Presence. I wrote this book while still working as a full-time consultant. I wanted to write a book that would teach the reader about the four pillars that influence executive presence. These include appearance, behaviour, communication and digital presence. Over the years, the book has served as a platform for me to develop and deliver workshops and coaching programs for employees of large organisations.
I took full advantage of the pandemic's stay-at-home orders and created a mini-course. Designed specifically for busy professionals, it consists of concepts directly from my book. The Executive Presence mini-course includes eight short videos that are between two and four minutes long. The videos are accompanied by a worksheet for reflection and action. My intention was to create a product with digestible, bite-size content that could be accessed and consumed easily. Even while on the go. Both products can be found on my website: www.mcknightimagelab.com.
What are your top tips for CEOs on achieving excellent presence and image? 
As CEOs undergo workforce transformation, it's important to start with self-awareness. Central to this is a deep understanding of how they're currently perceived. Remember, it's less about one's intention and more about the perception others have of them. Once this is understood, it's time to develop a plan that bridges the gap between the two, and then implement it.
Second, in a study completed by Catalyst, employees identified empathy as the top trait that they wanted in a leader. The report revealed that ​​"empathy is an important driver of employee outcomes such as innovation, engagement, and inclusion—especially in times of crisis." Therefore, I would encourage leaders to lead with empathy and communicate with warmth. These are two simple ways to transform one's presence and image.
In summary, understanding and honing your professional image is paramount. Our image is a constellation of attributes and traits. The good news is that it's completely controllable. Once an executive recognises the role their image plays, it can be leveraged strategically to positively impact the organisation's brand and bottom line.