Strong Language: The Fastest, Smartest, Cheapest Marketing Tool You're Not Using by Chris West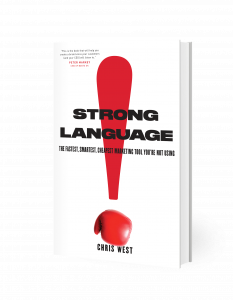 Most CEOs will understand the importance and value of their brand as a visual identity, but how often have you stopped to consider the language your brand uses across the various channels – would you be able to identify your brand with your eyes closed?
In this new book, tone of voice expert Chris West makes a compelling case for how brands can use language to really change how people think and feel about a business. With customers now expecting brands to communicate across more channels than ever, creating a consistent voice can be an extremely daunting task, but Strong Language sets out practical ideas for how brands can flex their voice to get it right from product launches to customer service apologies.
We all know that customers are increasingly following brands that measure up to their values and connect with them on an emotional level, so of course it makes sense to invest some time and effort into making sure your brand really speaks their language.