The Leader in Global Retail Innovation
The retail industry is going through profound changes that have been accelerated by the COVID pandemic.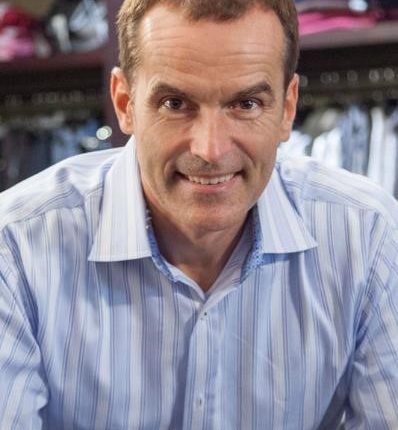 As President of Sensormatic Solutions by Johnson Controls, a leading retail technology organisation, Bjoern Petersen oversees the company's strategy and all resulting execution activities to ensure they're meeting the needs of today's retailers by enabling them to enhance their consumer experience and maximise business outcomes. Bjoern is steadfast on leading Sensormatic Solutions digital transformation, including the development and execution of Sensormatic IQ, an open, scalable, secure, and intelligent operating platform for retail.
Sensormatic Solutions is the leading global retail technology solutions portfolio of Johnson Controls powering retail operations and enabling a frictionless, personalised, smart, and connected shopper engagement. The company currently serves 80% of the world's top 200 retail organisations and their solutions allow retailers to act on prescriptive, data-driven outcomes to confidently move into the future. In 2020, Sensormatic filed a record 70 patents for innovative retail technology solutions, 55% are emerging future technologies that will help retailers accelerate their digital transformation.
Tell us a little bit about Sensormatic Solutions' dedication to cutting-edge technology and innovation – how you started and where the organisation is now.
The customer experience hinges on perfectly timed moments of truth — engagement on the customers' terms, providing the right item at the right place and at the right time. Those moments between customers, stores, associates, and inventory are opportunities for retailers to positively impact the shopping experience and execute seamless unified commerce. As a global retail technology innovator, we recognise the value that digital strategies enable, as well as the significant need for integration in a hyper-connected retail world. As a result, Sensormatic Solutions is committed to creating cutting-edge technologies for retailers.
In January 2021, Sensormatic Solutions launched Sensormatic IQ to integrate its existing data sets, and powerful technology solutions as well as third-party data to fast forward digital transformation through predictive and prescriptive insights. Sensormatic IQ provides unmatched insights into areas including shopper behaviour and engagement, inventory, labour allocation, loss prevention, liability events and more.
Amidst the COVID-19 pandemic, there were many unexpected challenges that our team worked quickly to help retailers solve, including supporting increasingly popular methods of shopping through unified commerce solutions for BOPIS and curbside pickup. Despite the immediate challenges brought on by COVID-19, we saw an opportunity for retailers. Global incidents were not slowing down the retail industry but instead forcing retailers to adapt, adopt and accelerate innovation faster than ever to deliver the experiences their customer's demand.
Our data-forward open platform is the result of decades of experience as a leader in global retail innovation. The journey toward this technology-first approach started when we expanded our capability set with IP connected, industry-leading hardware and sensing capabilities for IoT solutions. A year later, the software layers were consolidated on Google Cloud. By 2019, we developed a common data lake for Sensormatic to build big data analytics that was becoming key differentiators for retailers facing rising competition.
How do you ensure that Sensormatic Solutions is always at the forefront of innovation?
The retail industry is constantly evolving, and the ability to adapt, pivot and adjust to these changes is why Sensormatic Solutions is a model for retail technology evolution. Sensormatic is a long-time retail technology innovator, evolving alongside the changing industry for over 50 years, and the COVID-19 pandemic is the latest seismic shift to spur major transformation within the industry. Sensormatic Solutions is working hand-in-hand with retailers across the globe to help them successfully navigate these disruptions through adaptive technology and scalable solutions.
Leading the way in retail solutions since 1966, Sensormatic was founded after a theft of wine bottles from a Kroger Supermarket. From loss prevention to store performance, the company has developed new solutions to the latest retail challenges, helping its customers stay ahead. Starting with the company's first anti-theft pedestals and tags which were ground-breaking in their own time, Sensormatic Solutions has evolved with the latest retail trends to guide its customers in their own transformation, by developing cloud-based SaaS solutions enabled by Artificial Intelligence (AI) and next-generation technology. Additionally, strategic partnerships with Google Cloud and Intel have ensured that best-in-class innovative solutions are delivered at speed and scale.
The lessons learned amid the transformation from a legacy hardware company to today's data-driven, outcome-focused technology leader were invaluable, informing our approach to modern retail. Today, Sensormatic IQ can support retailers in their own digital transformation. The need for precision retail and a seamless online and in-store experience for shoppers is clear, and Sensormatic Solutions is here to help retailers build an integrated, unified commerce strategy.
Can you tell us more about Sensormatic IQ?
Sensormatic IQ is an open, secure and agile platform that integrates the full Sensormatic Solutions portfolio, retailer data, and third-party offerings into one platform. This can enable retailers to act on predictive and prescriptive data to provide seamless, next-level customer experiences based on unparalleled visibility into operations and shopper insights. The platform is designed to meet retailers wherever they are in their digital transformation journey and help them understand and respond to the flow of information created between merchandise, people, and store operations. Leveraging the insights of this orchestrated environment can enable greater precision retail, knowledgeable and focused employees, and a shopping experience that keeps customers coming back.
What was the idea about Sensormatic IQ born out of?
The idea for Sensormatic IQ was born out of the realisation that the consumer demands homogenous retail experiences across all channels and departments with accurate real-time information. To fulfil the consumers' requirements, retailers need to improve the precision of their operation and use a combination of data sets that have been traditionally trapped in departmental silos or were outright unavailable. All retailers have hence started their individual digital transformation journeys.
Sensormatic Solutions understands the challenges associated with digital transformation because the company recently experienced its own. Decades ago, Sensormatic pioneered the first anti-theft pedestals and tags. Today, Sensormatic works with IP-enabled hardware, cloud and SaaS offerings, data lake and analytics solutions, AI and smart sensors, and more. Sensormatic IQ is the ultimate expression of that evolution.
What's your favourite thing about Sensormatic IQ?
One of the best parts about the Sensormatic IQ platform is that it's backed by an industry-leading portfolio of partners, including Google Cloud and Intel (among others). This means Sensormatic IQ can evolve with the needs of retailers because its open, secure and agile. What's more, Sensormatic IQ leverages the Google Cloud to deliver advanced analytics capabilities with a global reach. This is innovation at scale.
Additionally, Sensormatic IQ integrates a variety of data streams under a single platform umbrella, bringing together traffic data, customer demographics, inventory counts, point-of-sale data, and more. It then analyses the information to generate new insights (helping retailers anticipate and prepare for changes) against different retail personas, product categories, and shopper journeys which can improve conversion and operations. Sensormatic IQ never stops finding new ways to deliver value across the enterprise. In our mind this type of capability is no longer "nice to have"—it is becoming essential to compete.
Sensormatic IQ is not static. It is an ever-evolving set of capabilities that integrates new data streams as they become available, providing valuable analytics at any scale.  As the retail industry evolves, Sensormatic Solutions will evolve with it—thanks to Sensormatic IQ.
What is your ultimate goal for the future of Sensormatic IQ? 
Our goal is to make retail successful – higher precision, more agile decision-making and meeting the consumers where and when they want to be met. Doing all of that with individual configurable digital transformation journeys that can be executed at scale with a synergistic platform approach while ensuring continued innovation.
Sensormatic IQ is not static. It is an ever-evolving set of capabilities that integrates new data streams as they become available, providing valuable analytics at any scale.  As the retail industry evolves, Sensormatic Solutions will evolve with it—thanks to Sensormatic IQ.
What excites you most about the future of technology and the sector you operate within?
I am most excited about the speed of innovation. We are actively using advances in material sciences, engineering, computer vision, AI/ML, data science and many more. The combination of these technologies allows us to create solutions that have been unthinkable in the past.
For instance, with safety consistently being a priority for in-store shopping during the pandemic, we partnered with Intel to develop innovative technology. By combining Intel's AI technology with our Sensormatic IQ platform, we're now assisting retailers grappling with social distancing regulations brought on by the pandemic by delivering near-real-time alerts related to health and safety. From occupancy tracking to mask detection, our joint solution allows retailers to have confidence in their safety protocols.
Can you discuss the importance of sustainability and the contributions Sensormatic Solutions is making in this space?
Many consumers are now adopting a more eco-conscious consumption mindset and, as a result, brands must prove themselves to be environmentally conscious or risk losing key demographics. I believe new technology is required to help retailers truly have a positive impact on the environment.
Responsible Retail is at the heart of our business and fundamental to everything we do. We approach sustainability in three prongs:
Sustainability for our own company: We are continuing to improve our environmental performance and energy management across facilities by identifying and reducing every excess.
Sustainability for our retail customers: We are committed to delivering sustainable products, solutions and services to 185,000 stores in 100+ countries (and have been doing so for more than five decades).
Sustainability for shoppers: By using our solutions, we believe retailers are providing their customers with a seamless and sustainable experience.
Additionally, Sensormatic IQ leverages big data and artificial intelligence to help optimise retail store sustainability through connected, digitally enabled, secure solutions and services.
Ready to fast forward retail? Contact Sensormatic Solutions (sensormatic.com/contact) to learn more about Sensormatic IQ, and how we can become a strategic partner to support your retail environment.