As a CEO, you should know the importance of taking a break from work. Sure, your company relies heavily on your leadership. But if you're an effective leader, your organisation should be able to function while you take the much-needed break. In fact, one of the reasons why a lot of today's CEOs are effective is that they make it a priority to go on a break and seek relaxation away from the hustle and bustle. 
Getting away from the daily grind is not only good for your health but also for the company that you lead. So, if you're thinking of going on sabbatical leave, you are certainly making the right decision. But where should you go? Below, check out the top luxury destinations where CEOs can take a much-needed break.
Alaska 
To make the most of your sabbatical leave, why don't you go to a place where you can relax and enjoy nature at its finest? For CEOs who dream of open spaces, wild nature, and a chance to explore, Alaska would be a great destination. Alaska's wilderness is vast, home to more than 3,000 rivers and 3 million lakes! It also has the most glaciers and the tallest mountains that are waiting for you to discover. Indeed, a holiday in Alaska will make you forget about workplace stress.
Alaska is the ultimate destination for outdoor adventures, from kayaking to hiking and glacier walking. About two and a half drive south of Anchorage, you'll find the Kenai Fjords National Park. This might be the smallest park in the state, but it offers the best opportunities to explore the vast glacial landscape. If your idea of an Alaskan holiday is to sleep in a cabin in the wilderness, then consider staying in one of the public cabins in the park. These cabins offer a perfect opportunity to spend the night in the wild while still enjoying a bit of luxury.
Just a 10-min drive from the city of Seward, you will find the famous Exit Glacier. Seward is also a perfect base for kayaking adventures around the protected Resurrection Bay, where you can catch a glimpse of the wide variety of local marine life.
French Polynesia 
Thanks to its location, which is close to the equator, French Polynesia enjoys consistent temperature all year round, making it a perfect place to visit at any time of the year. The 100-plus islands that form French Polynesia consist of five main archipelagos. One of these is home to Tahiti and Bora Bora, two of the most popular destinations for a luxury holiday in French Polynesia.
Famous for the iconic overwater bungalows, Bora Bora and Tahiti are popular with travellers looking for seclusion while exploring the depths of the sea on a scuba diving adventure. Both islands are remarkably stunning, offering relaxation, solitude, and luxury, an ideal setting for CEOs on sabbatical leave. Whether you're heading to Bora Bora or Tahiti, stay at an overwater bungalow, which offers a unique accommodation experience and a quintessential part of a Tahitian holiday.
New Zealand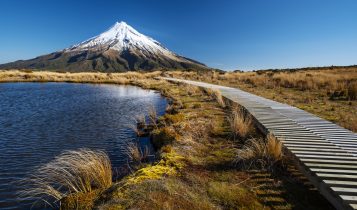 New Zealand conjures images of glaciers, mountains, rainforests, and pristine lands. If you are looking to go hiking, skydiving, bungee jumping, or road tripping on your sabbatical leave, New Zealand is the perfect place to visit. The country is blessed with a fascinating landscape and offers plenty of opportunities to get you outdoors and do something incredible.
The best way to explore New Zealand is to go on a road trip. Driving from north to south, you get to witness incredible natural scenery that makes for an unforgettable adventure. The point of a road trip is to enjoy the views along the way. Sure, you can drive through the main highways to get from point A to B quickly, but why be in a hurry? There is so much to see along the way, so it is best to take it slow and soak up the views. Try to spend at least a week in New Zealand. That should be enough to discover both the North Island and South Island while taking part in some fun activities.
Peru 
While Peru is famous for the citadel of Machu Picchu, there's so much more to discover in this incredible South American country. It's one of the most diverse countries in the world and a gateway to the Amazonian jungle. Trekking is by far the most exciting way to explore the Amazon rainforest. Before you head to the jungle, consider spending a few nights in one of the luxury lodges to allow yourself to acclimate. Set in a secluded area in the jungle, these lodges are fitted with modern comforts and amenities, giving guests the convenience to relax in preparation for their trek. 
If trekking is not your cup of tea, you can go cruising instead. Get onboard a luxury cruise ship and cruise the Amazon in style for as many days as you can. As the ship traverses along the Amazon River, relax in your elegant suite and soak up everything that the mighty Amazon has to offer.
Thailand 
Home to postcard-perfect islands and brimming with pristine natural beauty, Thailand is quickly becoming the destination of choice for luxury travellers, including the world's top CEOs. From the exotic beach destinations of Krabi to the incredible food scene of Phuket, there are so many things you can see and do while on sabbatical leave in Thailand.
Phuket and Krabi are often the top destinations for travellers going on a luxury holiday in Thailand. Both islands are home to several luxury resorts and hotels that provide relaxation opportunities for all kinds of travellers. When deciding between Krabi vs Phuket, consider the things that you wish to do on your holiday. Phuket has a more vibrant nightlife scene and is often crowded with tourists, while Krabi is a lesser-known destination with beautiful, secluded beaches. If you want to relax and unwind on your holiday in Thailand, Krabi is an ideal place to visit. But if you want to enjoy the nightlife and experience Thailand's incredible food scene, Phuket is a better choice.