Maldivian Daze: Exploring Huvafen Fushi
Never has the term 'heaven on earth' been more accurately applied to a destination than the Maldives – it's an unarguable statement. Warm, crystal-clear water, powdery white sand and lush tropical vegetation – this is what dreams are made of.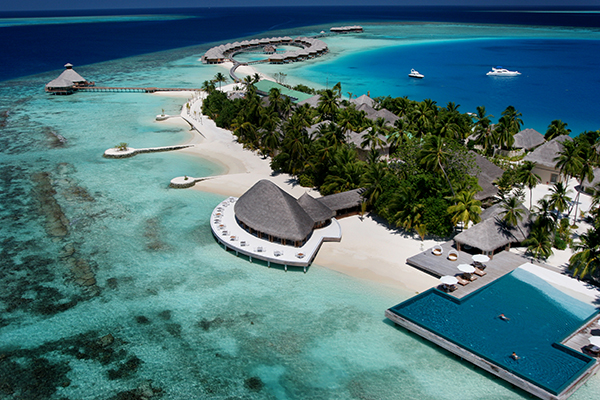 After over a year of no travelling, we were so lucky to be able to escape to the Maldives and Huvafen Fushi for a much-needed adventure, mixed with a little bit of R&R. Read on to find out how our stay at one of the most sought-after resorts in the Maldives was.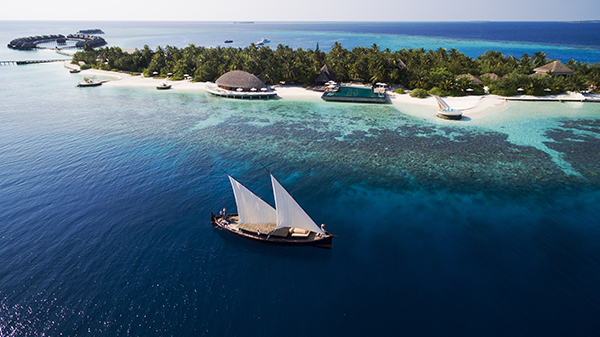 We reach Huvafen Fushi via a 30-minute speed boat ride from Velana International Airport and arrive at our island home for the next few nights, greeted by picture-perfect views and many smiley faces.  Here, the horizon is an endless swirl of white sands and the turquoise blue of the Indian Ocean. Beyond this vista, the warm, inviting waters surrounding Huvafen Fushi offer an oceanic playground for water sports, dhoni cruises and sandbank escapes, while below the waterline lives a wealth of marine life. It's impossible not to swiftly feel the weight and stress of your usual day-to-day life left behind as soon as you enter your private and exclusive haven, which in our case it is the truly stunning Cube – a two-floor beachfront sanctuary with a freshwater pool, private thakuru (butler) service, a deck with sun loungers and a barbecue area. Inside we find a generously sized open-plan living space and kitchen and a luxe bedroom upstairs, complete with two gigantic smart TVs, Bang and Olufsen Bluetooth speakers on both floors, an oversized jet-tub bath, as well as our very own sauna and steam room. One thing is clear from the get-go – leaving the Cube and all the comforts it offers to enjoy the rest of the island will feel like a difficult task!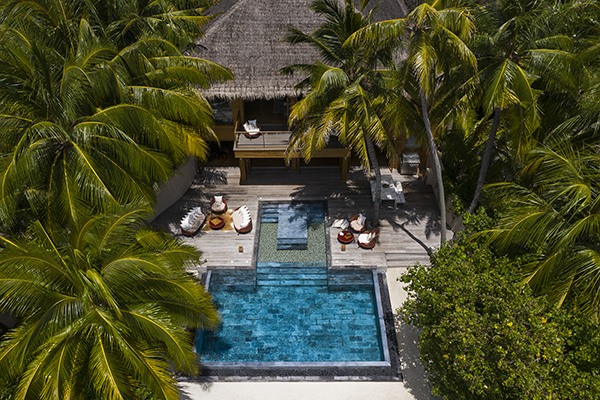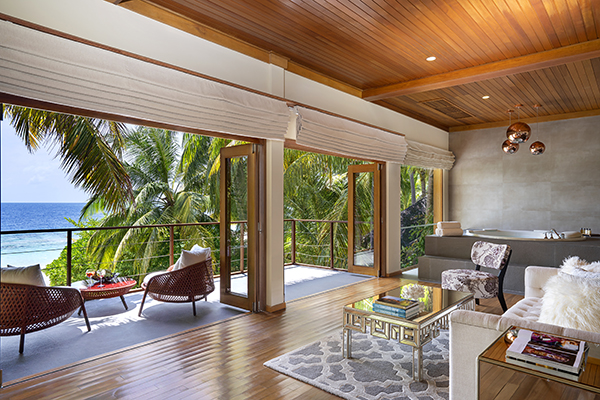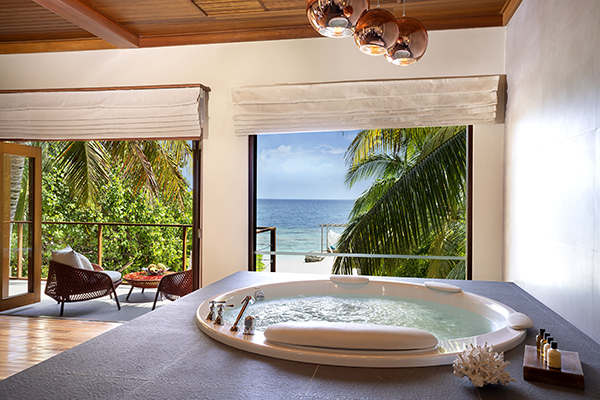 Food is always a huge part of any trip and to sample the best of what Huvafen Fushi has to offer, we head to Salt – the island's signature overwater restaurant serving mouth-watering Japanese food, with a Latin twist. The vibe is relaxed and the food… the food is nothing short of sensational. Miso aubergine, crispy rice, fresh California roll and the showstopper – yellowfin tuna and seawater prawn with susimo marinated mushroom, tobiko, pressed edamame puree and chargrilled asparagus; the food coma is inevitable and so worth it. The serene setting, panoramic beach view and Indian Ocean soundtrack take the experience to an even higher level. We leave with full bellies and finish the night with a glass of ice-cold champagne under the star-filled Maldivian sky.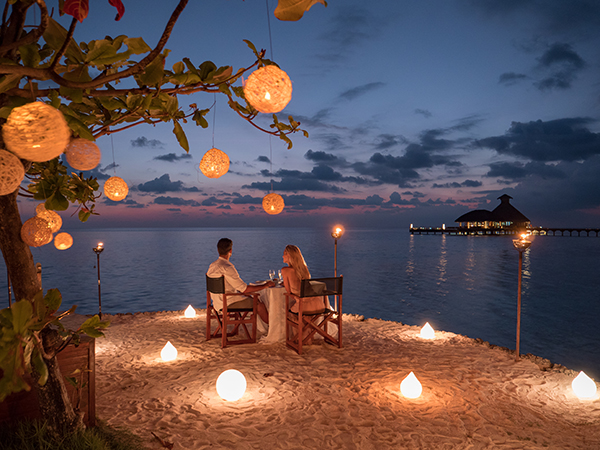 After a lovely rest, we watch the sunrise from the beach and head to breakfast at the all-day-dining Celsius restaurant, which quickly becomes a favourite place for lunch and dinner too. Serving all manner of international cuisine – from fresh local curries to pizza, pasta, grilled meat and salads – the restaurant is a laid-back spot, where guests are encouraged to enjoy a leisurely meal overlooking the endless Indian Ocean.
Raw and Forno and two other unmissable dining spots – the former serving fresh organic food in a bistro-style setting, and the latter being the perfect choice for a Mediterranean-inspired poolside lunch.
Those who think that the Maldives is all about lazing around on the beach are not wrong, but this does not mean that there's nothing else to do. Quite the contrary. Huvafen Fushi invites its guests to try an impressive array of experiences – from a luxury traditional dhoni experience in open water (which could be booked anytime) to excursions and countless water sports on offer. In line with the global push to protect our oceans, Huvafen Fushi works with marine environmental scientists on preserving the reef that surrounds the island by offering its guests to adopt a coral, which will grow in the island's carefully protected coral nursery. Even when you're back home, you can receive photo updates over email on your coral adoption, allowing you to check its growth rate. Talk about creating a memory that will forever live on!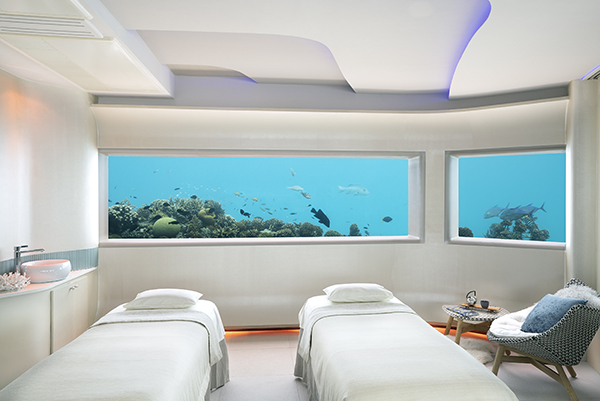 And while snorkelling and diving are always mandatory in the Maldives, those who'd like to explore the underwater world around the island can do it without getting wet at Huvafen Spa – the world's first and only underwater spa, located eight meters below the surface. Enjoying a wondrous massage while observing the marine life around you (which often includes reef sharks!) is a true once-in-a-lifetime experience! In the evening, the spa turns into Spaquarium or the perfect way to explore the reef as it comes alive at night-time while sipping champagne and nibbling on hors d'oeuvres.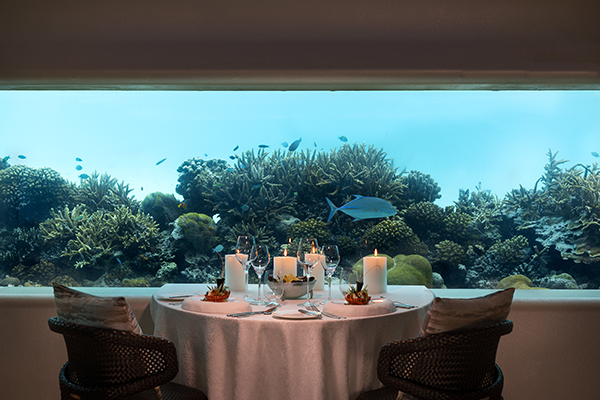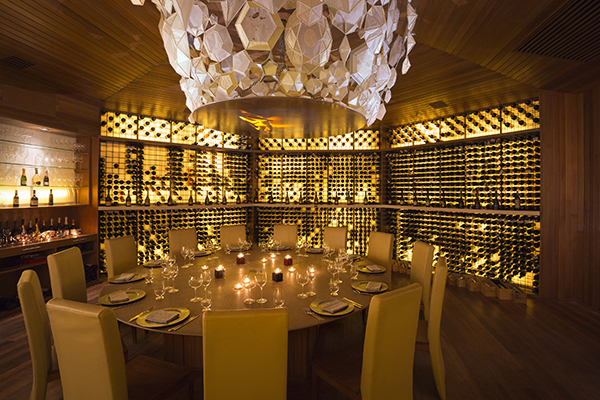 After a day of adventures, we spend an evening at Huvafen Fushi's underground cellar, Vinum, where the resident sommelier Jude introduces us to his favourite wines from the resort's collection, beautifully paired with a cheese and antipasti tasting platter. His enthusiasm about the 'drink of the gods' is infectious and his knowledge – commendable! We spend a couple of blissful hours listening to him and enjoying the different wines he presents to us, surrounded by 6000 bottles with over 600 labels from across the globe. In addition to tastings, guests of Huvafen Fushi can also opt for a gourmet dinner with wine pairings.
From sunshine, divine food, exhilarating experiences and unmatched hospitality to textbook tropical island landscape, Huvafen Fushi promises to be the perfect base for a luxury Maldivian holiday. And let's be frank, we all need one of these after the pandemic whirlwind we've endured.
For more information and to book your stay, visit https://www.huvafenfushi.com/