Liza Chong, CEO of The Index Project, discusses the lack of diversity in the investment industry and explains why it's time for change.
It is no secret that the investment industry has a problem with diversity. Women make up only 14% of fund managers worldwide, a figure that remains shockingly unchanged since 2000. Despite efforts to channel more female-led initiatives in the financial sector, women are still considered outsiders in this exceptionally male-dominated space. 
Yet, the term "women" itself is far from homogenous. Representing roughly half of the world's population, women are continually grouped together in the diversity, equity and inclusion (DE&I) conversation. Among us are numerous intersecting layers of power and privilege, from race and sexuality, to age and socio-economic backgrounds, meaning that the few women who do have a seat at the board room table are predominantly white and middle class. 
This is particularly pertinent within the venture capital (VC) ecosystem. Only 38% of employees are women, according to a Sifted report, with a mere 10% being in senior positions. Another report tells us that just one in three of these are women of colour, making up roughly 3% of the entire fund management population. This vast underrepresentation unveils a systemic problem with gender and race within investment and proves that the industry's 'male, pale and stale' reputation is more than just a stereotype. 
Culture of exclusion
My intention was never to raise a fund, or manage a portfolio of companies. In fact, my imposter syndrome kept me guarded and cautious about promoting myself or even parodying myself as someone with finance knowledge that suited and booted guys in private equity forums.
The need to see solutions through The Index Award get funded and scaled to improve quality of life was my burning goal, but how? Going to a variety of conferences, talks, panel discussions, and conversations made it clear that we had a very attractive pipeline of opportunities representing the best in the class of design and innovation. Businesses that could not only have a big impact, but could become very attractive investment opportunities. 
New to the investment scene, I treated the assignment as design ethnographic research. I spent the early years observing and interviewing different stakeholders to figure out how an organisation like ours could successfully move away from only awarding great ideas to mobilising capital to enable these companies to scale and succeed.
I first dipped my toe into the world of fund management back in 2010 and was instantly sidelined by its pervasive "bro" culture – something widely talked about, but not yet called out. Thriving on bragging and bravado, this space operates in closed, male-driven circles excluding any newcomers, especially women of colour who stand out from the crowd. 
New to the investment scene, I was patronised because of my perceived vulnerability as a woman. I found men who challenged me on my initial target of raising one million Euros, told me it was not ambitious enough yet that raising any fund would be incredibly difficult. It was surprising that few could see that starting somewhere was better than nowhere. But I also felt an underlying sense of suspicion. I was painfully aware of a culture of assumed knowledge, exacerbated by a clear reluctance to share insights or learnings, particularly with newcomers.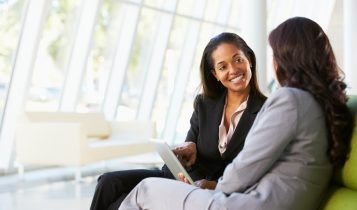 A distinctive advice gap exists for women starting out in investment. Almost 90% of male fund managers operate within trusted networks, partnering with male counterparts to create a closed circle unlikely to be infiltrated by women. For the few (typically white) women who do manage to break into the circle, they are usually recycled by companies looking to increase their diversity quotas, meaning that the same small number of female fund managers are invited to the table, whilst emerging women from diverse backgrounds continue to be left out of the room. 
A fresh perspective
Rather than feeling discouraged, the suspicion gave me the impetus to prove them wrong and source novel – while still profitable – pools for investment. I found solidarity in more experienced female fund managers who had jumped through the same hoops that lay ahead of me. United in our exclusion, these women were far more willing to impart their knowledge and foster a nurturing environment for outsiders such as myself, instilling in me the wisdom and confidence needed to progress. 
Standing on the sidelines, women of colour have the unique advantage of looking at the industry from an alternative perspective. We can see room to innovate and carve out spaces for more unexpected and pioneering investment opportunities. We are also more compassionate, knowing how difficult the struggle can be to compete on unequal terms.
While our experiences are vastly different, the same can be said for all under-represented fund managers, from the LGBTQ+ community to men of colour too. Our rich diversity means that we can bring a wealth of perspectives to the table, and represent the world at large more accurately. Making space for everyone will only enhance the potential to find new, meaningful and ultimately successful investment streams that can create better returns by being more representative of the world that they are serving. 
A chance to innovate
Investment, by its very nature, prioritises profit. But so many of the men I have encountered in my career consider this the ultimate end goal, seeing each other only as good as their target size. Marginalised people, by contrast, hold first-hand experiences of the injustices of the world, and are more attuned to the merit of uniting profit with purpose. 
As the era of conscious consumerism accelerates, it's never been more financially savvy to seek value in ideas that hold the key to a more inclusive future. Take the triumph of Index Award 2009 winner Kiva, one of the most successful examples of peer-to-peer lending. The non-profit organisation raises investment vehicles that support marginalised communities, having crowdfunded $1.5bn in loans to date, symbolising the growing prosperity of purpose-led investments.
VC firm Backstage Capital, by comparison, champions underrepresented founders by investing specifically in women, people of colour and LGBTQ+ individuals. Under the leadership of queer woman of colour Arlan Hamilton, the organisation has helped build over 160 profitable companies driven by diverse founders, while generating solid returns for investors. Clearly, a team of diverse fund managers can unlock untapped pools of financial capital, and generate significant profit from otherwise ignored entrepreneurs. 
On a personal level, as CEO of The Index Project, the Danish organisation that celebrates design that improves quality of life through The Index Award programme, we have a naturally more creative approach than the typical fund manager. We see investment as a creative impact project; an opportunity to redesign the system to be more equitable for all. 
The backing we received from our first angel investors understood and nurtured our female-led investment team from the start. We established a micro-VC fund, Design to Improve Life Capital Management, that would invest directly into the innovative minds from The Index Award's pipeline. 
From funding inclusive apps that facilitate group conversations between deaf people, to financing drones that deliver critical medical supplies to remote parts of Africa, we have found that investment can be a tool for amplifying unheard voices and giving emerging ideas the platform needed to make an impact at scale. 
Passing on the baton
You need to first understand the rules of the game to innovate and recalibrate them. Four years on, I have gained credibility as a fund manager and developed a platform to make a real impact through my investment circles. I wouldn't be where I am today without a great team to work front-line with founders who are advancing meaningful impact every day, as well as a lineage of female finance pioneers who came before me. 
Our success would not have happened without our incredibly supportive network of male and female investors and advisors and it is my responsibility to pass on my own insights to the next generation of underrepresented fund managers: Find your allies and listen. Among the sea of competitors, seek out fellow outsiders and find solidarity in your differences. You will all make mistakes. Prioritise the people you trust and the people you can learn from and grow with.
Ask questions. You will face aversion, but don't relent. Wear a thick skin and seek advice from your allies. 
Figure out your core values. Ask yourself what difference you want to make and how best you want to serve. The most fruitful ideas do not just challenge the status quo but have something valuable to offer. 
The real vehicle for change 
My personal tips and tricks can only go so far and are relative to my experience. True reformation goes beyond placing the onus on women themselves and lies in the hands of broader, structural change. It starts with education. More women – particularly women of colour – need to be channelled into economics and business from an early age, and universities are responsible for making us feel welcome in these spaces from the outset. 
Upon entering the industry, we need to put more measures in place to nurture women of colour at the angel investing phase and create more fruitful networking spaces for marginalised people to learn and flex their investing muscle. If women are not granted access to these fundamental pools of insight, advice and mentoring, they will be unable to develop investment experience, build their portfolios and ultimately raise the same funds as men. 
By starting from the ground up, we will be able to elevate more women of colour up the investment ecosystem, right up to board level. Not only will this imbue the white, male-dominated sector with a much-needed new perspective, but it will also give the emerging cohort of female fund managers the role models I wish I'd had when starting out.