How to Make Our Working Life More Eco-Friendly
Environmental issues have become a key point of concern for all of us. Many people are now seeking ways to keep our carbon footprint low, both in our home lives and our work lives. The greener way of life has us examining everything from our transport choices to our heating. It's only logical that our work lives are the next thing on the green to-do list.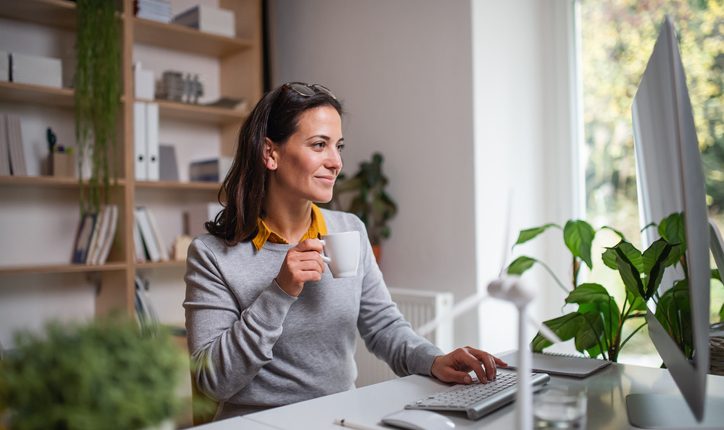 Since the start of 2020, being able to work from home has led many to forgo their commute, reducing transport emissions. It's just one of the many benefits that has revealed itself in working from home, and it's fuelling the question: what further green initiatives can we find for our working lives? 
Greener working from home
At the start of 2020, the idea of working from home was quite a novelty for many of us. By April of that year, however, it became the norm – the Office for National Statistics revealed that 46.6% of employees did remote work to some degree last year. 86% of those were doing so because of the pandemic.
Of course, working from home meant less travelling to the office, causing transport emissions to dip. In the UK, commuting releases 18 billion kg of CO2 each year. So, for those of us wanting to lower our impact on the environment, working from home is one of the easiest ways we can do that.
Even before the pandemic forced us all back home, remote working was growing in popularity. The number of searches for 'work from home jobs' has gradually risen on Google over the last few years – interest in the term grew by 22% between 2016 and 2019. In total, searches for the term have increased by 73% in the last five years.
Looking at Google search scores allows us to see this trend in action. Scoring on a scale of 0 to 100, in 2016, 'work from home jobs' was sitting at a score of 49. By 2020, it scored a huge 85.
Google search scores for 'work from home jobs' by year
2016
2017
2018
2019
2020
49
50
56
60
85
The need for sustainable homes
If we're going to stick with working remotely, then it's important to make sure that our homes are up for the eco-challenge. By working from home on an average schedule of 40 hours per week, 47 weeks per year, an employee would be spending an additional 1,880 hours at home every year. Naturally, that means their consumption of electricity and gas will increase, especially in winter. All of this equates to a heavier annual CO2 emission, which would normally sit at around 3.2 tonnes.
Luckily, there are not only many ways to make home energy use more efficient, but it's also far easier to implement in the sense that the worker has a much stronger control over the matter than they would in the office. For instance, rural homeowners may use oil as fuel, but switching to a more sustainable source – such as using off-grid gas – can lower their carbon emissions by as much as 20%.
Reducing waste
When we think of greener working and living, we often think of energy. But what about waste? The average office worker will go through 10,000 sheets of paper each year, along with 500 disposable coffee cups. Plus, the average person will bin around 20 to 30% of their lunch at work.
All of this has a huge effect on the environment, both for on-site and off-site employees. These issues are easy to curtail though – does that email really need printing? Can you invest in a reusable coffee cup? Can you store your lunch leftovers in the fridge and have them as a late afternoon snack?
Even these small changes can reverse so much potential damage to the environment, and that scope for harm is huge – in 2019, 14.2 million metric tons of emissions were released by UK landfills. Every time we throw something away, we contribute to this, so by adapting our working behaviours, we can help to reduce those emissions.
Protecting the environment should be at the top of everyone's agenda, regardless of whether a person works at home or at the office. Each action can help combat climate change, so taking a look at your professional life to see how it could be more environmentally friendly is vital.
Sources: 
https://www.ons.gov.uk/employmentandlabourmarket/peopleinwork/employmentandemployeetypes/bulletins/coronavirusandhomeworkingintheuk/april2020
https://pressat.co.uk/releases/revolutionising-the-commute-is-key-to-reducing-uk-carbon-emissions-new-research-from-mobilityways-reveals-da85f9d9f474054043ae488b43720af7/
https://www.theguardian.com/sustainable-business/2015/may/05/millennials-employment-employers-values-ethics-jobs