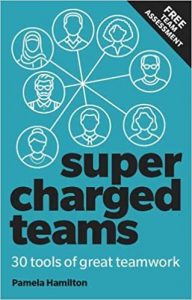 Every CEO knows that great teamwork is crucial for any high performing team, but being in a team is harder than ever before. Work is faster, leaner and more digital, and when we are busy, teamwork can easily fall down our list of priorities.
As we transition back into a post-Covid world, this new book offers a roadmap that will boost the way your team works together, whether they are face-to-face, working remotely or across different departments. Collaboration expert, Pamela Hamilton demonstrates how leaders can use this opportunity to create a powerful vision and sense of purpose that will motivate teams to achieve, and even exceed, their goals.
This recommended reading for CEOs and leaders, but also anyone who has to work as part of a team at any level.