8. The Next CEO by Thomas Keil and Marianna Zangrillo (Routledge)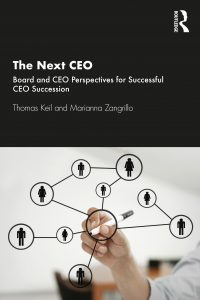 When organisations face periods of disruption and uncertainty, replacing a CEO is a common tactic to help kick-start change. Very often, however, these changes fail, and the fallout of the global pandemic means we are likely to see a large number of boardroom casualties in the coming years.
But what are the real reasons why so many CEO appointments fail? And how can current and aspiring CEOs give themselves the best chance of success and make sure they have the right skill set for the task in the 'new normal'? This book is the product of a ten-year research project illustrated with an abundance of real-life examples and interviews with CEOs, C-suite members, board chairs and headhunters, so it gives a fascinating insight into what it really takes to make a CEO appointment a success today, in 2030 and beyond.