6. Creating The World We Want To Live In by Bridget Grenville-Cleave, Dóra Guðmundsdóttir, Felicia Huppert, Vanessa King, David Roffey, Sue Roffey, Marten de Vries (Routledge)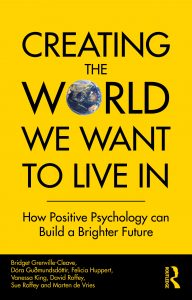 While many of the books in our round-up are focused on leadership and organisational dynamics, Creating The World We Want To Live In is a thought-provoking call to action for us all to reassess how we can change the world, whether that is as CEOs, communities, parents or consumers.
Written by a unique collective of authors who are all experts and practitioners in positive psychology and leaders in their respective fields. Together they have created an optimistic vision for a world that would work for everyone, but the chapter on work will be particularly interesting to CEOs, drawing on the latest science to offer practical insights into how to create a healthier workplace that will inspire and motivate people to give their best.