To hear all about VAHA, the interactive fitness mirror, we caught up with the company's founder and CEO Valerie Bures-Bönström. VAHA acts as a virtual personal trainer streamed directly into people's homes, with hundreds of new workouts every week catering for every training goal and exercise. All workouts are digitally accessible and have been developed by an amazing team of personal trainers and instructors. Users can take part in a mixture of live and on-demand fitness classes and can even book one-to-one PT sessions and connect live through the mirror with VAHA's star trainers. 
Valerie has worked in the fitness industry for around 20 years, having co-founded Europe's largest women's fitness chain, Mrs Sporty, alongside German tennis legend Steffi Graf in 2004. We hear all about her new venture below.
How did you come up with the idea about VAHA?
I believe that sport and exercise can be the key to happiness and success in life, but our sport and exercise needs are becoming more and more individual. I wanted to create a solution to provide people with their own 24/7 personal trainer, who deals with you individually, has tailored exercises ready for you and can allow you and your family to train at any time and in any way – all from the comfort of your living room! Our device is built on the concept of "Flow" – VAHA is the Punjabi translation of the world 'flow'. For us, flow is the sweet spot where challenges perfectly meet your capabilities, which can help you build on your personal skills, fulfil your potential and achieve your goals.
What was the process of bringing that idea to market like?
Although we launched VAHA in Germany last year, the idea behind it has been more than 10 years in the making. In 2011 I launched a company called Pixformance, a digital physiotherapy tool that is in use at more than 600 fitness clubs, hospitals and physiotherapy studios in 11 European countries. Pixformance is very much a B2B offering, whereas the process behind VAHA was all about designing a product that we could take into people's private homes. We realised that we needed to go beyond a pure fitness product, and that is where the concept of a mirror came from. A mirror is a natural part of a family's living room and doesn't mean you are restricted to using it in your basement or your home fitness studio. For the same reason, we also wanted to give the mirror more features than the fitness element, which is why we offer access to apps like Spotify, Instagram and TikTok. We've also had incredible support from our investors, including Porsche Ventures, Unbound, HV Holtzbrinck Ventures, Global Founders Capital, TQ Ventures and RTP Global. German national football captain Manuel Neuer has also since joined the team and brought his skills in elite sports performance to the table.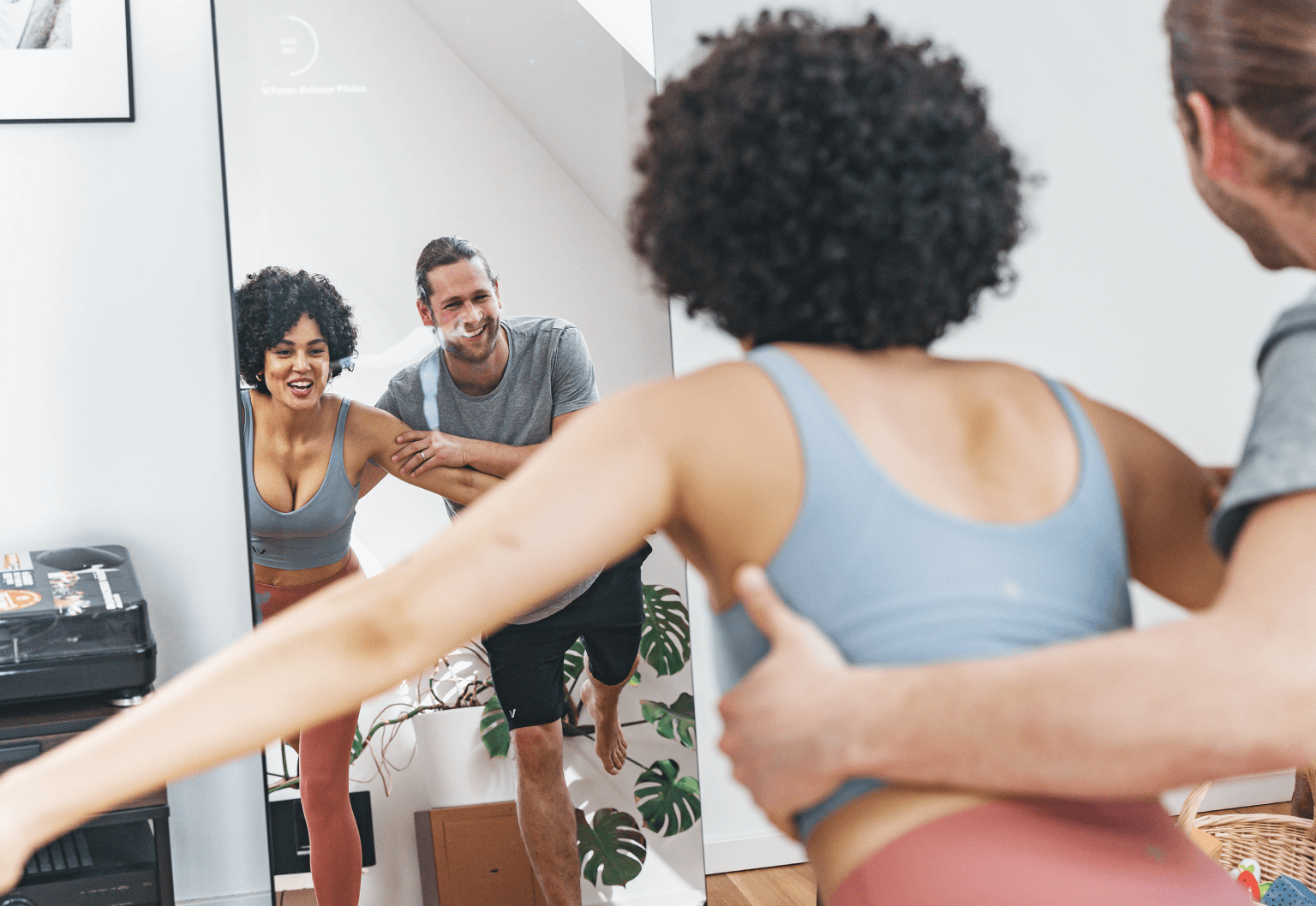 The pandemic must have undoubtedly impacted the business in a positive way! How have you dealt with the increase in demand?
It has certainly been a case of preparation meeting opportunity! Clearly, home workouts aren't an entirely new concept, but I think the pandemic has led to a lot of people who didn't previously see themselves as 'sporty' or interested in fitness discovering home exercise and getting a real taste for it. We're now in a position to provide an elite solution for people spending more time at home than they have before, without taking away from the personal touches and interactions of a live gym studio class or one-to-one personal training session.
You've recently launched VAHA in the UK – how is the expansion going so far?
We're absolutely delighted to have launched here in the UK – and to become the first fitness mirror brand to do so over here was really important for us. The reception so far has been fantastic and we're looking forward to bringing VAHA to more users in the UK over the coming months. I think it's really important to show that there's a lot of innovation and great fitness solutions being created here in the UK – as well as in Germany and the rest of Europe – and this has been a really important market to us for some time.
What other markets are on your radar for future expansions?
We're now available in Germany, Austria, Switzerland and the UK, so our main aim is to consolidate our reputation and popularity in those markets and to continue our expansion throughout Europe.
What are your goals for the future of VAHA?
Beyond additional markets in Europe, which will follow our recent UK launch, it's no secret that we want VAHA to become a global company. In the more immediate future, we're eager to keep growing the business and our membership.
 For more information on VAHA, visit: uk.vaha.com