Leaders in the Circular Economy®
This month, we bring your attention to renewable waste and the company SusGlobal Energy Corp.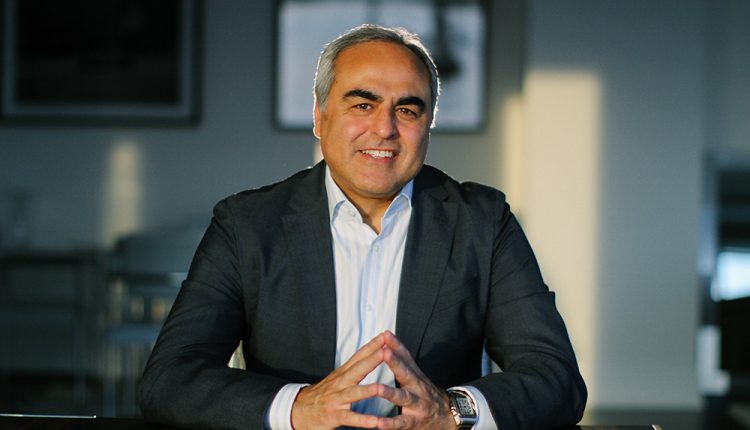 With the growing amount of organic waste being produced by society as a whole, SusGlobal Energy is on a mission to create a solution for sustainable global management of these wastes. The founder of the company Marc Hazout believes that renewable energy and regenerative products from organic waste is the future, with sources of this type of energy more evenly distributed over the earth's surface than finite energy sources, making it an attractive alternative to petroleum-based energy. Biomass, for example, is derived from organic materials such as forestry, food, plant and animal residuals that can be converted to soil amendment products. What SusGlobal Energy is trying to achieve is to help people turn what they consider waste into energy and fertilizers. We speak with Marc on how they are doing it below. 
Tell us a little bit about how you turn waste into energy?
We convert organic material into valuable end products such as biogas, liquid biofuels, electricity, compost and liquid fertilizers. This practice diverts these materials from landfills and reduces greenhouse gas emissions that result from landfilling organic wastes. Our company can provide peace of mind that the full lifecycle of organic material is achieved, global benefits are realised and stewardship for total sustainability is upheld. We offer a full range of services for handling our clients' organic residuals in a period where innovation and sustainability are paramount. From start to finish SusGlobal Energy can offer in-depth knowledge, a wealth of experience and cutting-edge technology for all needs in handling organic waste. This is defined by years of attaining proprietary processes, combining different treatments and many years of innovative experience and technical knowledge to provide our clients with total solutions.
Our goal is to address the concerns of climate change and the problems of how to feed a growing population using sustainable and socially responsible solutions in dealing with organic waste and producing environmentally friendly organic fertilizers – earning our reputation as "Leaders in the Circular Economy®".
Tell us about the fertilizers you produce? 
SusGlobal produces environmentally friendly, pathogen-free, organic, liquid concentrate fertilizers. The use of our regenerative products provides soil with the basic nutrients needed for healthy plant growth and better crop yield. They offer high-nitrogen concentration in a slow-release fertilizer and predictable release of nutrients. Our fertilizer reduces the need for frequent applications, improves soil porosity, enhances disease management and will not burn young plants or tender roots.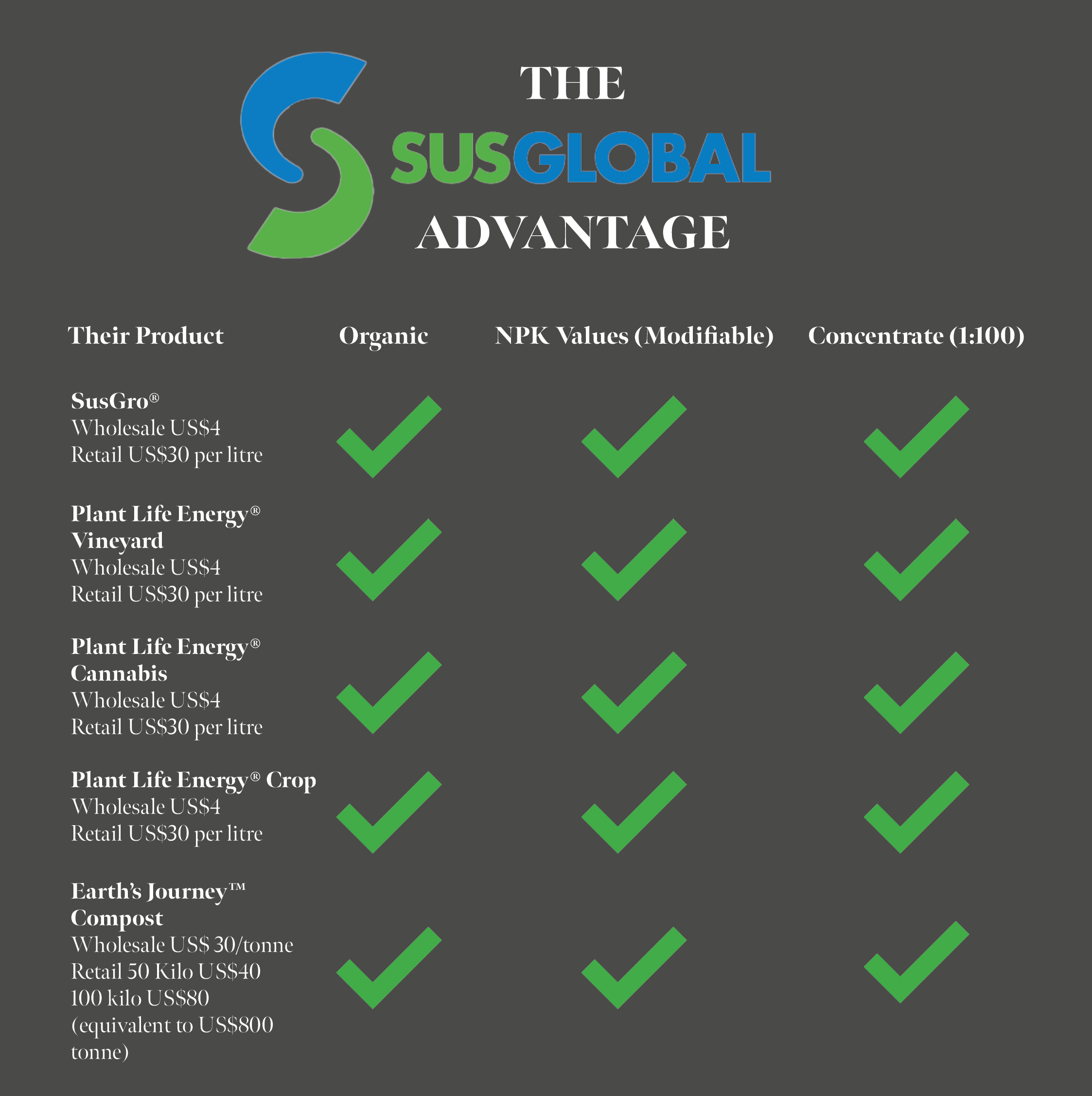 SusGlobal recently received a project completion report from Fleming College's Centre for Advancement of Water and Wastewater Technologies (CAWT). Can you tell us about it?
Yes, in March, we received the Project Completion Report titled: Development, Optimisation and Validation of an Innovative Integrated Anaerobic Thermophilic Digester for the Treatment of Organic Waste and Septage. The Report was written by Brent Wootton, Barbara Siembida-Lösch, and Ryan Hill, a research team at Fleming College's CAWT and supported by the Advancing Water Technologies (AWT) program of Southern Ontario Water Consortium (SOWC).
The applied research project was conducted from January 2017 to December 2018 in partnership with our company as the collaborating industry partner. It focused on the development of a new and innovative technology for handling and processing organic residuals, which utilises the anaerobic mesophilic digestion process coupled with thermophilic digestion to maximise biogas yields and produce organic fertilizer through optimal operations.
During project testing in a pilot-scale setting, the SusGlobal system was developed and optimised, followed by final validation testing at an Ontario dairy operation that conducted the two-stage digestion process. The methods and processes of data collection and analysis for the project during the operation of the integrated technology were designed to better understand and demonstrate the constraints and limitations of the integrated (two-stage) anaerobic digestion process. Results from the fertilizer quality and biogas yield data can be used to modify and optimise the operational design of modifications to existing anaerobic digestion facilities, as well as for the design of new installations. Digester performance was assessed using total biogas production in addition to characterisation of gas fractions, using percent values for methane and carbon dioxide.
Liquid fertilizer product from the thermophilic digester, after removing bedding product from the digestate, was compared to provincial standards for metal content and agricultural value. Additionally, the data has provided third-party validation of the innovative technology, which will provide direction leading to verification of the SusGlobal performance claims. The results of this project have also helped to address and inform SusGlobal in connection to a commercialization barrier the company is currently facing – how to treat organic solid wastes in rural communities in a cost-effective way.
The immediate potential this validated technology has is to develop projects at larger dairy, cattle and hog feedlot or chicken growing operations to process farm wastes with local organic wastes to recover energy in the form of biogas. Using a thermophilic digester produces a pathogen-free liquid fertilizer that can be applied without restrictions currently facing direct biosolids land application.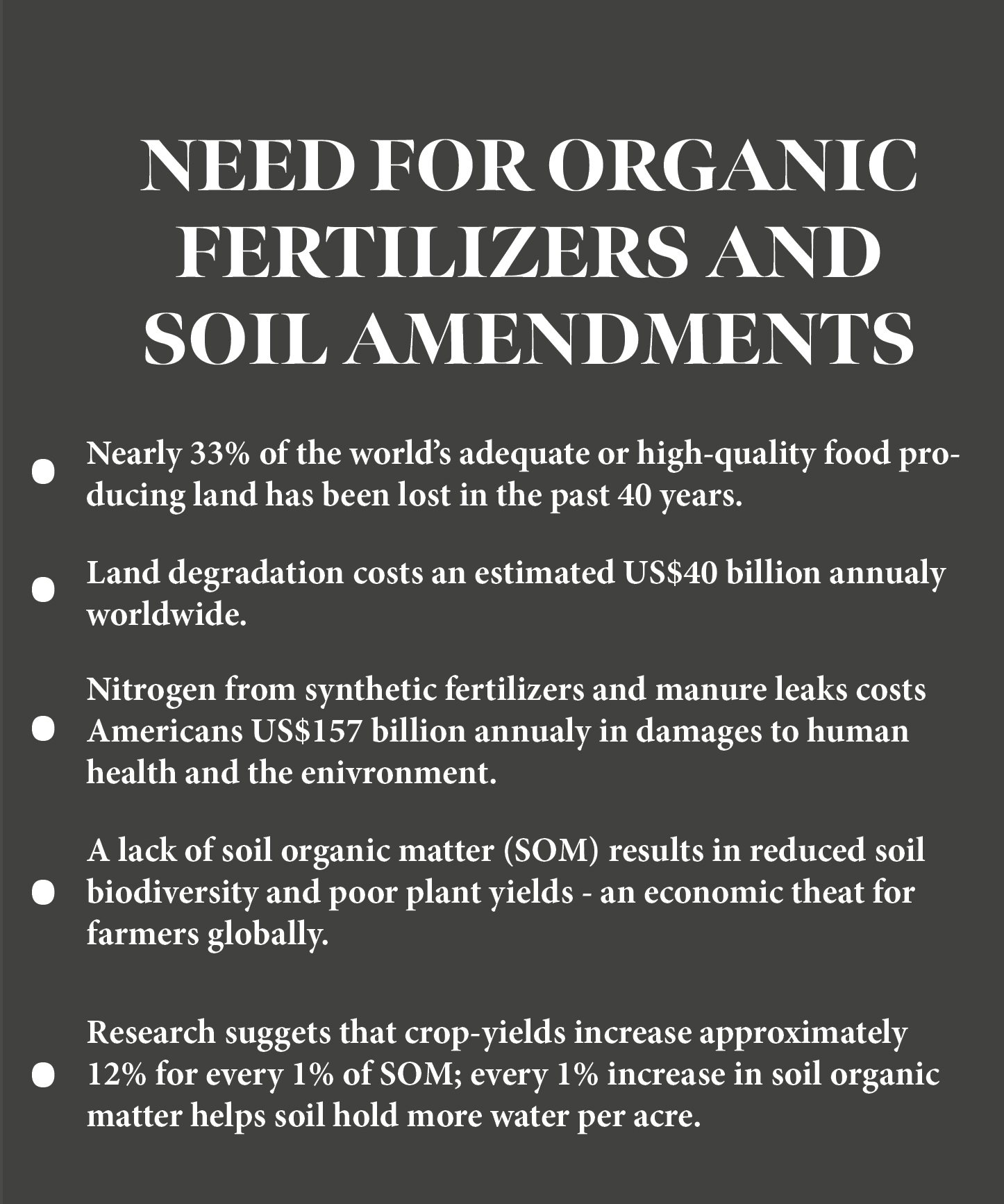 Last year, SusGlobal was chosen by The Finnish Innovation Fund Sitra as one of 39 inspiring circular economy solutions from around the globe. Tell us about the recognition.
In September last year, Sitra compiled a list of inspiring circular economy innovations from around the world to inspire organisations and businesses to take part in the circular transition. That is why some super inspiring circular economy ideas were introduced in the lead up to the WCEFonline. This resulted in a list of the 39 most inspiring circular economy solutions from across the globe and we feel so honoured to be one of them, as this validates our model and circular economy initiatives. We will continue to strive and inspire as global leaders in the circular economy while maximizing shareholder value.
Tell us about your Hamilton Organic Waste Processing and Liquid Fertilizer Commercialization Facility.
As part of our regional model, we have purchased our second location in Hamilton, Western Ontario with an Environmental Compliance Approval (ECA) license to process 65,000 metric tonnes per annum of organic waste. This facility comes with a 40,000 square foot building ideal for producing our pathogen-free organic liquid fertilizer product. SusGlobal operates two facilities in the province of Ontario, strategically located in the Western and Eastern part of the province with the Greater Toronto and Hamilton Area (GTHA), one of the most populated regions in Canada, in between, as a model for other regional municipalities in provinces and/or states in North America.
This model can be replicated with those regional governments or municipalities across North America which have expressed an interest in the pursuit of sustainable processing of municipal organic wastes in order to divert from landfill reducing Greenhouse Gas Emissions as part of the Climate Change initiative and produce regenerative organic products which are reintroduced to those areas to benefit agricultural carbon sequestration, one of the most cost-effective ways to slow processes of global warming, consistent with more sustainable and less chemically dependent agriculture and as part of the Circular Economy model.