The HealthTech CEO
Andrea Fiumicelli is the CEO of Dedalus – the market-leading HealthTech company in Europe that is entrusted with managing the clinical data for 150 million European citizens. Headquartered in Italy, Dedalus delivers mission-critical software to support the digital transformation of healthcare services with installations in more than 40 countries across 6 continents, making it one of the largest healthcare software companies globally.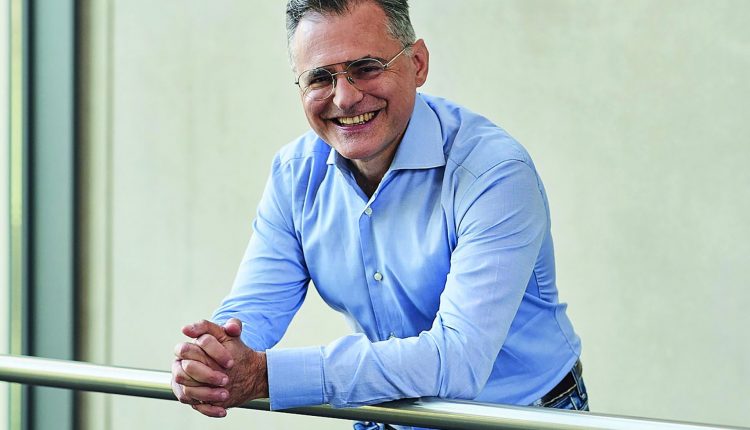 Dedalus' focus as a company is on supporting the delivery of healthcare across the complete continuum of care by building software that utilises Open Standards to connect care across hospitals, primary and social care, integrated care and diagnostics to support collaboration between patients and their clinical teams. The company also helps connect routine care with clinical research while ensuring data security and compliance with privacy regulations. 
Tell us about Dedalus' recent acquisition of DXC's healthcare provider software business. What does it mean for the company? 
In 2016, backed by investment from Ardian, Dedalus decided to accelerate its expansion strategy by focusing on the rapidly growing demand for innovative and comprehensive solutions to support the digital transformation of the healthcare ecosystem.
Our purchase of DXC's healthcare provider software business is one of a series of strategic investments that we have made to extend and strengthen our portfolio, capacity, capabilities, and market position. This acquisition consolidates our strategic leadership in the healthcare software industry in Europe, giving us a market-leading position in Hospital and Diagnostic IT systems in the United Kingdom, Ireland, Germany, Italy and France as well as a strong footprint in Northern Europe, Austria, Switzerland, Spain, China, Brazil, Australia and New Zealand.
Today, as a result of this acquisition, combined with our experience of delivering healthcare software and services for more than 50 years, we have:
global scale with, for example, the largest HealthTech R&D team in Europe;
truly global market presence, and a leading position in many of our markets;
a broad portfolio of innovative products and services encompassing all parts of the care continuum; and
a premium customer base that entrusts us with managing more than 3 billion diagnostic results, 333 million patient records, 28 million Inpatient and 32 million emergency admissions, and 79 million citizens across primary care.
How will this acquisition help Dedalus' vision for a digitally-enabled healthcare system?
In Dedalus, when we talk about a digitally-enabled healthcare system, we do not mean the digitisation of current ways of working but rather the transformation of the healthcare system to put the citizen at the centre of their care. This new digital healthcare system will be focused on maximising the value and outcomes delivered to patients and will manage care as a continuum rather than a set of discrete clinical encounters.
The future healthcare system will be digitally connected, always available, and will operate beyond healthcare institutions to support the individual to manage and maintain their own health and take control of their care. It will enable all stakeholders to actively collaborate to improve each citizen's health outcomes. Data about the patient and the population will provide intelligent support for clinical decision-making, clinical safety including alerting, for example, where medication safety issues are identified, and care execution. Technology will facilitate real-time analytics at an individual patient and population level to support research, planning and outcomes measurement.
Beyond the capabilities that we have gained through the DXC acquisition, we have gained insights and expertise from across a range of health systems, both public and private, that can be harnessed with our customers to affect the digital changes facing health systems globally.
Tell us a little bit about the impact the COVID-19 pandemic has had on healthcare providers?
As a result of the COVID-19 pandemic, we have seen the rapid deployment of new digital channels for citizens, including virtual consultations (via video, telephone and online), home monitoring and follow-ups. These have been critical to supporting the ongoing provision of healthcare services to citizens.
We should recognise the fantastic work done by healthcare organisations and their ICT teams to rapidly implement these systems and to ensure that infrastructure, data and applications were available and at the service of health professionals during the pandemic. However, these solutions were deployed very quickly so we now need to review care processes and consolidate these new services and channels that have been so positively valued by citizens.
However, it is also clear that, if health systems are to be prepared for future waves of COVID-19, identify and act on new global pandemics, and address the challenges of increasing demand for services within constrained funding and resources, digital tools will have a fundamentally important role in the future.
How is the acceleration in HealthTech changing the way people view healthcare?
The acceleration in citizen-centred digital services and HealthTech, in general, is having a fundamental impact on the relationship between the individual and the wider health system. Over the last decade we have seen the rise of a new type of patient; one that is:
informed – more knowledgeable about their conditions and treatment options than their doctor;
networked – connected to and supported by others with the same condition;
empowered – assertive and in control of their care and treatment; and
active – making use of digital tools and services to monitor their health and actively taking actions to maintain their health and welfare.
These patients see themselves as active participants in their health and care: equal partners with their clinical team taking decisions together, rather than passive recipients of care from a paternalistic system. They are actively changing how health systems will work – from a paternalistic system that reacts to ill health to a citizen-centred health and care service that supports individuals to stay as healthy as possible, and which offers personalised precision-medicine that is built around the individual needs of the patient rather than the requirements of the institutions and individuals that deliver care. 
Why should healthcare institutions embrace the opportunities that HealthTech offers?
Digitisation is not an end in itself but rather the means to deliver the highest quality, safest and most appropriate care at an affordable cost.
The environment in which healthcare is operating is changing. Through the pandemic, we have seen the impact of wider social determinants of health, including social deprivation, on outcomes. At the same time, we are seeing changes in expectations of the healthcare systems driven by:
the economics of healthcare caused by an older population often living with multiple long-term chronic conditions;
expectations for care in terms of access and experience of how care is delivered; and
rapid developments in technology that are fundamentally changing how care is delivered as well as the outcomes that can be delivered.
Healthcare organisations will not be immune from changes caused by these environmental changes nor, like their counterparts in other industries, from the impact of new and innovative entrants. I would therefore argue that the choice is not whether healthcare institutions should embrace the opportunities afforded by HealthTech, but rather whether they will be driving these changes for the benefit of their patients or whether they will be forced to react to the changes driven by others.
This then brings me back to Dedalus' purpose and vision as a company. Our purpose is simple: to be our clients' preferred partner on their digital transformation journey and together to build a digitally enabled healthcare ecosystem where all stakeholders actively collaborate across the continuum of care to improve each citizen's health outcomes.