The Home Healthcare CEO
After spending over 20 years in Intellectual Property Management, Paula Thomas transitioned to the Home Healthcare Industry and founded her own private home healthcare company – Rose Petal Falls. As the CEO, her primary responsibilities are strategic planning, developing operational standards to ensure the safety of all clients, nurses and caregivers, while directing and building business relations for the entire organisation. Dedicated to providing personal support and skilled nursing services to individuals in the comfort of their homes, Rose Petal Falls' services range from assistance with activities of daily living and companionship to managed skilled care offered by licensed practical nurses and registered nurses.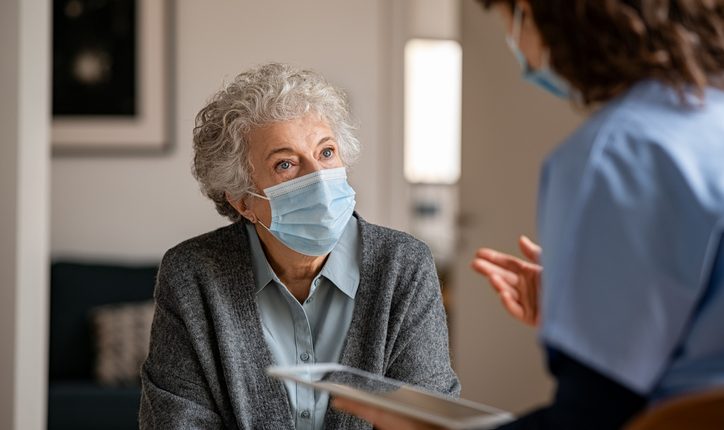 Below, we speak with Paula about what it's like to be leading a home healthcare organisation and the impact the global pandemic has had on her company.
What has been the COVID-19 pandemic's effects on Home Healthcare and Rose Petal Falls?
The COVID-19 pandemic has undoubtedly been critical for Rose Petal Falls and the entire healthcare industry. Knowing that our elderly patients and clients with disabilities depend greatly on us, our dedicated caregivers and nurses have been working extremely hard to provide them with continuous care. With the help of extensive COVID-19 training and PPE, we continue to have very limited exposure to the virus.
Over the past year, the demand for services grew as many families decided to move their loved ones from nursing facilities to in-home care. This sudden increased appetite for our services caused staffing issues since a lot of the caregivers we work with are mothers who had to help their children with homeschooling and remote classes.
Despite this, I'm so happy to be able to say that we continue to overcome the hurdles the pandemic has presented us with by introducing extensive training and continuous creativity to our organisation. With so many people out of work, we are offering training to family members who may wish to become their loved ones' caregivers as this also eliminates the risk of bringing someone new into the home.
What are the challenges of being at the helm of a Private Home Healthcare organisation?
The main challenge is the overwhelming desire to keep my clients and caregivers safe at all times, as a large portion of our clients are elderly with a number of underlying health conditions and are at high risk of a number of infectious diseases.
What's the most rewarding aspect of it?
Without a doubt, the most rewarding aspect of my job is the relationships we form. I have had the privilege of enjoying extensive conversations with a few individuals who have been blessed to be on this planet for over 100 years and the joy of listening to their stories and life experience is an indescribably special feeling. Our caregivers' social interaction and companionship with the clients and family members often transition the assignment to being something much more than just a job.
What are your plans for the future of Rose Petal Falls?
I believe that the future is very bright for us! We currently partner with Black Greek Letter Organisations such as Alpha Phi Alpha & Omega Psi Phi, various foundations (including my own Greater Purpose Foundation), and community organisations to provide elderly resources, food distribution, back-to-school drives, and free haircuts to people in our communities. We are more than just an in-home healthcare business, we are a resource for the community.
My ultimate goal is spelt out in a plan that we have affectionately named R.O.S.E. which stands for responsibility, optimisation, scale and excellence:
Responsibility: Our company has a civic responsibility to our community. One of our ultimate goals is to work with local elected officials and legislature to make sure that all of its community members have the resources to afford our care.
Optimisation: We want to ensure that we are making the most effective use of our resources, as this will ultimately help our clients save money. Our optimisation efforts will range from using energy-efficient equipment and PPE made from recycled materials to make sure that we are accurately and effectively billing our clients for the minimal hours while providing maximum care at the same time.
Scale:  RPF has goals to replicate our exceptional level of service in the state of Georgia, on a nationwide level. Handbooks and training modules will be created in order to ensure that our offices in various states have access to continued learning resources. We believe that everyone, coast-to-coast, should have access to the same level of care that is being provided to our clients in Georgia.
Excellence  It is not only our ultimate goal but our continued goal to provide excellent service to our clients and community. Our staff and leadership undergo continued training and evaluation which ensures we are at the top of our industry. When we, as an organisation, are at our best, it in turn guarantees that our clients are receiving the best care.