Sustainable Thinking Applied: 10 Brands We Celebrate
As businesses strive for brand success – they now know that it cannot be at the expense of the greater good. Sustainability is the subject keeping many CEOs up at night. Although there is no exact roadmap that will lead to the business nirvana of sustainable commerce, embracing sustainable thinking goes beyond environmentalism and CSR basics.
While the UN Sustainable Development Goals (SDGs) are not legally binding, governments are expected to own and establish national frameworks to achieve the 17 Goals by 2030. Coupled with this, private-sector enthusiasm for the SDGs is strong and growing and we see more and more companies translating interest into actions. Environmental, social, and governance (ESG) criteria are an increasingly popular way for investors to evaluate companies in which they might want to invest and ESG stocks fared best in the COVID-19 slump.
While mainstream conversation about sustainability has historically focused mainly on the environmental perspective, the conversation now needs to embrace economic development and social equity to drive attention in today's cultural climate.
So, to identify the 10 brands we want to celebrate for their sustainable thinking we have applied a framework consisting of five pillars that underpin our holistic approach to creating sustainable brands. These are: Walk the (purpose) talk; Strive for un-stereotypical ideas; Portray diversity; Design for inclusiveness and Eco-minded solutions. This is not an exercise based on detailed analytics, instead, we have used these guardrails to identify 10 brands that lead by example and set inspirational benchmarks across the five categories
Category 1: Walk the (purpose) talk
Across the world, brands are at different stages on their paths to purpose – some are defining it, others are looking to embed it into what they do, and some are living it through actions, communications and initiatives. We want to celebrate those that are ticking all three boxes and using purpose as a true centre of gravity and growth driver:
Driven by their vision to inspire the world to reimagine its perception of waste, they transform imperfect fruit into tasty juices and are conquering the category one bottle at a time. We are particularly proud of our partnership with this truly sustainable brand. Not only do they have an amazing vision, but they also act upon their commitment by partnering with numerous charities. Enjoying 550% YoY growth, they were recently officially certified B Corp.
A bank that defines itself first and foremost as a community, second as a company. In their own words: A new kind of financial partner that puts our customers and their conscience first. Committed to turn every transaction into positive action they reforest whilst people shop, offer cashback on socially conscious spending and only lend their customers' money to clean, planet-friendly projects. 
Category 2: Tackling stereotypes 
Being vocal and acknowledging unconscious biases and stereotypes – these brands use their voice and presence to spread awareness and help overcome them.
Mars rebranded its Uncle Ben's rice range following criticism that the name and image promoted racial stereotyping. At the same time, they changed their purpose to be more inclusive: to create opportunities that offer everyone a seat at the table. As brand experts, we know how delicate any intervention on distinctive brand assets might be, so we praise Ben's for taking the leap and changing its 70-year-old name and image. 
Bodyform's taboo-breaking journey began in 2017 when they replaced blue liquid with red 'blood' in its Blood Normal adverts and they've never stopped. Followed by Viva la Vulva and more recently Womb Stories, the brand is on a mission to confront and break taboos that hold women back and pushes against the misperceptions of shame and silence surrounding women's bodies. 
Category 3: Portray diversity 
These brands are on a mission to ensure their visual and verbal representation is always diverse, never single-minded, and always culturally relevant.
Google 
Google used machine learning and appointed a task force to analyse diversity across all its communications, and used the findings to address any imbalances and misrepresentation as well as developing a training programme centred around representing diversity in communications for the brand – 90% of the team and 200 agency partners have taken this course. 
Yelp created functionality that allowed businesses to identify as being black-owned and allow users to specifically search for black-owned businesses. 
Category 4: Design for inclusiveness 
Designed with the needs of the minority in mind to generate a greater benefit for all, these brands have inclusive design close to their hearts.
Shoes that are 'hands-free' and quick and easy to put on. The easy-entry designs expand access and unlock benefits for all athletes. "As we continue to push the limits of making athletes better, we also need to push the limits in terms of allowing all athletes to wear our product", said Richard Ramsay, FlyEase Innovator.
Microsoft created a controller for the Xbox which can be used by anyone with limited mobility as research showed that one in three young disabled people had to stop playing video games due to their disability. 
Category 5: Eco-minded solutions 
Just as consumers do their part by reducing their energy use and recycling their waste, companies are working hard to make a difference too. These brands are building their reputation upon their commitment to the environment and inspiring more sustainable practices in their industries.
Reducing packaging is something Lush has been working on for many years but now the brand is pushing the bar even higher with its packaging-free Naked Shops. If shoppers want to check the ingredients in a product, Lush Lens, an AI product recognition tool, scans the product and then sends the information to the shopper's smartphone. "From the very first day over 20 years ago, our products were naked, but now we see a bigger movement against plastic and against waste. Alongside that, we can now fill up a whole shop with skincare, body care, hair care and bath bombs, while still providing that five-star experience.", explained Lush product inventor Alessandro Commisso.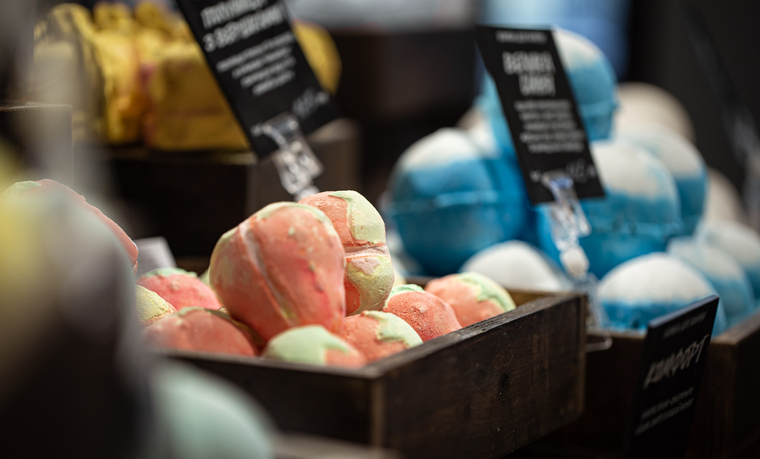 The world's most comfortable shoe is also totally planet-friendly. From shoelaces made from recycled water bottles to the sugarcane used to make the SweetFoam™ cushioned sole, Allbird's sleek sneakers are sustainable from top to bottom. Its upper is either made from certified superfine Merino wool or TENCEL™ Lyocel, a sustainable tree fibre that cuts its carbon footprint by half.
We need ever more brands to move towards creating positive, visible, and meaningful relationships between a company's performance and its impact on our planet, and to be brave enough to just shake things up.
Brands can be a force for good and brand design and communications are key drivers of change to connect them with the growing numbers of consumers looking for honest and transparent companies that have a positive impact.
These brands I've highlighted are just a starter for 10 and I'm grateful to know there are more each and every day applying their sustainability thinking to create a shift towards more conscious consumption patterns. For the sake of our planet and society, it's time we all paused to celebrate this wonderful new breed of movers and shakers.