Welcome to One of the Most Exclusive Superyacht Residences in the World – MY NJORD
More than just a luxury home at sea, take an exclusive look at NJORD, a new at-sea residence celebrating luxury, travel, wellness and the environment.
If you're looking for a home that is truly something different, look no further than MY NJORD. Touted as the ultimate private super yacht – the largest of its kind, ownership of one of NJORD's 118 residences entitles you to join one of the most exclusive communities in the world.
NJORD is designed to be more than a home. Its designers hope that it will encourage a community of like-minded individuals to come together in a shared experience, enjoying the best of luxury living and travel at the same time.
Kristian Stensby, founder and CEO of Ocean Residences Development Ltd, the developer of NJORD describes it as "a luxury yacht with a purpose which is meticulously designed by icons of the marine world and that takes personalised services to an entirely new level. As residents travel the globe, they are united in a philanthropic purpose, creating positive change where it matters most. They will explore the planet, enjoy it in all its glory, and at the same time, they may want to give something back."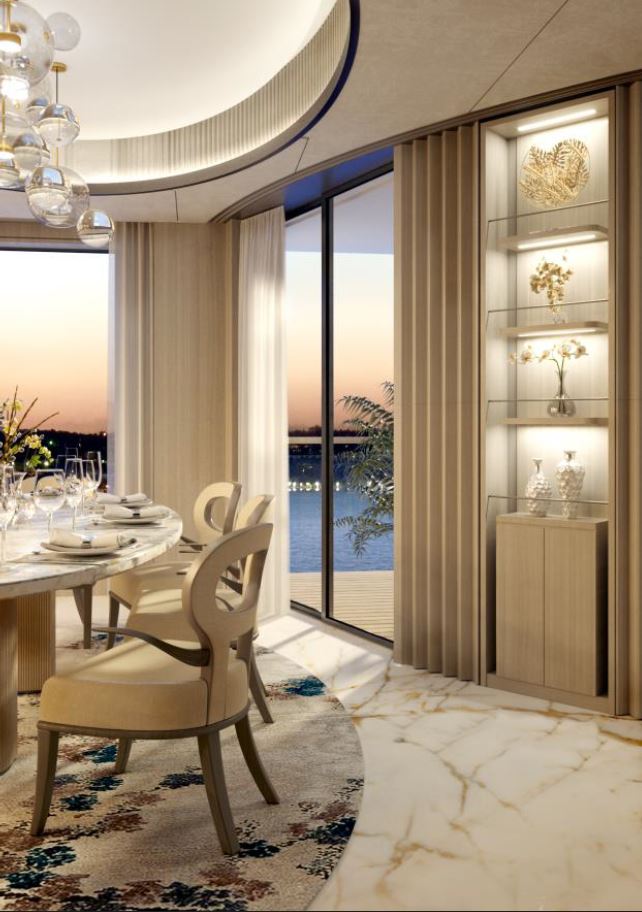 NJORD will house 118 luxury residences available in 21 distinct configurations comprising two, three, four and up to five bedrooms, ranging from 120 sq.m to 800 sq.m, some of which will span several floors and include private elevators. Each bedroom on NJORD will have sea views and a private terrace, and you will be able to enjoy intimate dining and cocktail parties prepared in your residence with the assistance of a world-class chef, butler and sommelier, as well as 24/7 in-residence dining. For wine lovers you can also keep your private wine cellar on board.
Foodies will also be in their element, thanks to a host of exclusive dining venues which are planned to rival the best restaurants in the world. And for those looking for fitness and pampering, NJORD will house a large wellness centre which will offer incredible panoramic views and include a world-class spa, a state-of-the-art fitness centre and an aerobics and dance studio.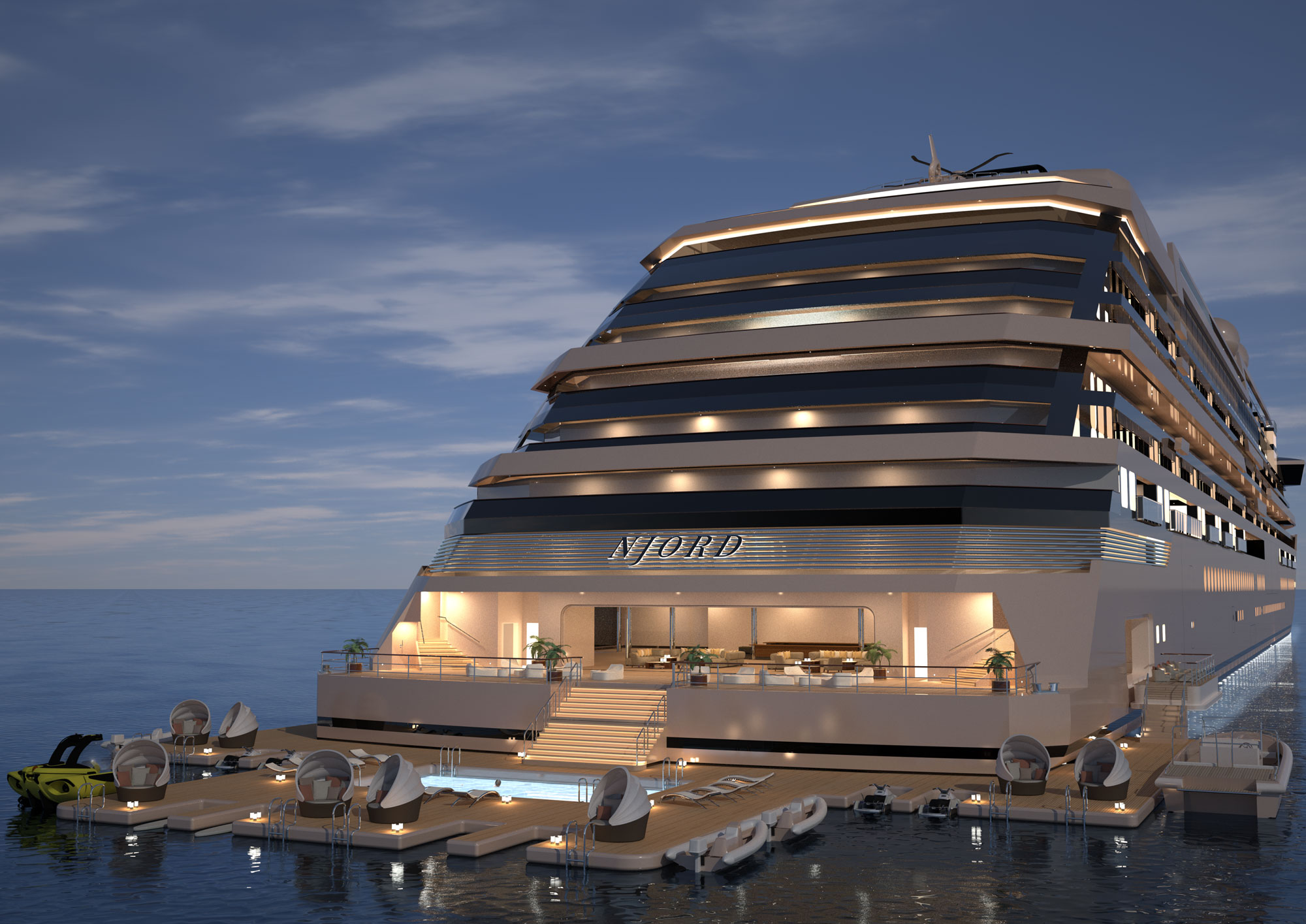 For the more adventurous, NJORD will have its own passenger helicopters, a yacht, jet skis, kayaks, smaller sailing vessels, a fully equipped dive club, zodiacs for exploring nearby coastlines and even two submarines available to residents. The extensive range of recreational facilities doesn't stop there; other impressive features include a large swimming pool complete with a feature pool for children, a golf centre, and an all-purpose sports deck.
NJORD goes further than just a luxury living experience, though. It will also be equipped with a professional oceanographic research laboratory containing sophisticated monitoring equipment which will constantly gather vital data. Throughout NJORD's annual circumnavigation of the globe, scientists and experts will research the changing environment and record sea and air conditions, and scanners will map the ocean floor. All this information will be processed and made available to further humankind's understanding of our planet's oceanic secrets – something which is sure to appeal to the environmentalist in all of us.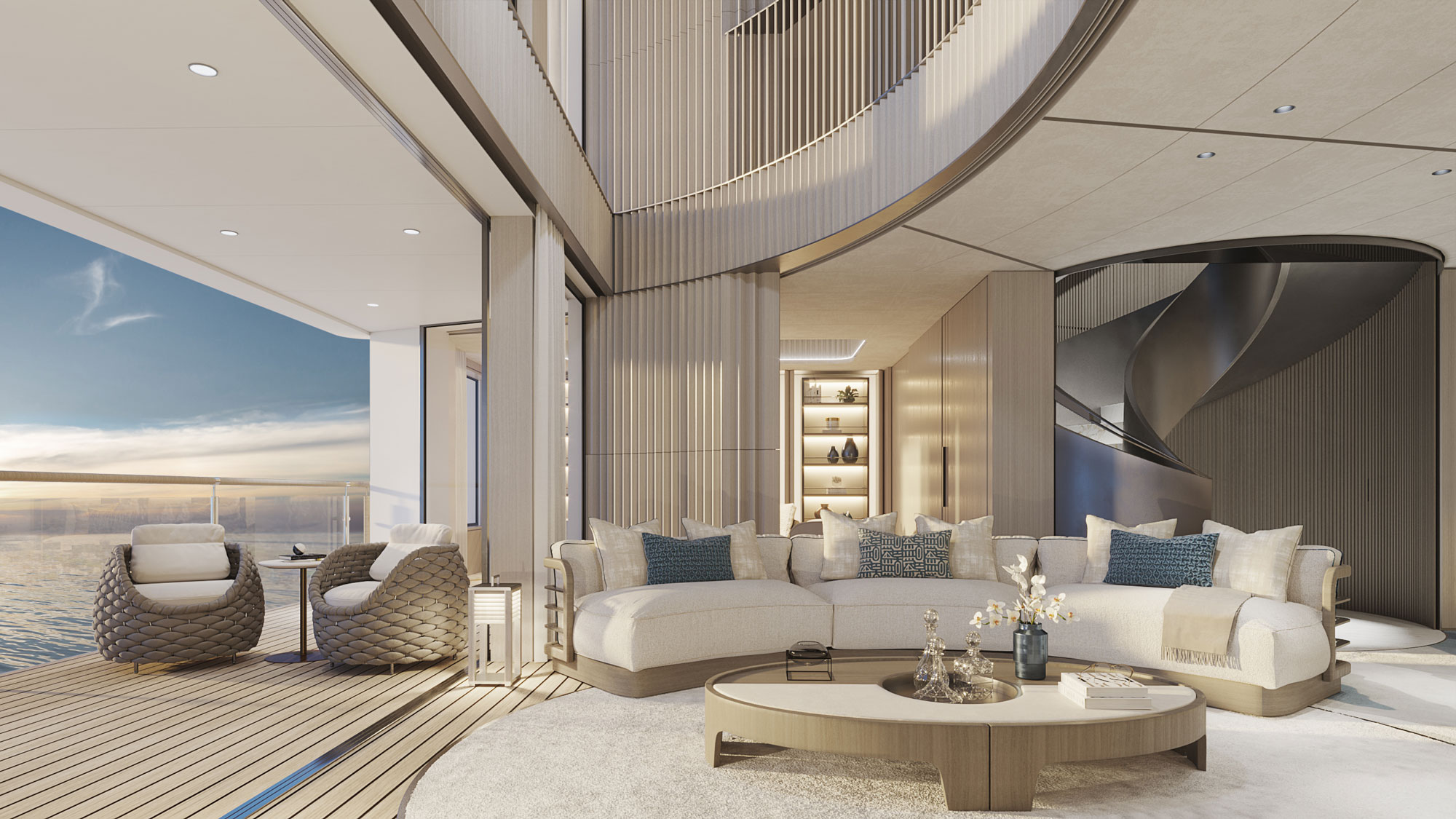 NJORD's design is the realisation of a talented team of naval architects, engineers and designers. Led by Jean-Louis Stutzmann, the chief designer and a noted interior designer with an extensive career in ocean liners, yacht design and luxury residences.
The team at Ocean residences have brought in FM Architettura as lead interior designer for M/Y NJORD to ensure a supreme level of quality. The appointment of award-winning architect and super-yacht designer Francesca Muzio, co-founder of FM Architettura, affirms the dedication of M/Y NJORD to create a level of luxury on board for their discerning residents that will be unparalleled.  Working alongside him is Espen Øino International, the world's leading super yacht design company. Every detail is meticulously designed to enhance the residents' experience. The residences will, as one would expect, be elegantly appointed and spacious, with feature floor-to-ceiling picture windows and sea views from every bedroom and living area.
NJORD looks set to become something truly spectacular. More than a luxury home at sea, it's a lifestyle. "My vision is to leave a lasting legacy in our wake," says Kristian Stensby, founder and CEO of Ocean Residences Development Ltd, the developer of NJORD. "A luxury yacht with a purpose which is meticulously designed by icons of the marine world and that takes personalized services to an entirely new level."