The Art of the Pivot: Succeeding in Times of Change
Jeff Puritt, President and CEO of TELUS International (NYSE and TSX: TIXT), has led the company since 2008, driving its growth from a single contact centre in Manila to its public listing as the largest tech IPO in the history of the Toronto Stock Exchange in February 2021.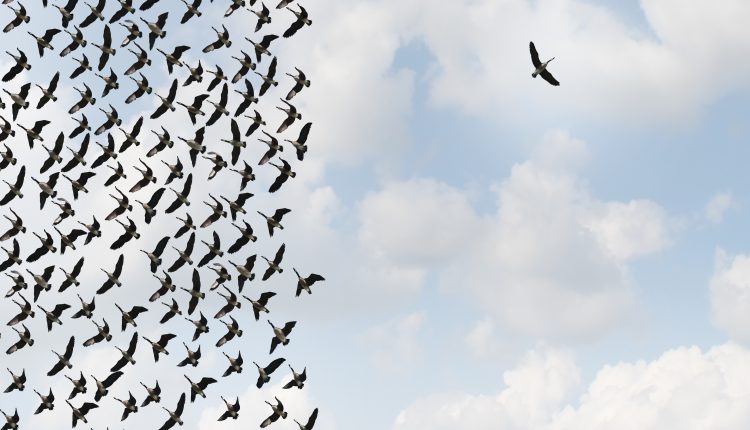 Today, TELUS International is a customer experience (CX) innovator that designs, builds and delivers next-gen digital solutions for global and disruptive brands from more than 25 countries around the world.
Without a doubt, today's organisations are operating in a world where many of the 'old rules' of how to engage and interact with customers no longer apply. Since the mid-2000s, innovative and agile digital-native companies such as Airbnb and Uber have been disrupting and transforming entire industries to overwhelmingly digital, mobile-first environments and delivering increasingly personalised and frictionless experiences.
In response, more traditional, incumbent firms steadily adapted elements of their operations, products and service delivery over the years to position themselves on the right side of this digital trend. Until 2020, it was a well-founded approach and their efforts to bridge the digital divide were sufficient to help them remain competitive. The COVID-19 crisis, however, created a rare moment in time that has effectively forced businesses to much more rapidly accelerate their implementation of digital capabilities in order to simply keep pace.
Digital is here to stay
Although the pandemic itself is transient, its effect on the landscape in which customers evaluate, engage, and transact with brands is here to stay. According to McKinsey's COVID-19 US Digital Sentiment Survey from April 2020, fully 75% of people using digital channels for the first time indicated they will continue to use them when things return to "normal."
It is important to note that how companies transform or pivot to digital is not a one size fits all approach. Every industry and individual business will have specific needs to assess, different resources to allocate and distinct challenges to overcome. Nevertheless, there are some universal concepts that I have witnessed across successful transformations: an ability to recognise new opportunities; the agility to capitalise on them; and the optimal culture to best support the requisite changes. When executed in harmony, they represent the art of the pivot.
Recognising opportunity: Is your (wine) glass half-full or half-empty?

The travel industry was among the hardest hit at the onset of the pandemic with airlines operating only a fraction of the number of flights they offered pre-pandemic. Instead of remaining idle, some uncovered new sources of revenue by assessing the market's need, inventorying their assets, and leveraging their core strengths and competencies to pivot toward new opportunities.American Airlines Flagship Cellars is a great example of this in action. With alcohol banned in most cabins to minimise the spread of COVID-19 on an already limited number of flights, the airline had a significant amount of leftover wine. In an inspired pivot, they started selling their excess inventory to customers by the bottle, in custom curated cases, or via a monthly subscription plan that shipped to peoples' homes.
Although wine sales are not expected to make much of a dent in the airline's losses, this initiative is more so a way of engaging with their customers while not travelling. By connecting with them in this capacity and giving them a literal 'taste' of what they can enjoy once travel resumes, they are spending this time wisely, investing resources in deepening relationships to drive customer loyalty.
This is something all companies can aspire to achieve. Consumer-facing brands especially should heed the opportunities brought about by the 'homebody economy' – an economic phenomenon spurred by entire populations spending more time at home and more money online. With in-store browsing no longer an option, companies may consider implementing augmented and virtual reality to digitally recreate a physical store and help first-time online shoppers better assess products and provide a better overall experience.
With in-store browsing no longer an option, companies may consider implementing augmented and virtual reality to digitally recreate a physical store and help first-time online shoppers better assess products and provide a better overall experience.
When opportunity knocks, will you be ready?

At the onset of the pandemic, it is safe to say that very few – if any – organisations had time to plan and execute strategies that addressed all stakeholders' immediate and long-term needs. However, those that were highly attuned to market, technology and workforce trends, and had future-proofed their operations to match over time, held a distinct advantage.
To this point, TELUS International's delivery locations are connected through a carrier-grade infrastructure backed by cloud technologies, which affords us the ability to seamlessly shift interactions between physical and digital channels, and to redeploy teams across different geographic locations and client accounts, ultimately enabling us to tailor our approach to each clients' evolving needs.
Our agile delivery model also empowers our team to respond quickly and effectively to exogenous events. For example, during the onset of the COVID-19 pandemic, we had the right people, processes and technology in place to quickly adapt to serve our clients from work-from-home or alternate work locations while continuing to meet their high quality and security expectations. We were also able to successfully deploy digital solutions like AI-powered bots and intelligent automation solutions and provide mobile app development as customers of the brands we support migrated rapidly and in large numbers to digital channels.
Whether firms are at the start of executing a digital transformation strategy, are far down the path, or are digital natives, agility must be a top consideration at every stage of growth.
Culture is the foundation for long-term success
When you see an extremely agile company, it typically follows that there is something very special about its people and its culture, because, in addition to speed and responsiveness, agility also requires an element of stability. In this regard, if a company's culture represents the foundation of an organisation, its engaged employees are the heart and soul of the pivot as they embody dedication, motivation, business ownership and accountability, which are the primary traits of successfully implementing and sustaining change.
The importance of investing in culture cannot be overstated. A strong corporate culture fostered over time that places people and a shared set of values at the forefront of what it does equates to the ability to innovate, achieve higher customer satisfaction, and ultimately deliver stronger financial performance. Without it guiding the organisation and driving decision-making, all other elements can be in place, and yet companies will see few benefits.
Having a meaningful, authentic culture as a foundation is critical to help organisations realise significant performance improvements, innovate better, and grow as a team with a shared vision and mission leading to growth and long-term sustainability.
The only constant is change

Every new decade sees businesses thrive, survive or disappear as technology evolves, competitiveness tightens, and new market entrants challenge the incumbents. In fact, over the next 10 years, it is expected that approximately 50% of the companies currently on the Fortune 500 list will most likely be replaced as the life expectancy of these large companies continues to rapidly decline.
In this environment, where inertia is clearly riskier than action, companies must be willing and able to pivot. Those that can do so effectively will be able to meet the demands of fast-changing consumer behaviour and capture market share to emerge as leaders in their respective industries after the pandemic crisis has passed, thriving long into the future.
Learn more at telusinternational.com