Vintage Bugatti Type 57S Expected to Fetch $9 million at Bonhams Auction
High end auctioneers Bonhams are featuring one of the world's most expensive pre-war cars, a 1937 Bugatti Type 57S with estimates anticipating the car will sell for around $9 million in an upcoming auction.
Car collectors from across the globe have been put on notice with the news that a 1937 Bugatti Type 57S – one of the world's most valuable and desirable pre-war cars – is set to appear for the first time at auction in London on 19 February 2021. This particular 1937 Bugatti Type 57S, has been off the road for the past 50 years and is the headline act at renowned auctioneer Bonhams car auction next month which will be hosted at their London auction house.
Bugatti only produced 42 of the magnificent Type 57S making it highly desirable, particularly given its excellent condition, which thanks to a restoration from previous owner, Bugatti enthusiast and engineer Bill Turnbull means that the new owner will only have to complete some final re-assembly to restore this stunning car to it's former glory. What makes this lot even more tempting is that the executors of the late Mr Turnbull's estate have requested that there be no reserve for this car.
This model was purchased in 1969 and marked the beginning of a labour of love for Mr Turnbull, who used his own expertise and the knowledge of the car's four previous owner to begin a painstaking and loving restoration which was very close to completion.
With largely intact black paintwork, cream leather interior and original coachwork, it is an incredibly rare find and offers a buyer the chance to own a unique part of motoring history with it's incredible history, all dcumented. Originally owned by Robert Ropner, a member of the Ropner Shipping Line family, from renowned London dealership Jack Barclay and was at the time the fastest road car of its day. It then passed to Rodney Clarke, fouonder of the British Connaught Grand Prix race team – a fitting home considering Bugatti's own success in this arena at the time. In addition to this history the Type 57S's chassis is noted as being one of only three special lightweight frames produced for the famed Type 57G, the factory racing version of the 57s which featured in the 1936 Grand Prix season of Grand Prix, with several wins and multiple world record to its name.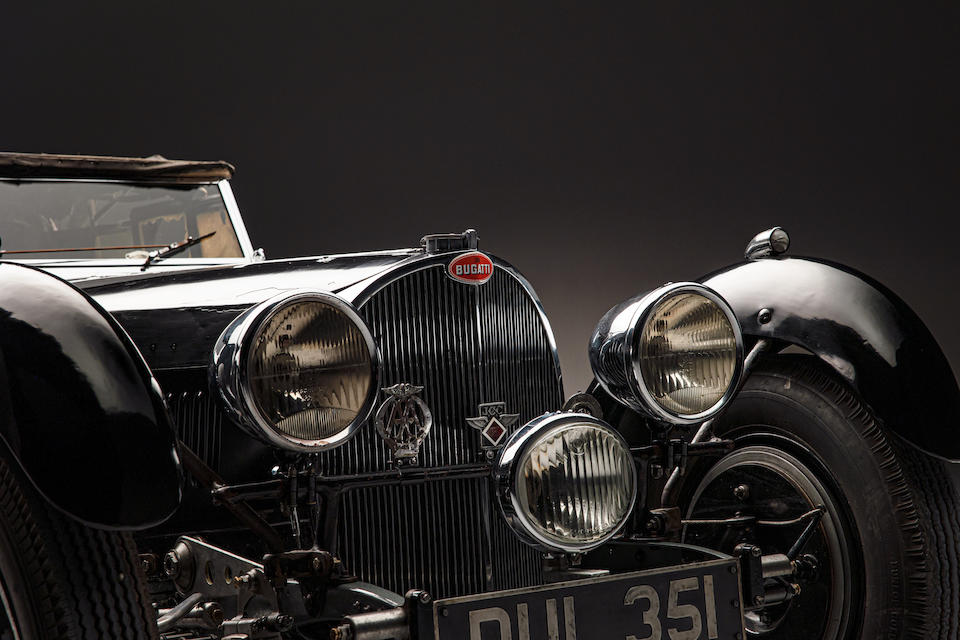 This magnificent Bugatti will form the centrepiece of Bonham's the Legends of the Road Sale which will feature several other fascinating lots including a 1960 Aston Martin DB4GT Coupé, expected to fetch around $2 million, and a 1965 Ferrari 275 GTS. But there remains no doubt that with estimates between $7 million and $9 million the Bugatti is set to be the star of the show.