Flying Private Vs Flying First Class
Frequent business flyers are understandably keen to take what comfort they can while travelling. So what advantages are there in flying privately or first-class?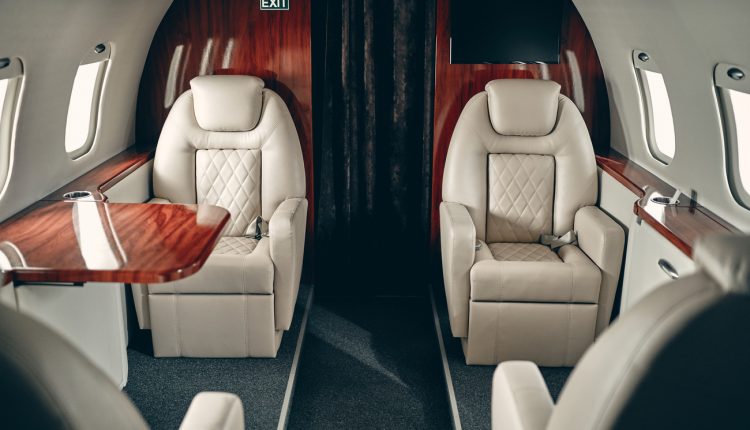 Melissa Hull, Content Marketing Strategist at Aviation Charters, compares the two options for executive flyers and explores whether the additional cost of a privately chartered flight may be justified by its exclusive amenities.
Undoubtedly, most business travellers and frequent flyers prefer the peerless comfort and ease only flying first-class or hiring a private jet charter can bring. After all, both options provide focused, luxurious, and bespoke service.
First-class and private air travel can also dramatically reduce travel time, allowing travellers more time to enjoy their stay, regardless of whether it's for business or pleasure. While seemingly identical, both travel options have distinct differences.
Flying Private Versus Flying First Class: Factors You Should Consider
If you're undecided whether to fly private or fly first class, comparing key aspects can make the decision-making process easier for you. Below are some of the crucial factors you should look into:
In-Flight Airline Service
If you're a first-class passenger, you will be sitting in an exclusive and separate area in the airplane. The seats are both spacious and comfortable. There is also less crowding since the number of people in the first-class area is limited.
You will get access to a vast range of services and amenities, including cocktail drinks, hotel-class dishes, and entertainment. Some airlines go the extra mile to entice travellers by offering sliding dividers or doors, convertible seats, bars, and gourmet dining.
If you're a first-class passenger, you will be sitting in an exclusive and separate area in the airplane.
If complete privacy is a priority, flying private is your best option. When you fly private, you will also enjoy foods and drinks customized according to your liking. Even your entertainment options are personalised based on your preference.
Most private jet cabins also come with interiors designed by some of the world's best designers. Other amenities private flyers have access to include full equipped lounges and staterooms, bedrooms, dining and bar areas, bathrooms, and movie screens.
Most private flights also have WiFi connectivity. Most business travellers prefer flying private to use stateroom facilities, in case they need to do a presentation or take care of urgent business matters. Chartered jets only accommodate a small number of people, sometimes only a maximum of 20. If anything, you can liken flying private to staying in your favourite hotel while up in the air.
Destinations and Travel Time
If you are flying first-class, you are bound by the airport's schedules and the airline company. You have no choice but to follow their time frame. On the other hand, if you fly private, you get to enjoy the flexibility chartered flights offer.
Pilots also can cater to last-minute changes in case you are running late and have to change the departure time. Unlike commercial airlines, chartered flights can fly to remote destinations.
If you fly private, you also won't have to go through the hassle of waiting for connecting flights. In some instances, you have the option to be picked up by a helicopter so you can get to your next destination without having to wait.
If you are flying first-class, you are bound by the airport's schedules and the airline company.
Price
The average first-class ticket to Las Vegas from Los Angeles can cost around $1,500. On the other hand, flying private to the same destination can cost up to $5,000. At first glance, it would seem like flying first class is more cost-effective, right?
Let's examine things closely. When you fly first class, you are paying for the seat. So if you are bringing seven family members, you'll pay $12,000 overall. On a private jet, however, all 8 of you can travel for the initial $5,000.
Privacy
If you need to take care of business while traveling, you'll undoubtedly need a comfortable space, minimal noise, and of course, privacy. You'll have access to all that when you fly private.
There will still be other passengers, flight attendants, noise, and even children around with first-class seating. Understandably, it's not ideal if you have important business matters to take care of.
Time
The cliché "time is money" exists for a reason. After all, you can always earn money, but you can't buy time. As mentioned earlier, the standard regulations and rules of commercial flight still apply when you fly private.
This means you also have to go through security, check-in procedures, and baggage claim after landing. When you fly private, you have the luxury to arrive 15 minutes before departing, go through a speedy check-in procedure, and walk directly to your jet immediately after.
Special Considerations
Since most companies don't want to fly their jets without any passengers, they often wait for customers who are flying back the same day. This setup can spare business travelers from all the hassles of scheduling appointments around commercial flight schedules.
Since private jets have the needed facilities to hold meetings, business executives can conduct meetings and other business matters while flying. Considering the value of an executive's time, flying private is deemed more economical than flying private.
Also, for many, the flexibility flying private provides is genuinely one of a kind as you have the option to plan trips at a time that's convenient for you and not the other way around, as would be the case when you have a first-class ticket.
COVID-19 Safety Protocols
All airline companies and airports are required to strictly implement safety and health protocols to ensure the safety of the pilots, crew, and passengers from COVID-19. First-class passengers are also given sanitary kits and masks.
Airline personnel also make sure social distancing is followed for everyone's safety. Pilots and crew are also mandated to follow safety and health protocols before, during, and after each flight.
Private jet charter companies also implement safety and health protocols to ensure the safety of everyone on board. A COVID-19 manual is also provided to employees to ensure they follow the safety protocols at all times.
Since there's a limited number of crew and passengers on private flights, it is easier for the assigned personnel to monitor if the health and safety protocols set in place by the company and the Centers for Disease Control and Prevention (CDC) are followed accordingly.
Conclusion
Figuring out whether to fly first-class or private can be challenging to figure out if you don't know what factors to consider. With the guide above, you're already a step closer to figuring out the option that's best for you.