Why You Should Treat Your Team Like Family
We speak with Nabeel Chaudhry, the CEO of Al Safa Transport.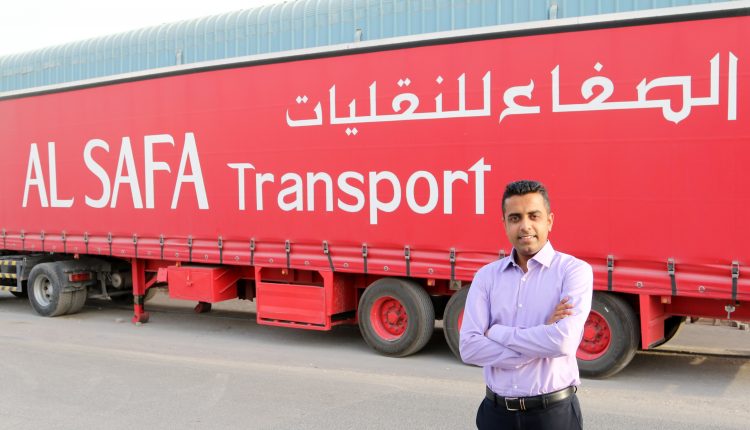 Al Safa Transport is a leading asset based FTL company operating throughout the Middle East region and Pakistan since 1976. Headquartered in Dubai, UAE the company offers dry, refrigerated and DG transportation, as well as air and ocean freight. Warehousing and open yard storage options are also available at different locations in the region for bulk, dry, temperature-controlled and hazardous products.
Al Safa Transport operates a fleet of 500+ vehicles, ensuring a one-window solution for all cargo trucking requirements. They also assist in documentation, customs brokerage and border clearances. The fleet is cargo insured, GPS equipped, and customer service is 24 x 7 x 365.
Certifications of the company include ISO 9001 / 45001 / 18001 OHSAS and ISO 39001 road traffic safety management systems. Al Safa Transport is also GDP (Goods Distribution Practices) certified for transportation of medical and cosmetic products.  
Al Safa Transport is also a member of the below local & international bodies:
NAFL / FIATA
GPCA (Gulf Petrochemicals & Chemicals Association)
SEDEX (Suppliers Ethical Data Exchange) complying with SMETA 4 pillars audit
RoSPA (Royal Society for the Prevention of Accidents)
TAPA (Transport Asset Protection Association)
We speak with Nabeel Chaudhry, the company's CEO, who's been with Al Safa Transport for over 19 years. Within the company, it is Nabeel's responsibility to articulate Al Safa Transport's forward course through challenging times and a changing world. While goods delivery from point A to point B will always require a movement by a truck and at an international level, trucking forms a respectable portion of the economy of any country's GDP, new technologies and methods are constantly coming into this sector. However, with its innovative mindset, Al Safa Transport is a company that is staying ahead of many of its competitors. The company is at the forefront of the sector, constantly adopting new technologies and solutions. We learn more about it below.
Tell us a little bit about Al Safa Transport and how it became one of the prime trucking and transportation services providers in the Middle East.
We are one of the leading FTL asset based companies in the Middle East with a regional presence. We have four decades of history and experience of operations around the region.
For us it's not about business growth only – it's about quality, not quantity! It's about happy customers and happy team members. The ability to deliver reliable service to our valuable business partners through different seasons and times is a priority for the whole team. And continue doing it whilst continuously innovating, investing and implementing the latest technologies and equipment.
Having a safe, supportive and engaging work environment is a goal for the organisation. Reducing our environmental impact, contributing to a greener planet and working towards sustainability are important ambitions for the company.
What helps you stay passionate about your work for Al Safa Transport?   
I was practically jumping in and out of trucks as a kid and playing hide and seek with friends in the Al Safa truck terminal, so the love for the sound of trucks driving around me has always been there. When I travel around the world, I can't help but always notice the trucks that drive past me – more than I notice the scenery! I have a passion for this industry and as I grew up, I knew I would devote my career to trucks. I love hearing the sound of trucks driving past my office in the head office terminal! I feel happy and privileged to work for Al Safa Transport, to innovate and to contribute new ideas on how to become the fleet of the future! I am proud to be associated with the company and its wonderful people, great business partners and the positive attitude and can-do spirit Al Safa Transport resonates across its people.
In what ways has the pandemic affected your operations?
COVID-19 has presented a challenge for the world – one that has never been seen in modern times before. But it's also created unique opportunities for some sectors. Having a regional-based presence around the GCC enabled us to form new strategic and long-term partnerships with new business partners as borders were closed during the initial lockdown. With our focus on the long term, we believed since the beginning of the pandemic that this storm will pass, so our top priority this year has been the safety and well-being of our people and operations. We believe there is always a light at the end of the tunnel and hopefully, we'll be able to see that light in 2021. His Highness Sheikh Mohammad Bin Rashid remarks that life would be boring without a challenge and this is something I fully agree with.
What sets you apart from your competitors?
The main thing that sets us apart is how flexible with our business partners we are, which is something that has helped us build very solid relationships with them.
It's about quality and having the right resources available at all times. I believe that this is the beauty of an asset based business – you always have something tangible to offer, without being reliant on market factors. We have control over our people and assets and that ensures the reliable delivery of the services that our customers expect, while at the same time, we're able to implement the latest ideas and technology in our operations.
Above all, we value our people and our business partners – we treat everyone like family!  We have second-generation employees working for us and are always happy to recruit team members' relatives if there's an opening they're interested in. Our team consists of hardworking and loyal people and I'm very proud of them all!
We are a company that tries its hardest to have a positive impact on society and our 'Going Green Matters' initiative is more than just a statement printed on our trucks. Our entire head office terminal is powered by renewable energy, we discourage the use of plastic bags and target a zero waste to landfill policy. We are a signatory to the Ten Principles of the UN Global Compact and we're working hard on having an active and impactful CSR program.
What do you plan to accomplish in 2021?  
We are working on some innovative ideas and potential new locations we plan to explore. I can't share more on that today, but we are looking forward to an exciting 2021! We plan to improve and have a happier team and business partners!
As part of our 'giving back to the community' plans, we are currently working on an internship program, which will train people from different backgrounds. Exciting times ahead!