Helping Older Adults During the COVID-19 Pandemic
We speak with James Balda, President & CEO of Argentum – a leading association exclusively dedicated to supporting companies which operate professionally managed, resident-centred senior living communities and the older adults and families they serve.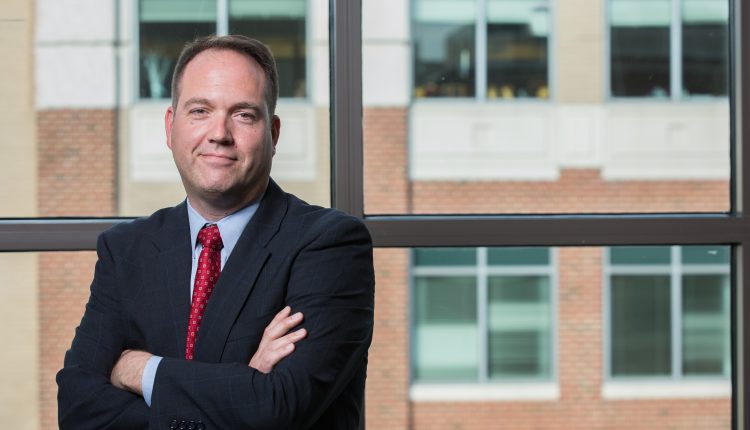 Along with the company's Board of Directors, James is responsible for the overall leadership of the association and is charged with transforming the vision and mission of Argentum to meet the changing needs of the senior living industry.

With the threat that COVID-19 is to older adults, tell us about what Argentum's been up to during the pandemic.
Early on, it became clear that the effects of COVID-19 were particularly harmful to older adults and those we serve across the senior living spectrum. In the United States, there are nearly 2 million older adults living in senior living communities, including assisted living, independent living, memory care, and continuing care retirement communities. These communities are not nursing homes, but they serve and care for a very similar population—those with an average age of 85 who are living with multiple chronic conditions and need assistance with activities of daily living.
And across the industry, there are about 1 million dedicated employees working in community management, dining, operations, caregiving, and beyond. Each and every day, before and during the pandemic, they have come to work to provide compassionate care and service—prioritising the health and wellbeing of their residents above their own.
At Argentum, our priority has been to advocate for the needs of all senior living residents and staff and educate Administration officials and lawmakers on the challenges faced by the industry as a result of COVID-19. For senior living providers, these challenges were many, including:
Skyrocketing expenses and lost revenue from:

procuring personal protective equipment (PPE);
hiring new staff to manage new operations from COVID-19 health screenings to personal meal packaging and deliveries;
purchasing testing kits and enhanced infection prevention and control supplies;
providing hero pay and added benefits to staff; and
a reduction in move-ins and admissions as a result of visitation restrictions on communities.

Difficulty obtaining PPE and testing needed for residents and staff;
Keeping up with COVID-19 reporting requirements to local, state, and federal officials;
Communicating regularly with residents, staff, and families and responding to media inquiries;
Combating the harmful effects of social isolation and its impact on the mental, social, physical, and emotional wellbeing of residents; and
Ensuring prioritisation for a vaccine, once approved, and its effective implementation, among others.
Since the beginning of the pandemic, we have been laser-focused on helping senior living companies and those who depend on them with these very challenges. Along with the support of our membership and advocates, we've worked closely with the Administration, Congress, federal agencies, and states, and that advocacy has resulted, in part, in their action to:
Provide, process, and distribute emergency federal relief funding for the senior living industry (about $3 billion to date and more anticipated);
Send millions of rapid point-of-care COVID-19 tests to assisted living communities across the country;
Establish a national retail pharmacy partnership to ensure total vaccine management for residents and staff, once a vaccine received federal authorisation; and
Safely re-open senior living communities on a state-by-state basis.
Provide guidance on infection prevention and control and smart testing strategies
In the short-term, our focus remains on ensuring that the industry continues to receive emergency financial relief, ample and accurate testing for staff and residents, and an efficient process for priority vaccine administration.
In the United States, the COVID-19 pandemic is far from over, but we believe the work we've done and will continue to do will have a marked impact on the ability of the industry to recover and eventually, resume normal activities with the continued focus on caring for our nation's seniors.
At Argentum, our priority has been to advocate for the needs of all senior living residents and staff and educate Administration officials and lawmakers on the challenges faced by the industry as a result of COVID-19.
What's the outlook for the future of the senior living industry?
We believe the long-term outlook for senior living remains strong. We know there will be growing demand in the years to come to help care for the burgeoning population of ageing Americans, and we are confident we'll be ready and prepared to accommodate that demand.
That being said, we'll need to recognise that COVID-19 may bring permanent changes to the industry, and we'll need to be ready to be flexible and adjust as needed. These alternations could come in the form of permanent operational changes to dining services; building and community design; visitation and screenings; and staffing considerations, as examples.
But we'll also need to be on the lookout for the possibility of new regulations and scrutiny on the industry in the areas of reporting requirements, emergency planning, and infection prevention and control, among others. We are acutely aware that it's not enough to be at the table for these discussions; we need to set the table for those conversations and stand ready to react and respond accordingly. For better or worse, COVID-19 has elevated awareness of the senior living industry at the federal level, and we are investing heavily in government relations support to ensure legislation that is introduced considers the unique nature of our industry.
Additionally, COVID-19 has underscored the fact that senior living is a misunderstood industry. There remains confusion among the media, consumers, lawmakers, and the general public, about who senior living serves, how the industry is regulated and financed, and how it differs from other care providers, such as traditional nursing homes or skilled nursing facilities. These differences are important, and we know we must continue to tackle this mountain of misinformation through continued education and awareness campaigns. 
What are some other initiatives Argentum is focused on?
We are still focused on advancing several initiatives outside of our targeted COVID-19 work. One area of focus has been fast-tracked due to COVID-19, however, and that is quality care and improvement across the industry. This includes combating all forms of elder abuse, enhancing infection protection and control, and providing opportunities to advance the senior living profession through credentialing and certification programs to support professional advancement and ultimately, improve care and service.
Additionally, we are facing the possibility of a significant workforce shortage in senior living, so we are dedicated to curating workforce development opportunities and initiatives, such as supporting apprenticeship programs. We are also diligently working to spread the message that working in senior living offers a rewarding career path in a growing industry and educating the future workforce on the many opportunities that the industry offers. We are in the business of caring for seniors and that involves more than just direct support—we have opportunities in sales and marketing, facilities management, community operations, finance, development, human resources, and so much more.
What's the most rewarding part of your work with Argentum?
Argentum's work is mission-focused and driven by our membership, and that's what makes working for the association so rewarding. Seeing the work we do make a real impact for our members and for the residents, staff, and families they serve, is what energises me—and everyone at Argentum—to keep fighting the good fight every day.
About Argentum
Since 1990, Argentum has advocated for choice, independence, dignity, and quality of life for all older adults. Argentum member companies operate senior living communities offering assisted living, independent living, continuing care, and memory care services. Along with its state partners, Argentum's membership represents approximately 75% of the professionally managed communities in the senior living industry in the USA – an industry with a national economic impact of nearly a quarter of a trillion dollars and responsible for providing over 1.6 million jobs. These numbers will continue to grow as the US population ages.
More information about Argentum, its membership, and its initiatives, is available at argentum.org.