The CEO's Reading List for World Mental Health Day
Each year, 10 October is marked as World Mental Health Day, but the unprecedented challenges of 2020 have made the issue more important than ever.
4. Powered by Purpose by Sarah Rozenthuler (FT Publishing)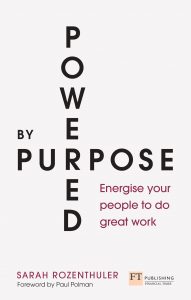 CEOs and business leaders around the world are increasingly recognising the growing need for organisations to create a positive impact whilst making profit. This book not only provides a guide that will help you lead an organisation that fulfils both of these needs, but also demonstrates the importance of 'purpose' for engagement, motivation and mental health.
The author, Sarah Rozenthuler, is a psychologist and leadership consultant who has worked with the heads of huge organisations to help them find a sense of purpose that makes them feel more alive in their day-to-day life. Her book strikes a great balance between the commercial case for 'doing good' and a practical guide to transforming the mindset and uplifting a team through purposeful leadership.