How Sustainable Investing Can Support a Green Economic Recovery Post-COVID-19
In early October, UK Prime Minister Boris Johnson pledged to launch the UK on the path of a "green industrial revolution" over the next 10 years, telling the Conservative Party conference that the UK Government would invest in clean energy, aiming to power every home in the UK with offshore wind energy, turning the UK into "the Saudi Arabia of wind".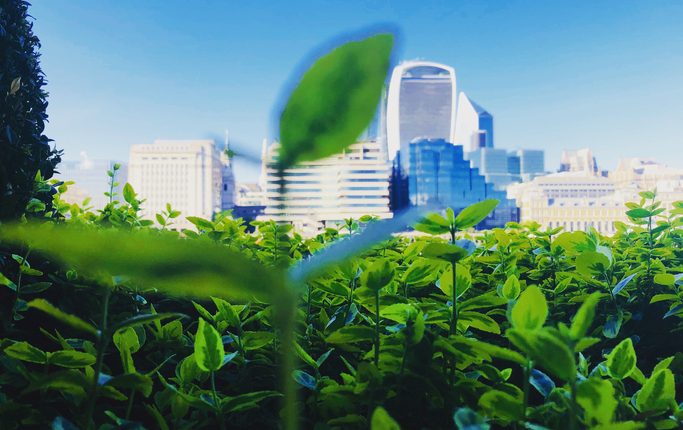 This is the first step in a ten-step 'Build Back Greener' plan, which is expected to be set out in full detail later in the year, and which will include new targets and investment into industries, innovation and infrastructure. This follows last year's legislation requiring the government to reduce the UK's net greenhouse gas emissions to net-zero by 2050, which will also require significant investment and commitment. 
In making this pledge, Prime Minister Johnson is hoping that investment in green infrastructure can help revive the UK's ailing economic fortunes in the wake of the havoc wreaked by the coronavirus pandemic. It has been six months since the initial outbreak of COVID-19 and Britain's economy is struggling to recover from the effects of lockdown. As businesses have struggled to stay afloat, recent data from the Office for National Statistics (ONS) has found a total of 695,000 payroll jobs were lost in the first five months following the pandemic. The total number of people out of work in the UK has hit 1.4 million, which is likely to increase as the furlough scheme comes to an end.
COVID-19 has catalysed existing investment trends to produce a wave of investment that can support a green economic recovery in the UK, building on the burgeoning appetite for Environmental, Social and Governance (ESG) focused investments among investors of all kinds. As in so many areas of the economy and society, the pandemic has accelerated the pace of development, pushing investors to re-examine their portfolios and to consider whether their money is being channelled into the right areas, that will produce the required returns, while at the same time delivering social and economic benefits.
To rectify the impact of COVID-19, the UK must build sustainably for the longer term and take advantage of the growing demand for sustainable investment to stimulate a green economic recovery, driven by innovation, entrepreneurialism and an appetite for a better future.
Recent years have seen a sea change in capital allocation among investors who have been seeking greater yield in an ultra-low interest rate environment, while at the same time meeting increasing demand for sustainable and responsible investments. In asset management, there has been substantial growth, especially during the pandemic, through investments in sustainable 'real' assets such as forestry, housing, and renewable energy, including battery storage.
Institutional investors seeking opportunities in long-dated assets that meet their return objectives are increasingly allocating capital into sustainable investments, such as renewable energy and energy storage, and away from sectors that are falling out of favour, such as commercial property and fossil fuel extractors. This is supporting the growth of the green economy and may offer the UK a path to recovery from the pandemic.
The renewable energy sector also offers enormous opportunities, with areas such as energy storage.  Energy storage facilitates higher levels of renewable energy generation supporting the transition to a low carbon economy and helps ensure renewable energy becomes more cost-effective for energy consumers.
Rebuilding the economy following the biggest health crisis in living memory through measures that additionally tackle climate change will provide a long-term financial and economic return for investors and asset managers.
Real assets, such as renewable energy, have a reputation of resilience when market volatility is high as they are naturally less correlated, and less sensitive, to stock market movements. In addition, they are not marked to market which helps mitigate volatility in investor portfolios. We are seeing investors increasingly look to future-proof their portfolios with investments that defy the precipitous falls we have seen in stock markets over the course of 2020.
At the same time, these trends have been replicated outside of real assets and can also be seen in equities. The amount of new money invested in ESG equity funds between April and July of this year exceeded the combined flows for the previous five years, according to the transaction network Calastone. Furthermore, a recent report from Morningstar assessed 745 ESG equity funds compared to 4,900 traditional funds invested across large companies worldwide and found that sustainable funds performed better than their peers over various time horizons.
Real assets and ESG equity funds have shown resilience in the face of a global crisis and a market heavily distorted by the effects of COVID-19. As such, the myth that you must sacrifice financial returns to incorporate environmental and social benefits into an investment strategy has been well and truly disproved.
The UK also benefits from an entrepreneurial culture that is fuelling innovation in sustainability. Funding is increasing for small but innovative areas of infrastructure including agri-tech and waste-to-energy plants as part of the UK Government's net-zero commitments and green infrastructure plans, such as its recent backing of an industrial-scale insect farm to produce more sustainable animal food for livestock suppliers. In addition, the UK's entrepreneurial culture means agri-tech companies such as Fischer Farms, a vertical farming project that grows greens and herbs inside multi-storey buildings with specialist LED lighting, are attracting significant investment. Many see such investments as having the potential to disrupt the traditional, carbon-intensive, agricultural sector.
The combination of government support, investor sentiment and an entrepreneurial approach provide a solid foundation for the UK to rebuild its economy from the ravages of the pandemic through an agenda of sustainable investment. We are still in the early stages of the pandemic and there is undoubtedly more disruption to come, with a consequential impact on GDP growth and jobs. The world is now facing two urgent problems as the pandemic has collided with the climate emergency. However, rebuilding the economy following the biggest health crisis in living memory through measures that additionally tackle climate change will provide a long-term financial and economic return for investors and asset managers. What is needed is commitment from all stakeholders to make the most of a historic opportunity to transition to a low carbon economy and deliver a sustainable green economy for the future of the UK.