Jayne-Anne Gadhia: "If We Hold Women Back, We Hold the Economy Back"
For our October front-cover article, we speak with Dame Jayne-Anne Gadhia – an ex-CEO of Virgin Money UK, a veteran of the finance world and as of recently – an entrepreneur.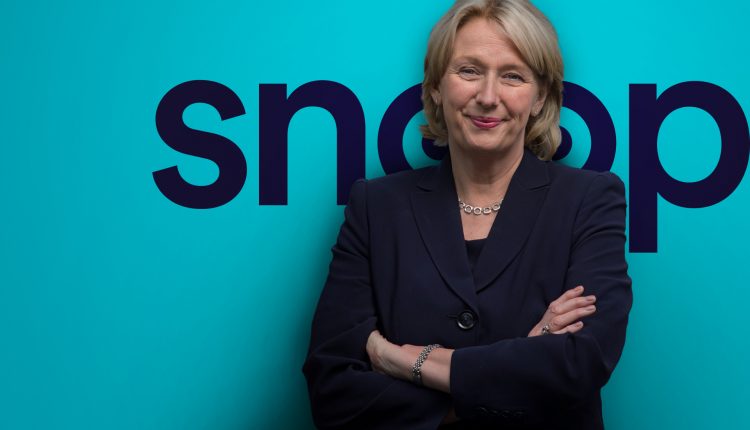 Earlier this year, in the midst of a global pandemic, Gadhia founded her own FinTech startup Snoop – a free app which connects all your bank accounts and credit cards, tracking your spending and spotting smart ways which can help you can save money. We hear all about it below.
What inspired you to start Snoop?
Entrepreneurship and new businesses have always been in my blood. I've always been interested in using technology to make peoples' lives easier and, although I did think about creating a bank from scratch when I left Virgin Money, I knew a proposition based on the power of open banking had the potential to be a gamechanger.
I got together with a small group of former colleagues, we sketched out the problem we wanted to solve, what we wanted to achieve as a business, how we could make consumers better off and how we'd go about doing it. All from my kitchen table! The result is Snoop and I've been delighted with the progress so far! Including reaching 100,000 downloads in less than five months and being named one of Europe's top financial technology companies by The FinTech50.
The app uses secure open banking technology and a combination of human and artificial intelligence to deliver data-driven, hyper-personalised insights to help consumers avoid rip-offs and make the most of their money. We want to use technology and data to help people overcome the so-called £12 billion 'loyalty penalty' and the average household could save around £1,500 per year with Snoop on their phone.
What made you transition from being a CEO to starting your own tech company?
We'd been developing a new digital bank at Virgin Money. CYBG acquired the business before we were able to launch the new platform and, if I'm honest, it felt a bit like unfinished business. The interesting thing is that as a team we knew deep down that open banking, not traditional banking, was the best path to delivering something really useful for consumers.
You launched the app during the peak of the COVID-19 pandemic when everyone was in lockdown. What were the challenges that came with this?
It's a cliché but it's true – nothing worthwhile is easy. You've got to put in the hard yards, understand your market, develop a compelling proposition and then sell the idea. We managed to do put all of that together and we've raised £9 million in funding so far. We have very supportive investors and we'll be giving people the opportunity to share in the future success of the business through a crowdfund on the Seedrs platform.
I thought the challenge would come from everyone not being able to be together. We moved to working entirely remotely a week or so before lockdown to properly assess and understand the issues we might face when the formal lockdown was imposed. We made communication a priority and the team worked around the clock to launch the business back in April. Since then the app has been downloaded over 100,000 times and Snoop has been named one of Europe's top 50 financial technology firms. It would be great if we could all get together more often, but the team has made it work.
How important is consumer transparency for Snoop?
Transparency is super important, but I think of it more in terms of delivering clarity and understanding. Too many financial firms seem to hide behind lots of information and small print. Snoop doesn't do small print. We avoid jargon and look to make Snoop easy to use, brilliantly simple, completely personal and exceptionally helpful.
Banks like Monzo are also harnessing the power of open banking to pool customers' different bank accounts. Are you concerned that the need for Snoop will be lessened?
I think switching on open banking is very different to harnessing its power. I think of open banking as a gateway to putting people in control of their data and helping them use it to their advantage. I don't see many banks using it in that way. After all, most banks make money from people going overdrawn, fees for late-payments and so on. The incentives to genuinely help their customers avoid such fees is practically zero. Snoop on the other hand can serve in the interests of consumers with no agenda other than to help make them better off. And that's what we aim to do day in, day out, by making their data work for them.
Although I did think about creating a bank from scratch when I left Virgin Money, I knew a proposition based on the power of open banking had the potential to be a gamechanger.
Snoop earns money in a slightly non-conventional fashion. How have customers reacted to this? Do you think we're seeing a shift in consumer mindsets with regard to businesses and how they operate?
Snoop is free to use and has two established sources of income – from switching and partners. So, if a customer moves to a new product or service because of a Snoop recommendation, the new provider may pay us for the introduction.
When a customer makes big savings, they can also tip! It's not compulsory of course, but we love the idea of tipping because it 100% aligns interests between the business and our customers. It's still very early days in terms of it being a significant source of income but the feedback has been instructive and along the lines of: "Yes, if I save a few hundred pounds, I'd be happy to tip".
That's a big incentive for us to deliver significant savings for our customers. A win-win, if you will.
You've recently said that: "As we watched the economic and social consequences of lockdown unfold, we realised Snoop could be about more than money". What can we expect to see from Snoop in the future?
That's right, in the early stages of lockdown, we were still in a beta phase with a group of 5,000 customers testing the app. We asked them: "What else can Snoop do to help?". The response was fascinating and showed us the power of networks and community-based platforms.
They not only shared with us smart ways to save money – but also clever ways to home-school and entertain the kids, tips for working from home, and smart solutions to help the local community. It was great to know that the platform could be helpful beyond money and financial management.
The future is all about building on a great start. Building a business with a strong purpose, fit for our times, and that our customers love. And that's what we're focused on every single day.
Snoop has a lot of 'skills' to help customers save money, including Spending Summary, Bills Checker, Discount Code Finder, Card Checker, Energy Checker to name a few. Which is your favourite Snoop skill?
My favourite skill is one that customers tell us is their favourite – Look Ahead. Every Sunday, Snoop flags the regular bills you're due to pay that week. With a quick check of the app, you can make sure you've got the cash to cover them and avoid unnecessary bank overdraft charges. Simple, helpful and effective!
I was fascinated to see that the issue holding women back in financial services is one thing and one thing only. Culture.
As the UK Government's Women in Finance champion, can you tell us a little about the role and what it means to you?
When the then Chancellor, George Osborne, asked me to undertake a review into why women make less progress in financial services than in other industries, I have to say I was slightly dubious. I'd never gone to work thinking about my gender. I just wanted to work hard, make a difference, and succeed on my own merits.
The 'Women in Finance' Review was to form part of that Government's plan to improve UK productivity and so I decided to accept, get involved and undertake the review.
What intrigued me was that the data showed that the financial services industry was so much worse than elsewhere. And after an immense amount of work to get under the skin of the issues at play, I was fascinated to see that the issue holding women back in financial services is one thing and one thing only. Culture.
You've been a vocal proponent of addressing inequality, particularly in the finance sector. Do you feel that we are beginning to see a shift towards increased diversity in business?
The Women in Finance Charter was launched in March 2016 to improve gender balance in financial services. It now has over 370 signatories, firms of all shapes – from global banks to credit unions, from the largest insurance companies to the smallest FinTech start-ups – covering 900,000 employees in the sector. I am pleased with the progress, the dial is moving, but of course, there's so much more to be done.
Working as the Women in Finance Champion, do you believe that there needs to be more Government-mandated policies and initiatives similar to the 'Rooney Rule' in order to redress the balance?
I don't think something like the 'Rooney Rule' would work in isolation. Making it compulsory to interview at least one suitably talented female is one thing – and gender-balanced shortlists are important and necessary – but that needs to be complemented with improvements to processes such as talent management, promotion, development, and performance management. And that can only come with having the right sort of culture and values.
We recently ran a feature discussing whether female leaders make better politicians, highlighting some of the great work carried out by Angela Merkel and Jacinda Ardern. Do you think this statement applies to business as well?
I think we should resist drawing conclusions about female leaders from a few exceptional individuals acting in exceptional circumstances. I do think that, whether in politics or business, a female leader could signal inclusivity and that is perhaps the most important thing. Not whether they are better leaders, but that they've made it to the top and it shows it can be done.
In business, it is proven that diversity improves outcomes, performance and profitability. Diverse leadership teams undoubtedly make better decisions and so to me, meritocracy and equality of opportunity to make it to the top table is the most important thing.
A recent report showed that there are more people called Steve at the helm of FTSE 100 companies than there are women. How detrimental do you think this is for business and what further steps can company leaders take to remedy this?
It's funny, a few years ago my team came to me with an idea to do an April Fool. I was to announce that I was going to change my name to Dave-Anne Gadhia to highlight the fact that, at the time, there were as many men called David or Dave as women running Britain's FTSE 100 firms. A joke with a serious message. The truth is, it's no joke.
Before 'Dave', research showed that CEOs called John outnumbered the number of women at the helm of FTSE 100 businesses, now it's Steve. So, although the name has changed, not much else has.
The way I think about it is this. If we hold women back, we hold the economy back. That's always been true but now more than ever. It's never been more obvious to me that equality of opportunity and using the talents of everyone will be a key part of getting the economy off its knees.
What's your one piece of advice for aspiring female business leaders?
Be yourself, identify your purpose and try and make a positive difference in the world.