Brands on a Mission: Ethique
For this month's Brands on a Mission section, we caught up with Brianne West, the CEO and Founder of Ethique.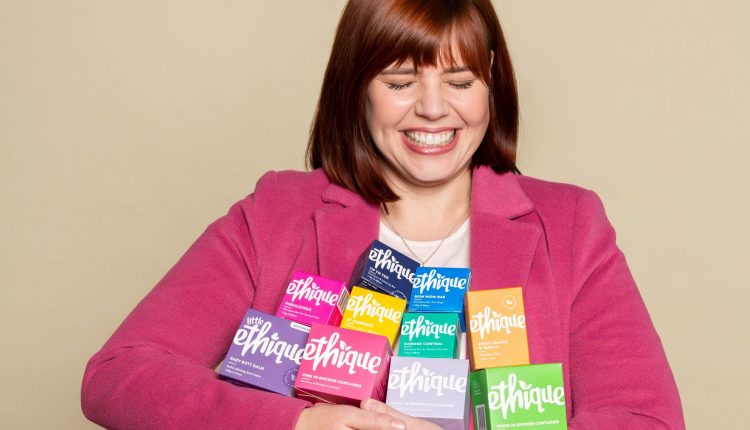 Created in 2012, Ethique is the first lifestyle brand in the world to develop an entirely plastic-free solid product range. All of their solid bars are 100% plastic-free, certified palm oil-free, vegan and cruelty-free and packaged in certified compostable packaging. Ethique's ingredients are all naturally derived, sustainably sourced and fairly traded (so their suppliers are paid a fair price) and are a living wage employer. 
The company has just celebrated an incredible milestone – to date Ethique has prevented the manufacture and disposal of over 9 million plastic containers worldwide! Their goal is to hit 10 million bottles by the end of the year and 50 million by 2025. They're also going to plant 200,000 trees and save over 5 million litres of water by December 31st too! 
What was the idea about Ethique born out of? 
I've always loved animals and been passionate about protecting our environment; my parents brought me up that way and New Zealand, which is also a very environmentally friendly country so it clearly just rubbed off on me! And I firmly believe that the way to create genuine, long-lasting change is through business. But business with far more at its core than just profit. Businesses with purpose which operate with a strict set of ethical rules, so that everyone benefits, will go further and faster than any government (which so far, seem reluctant to really make any changes).
So, it's always been a goal of mine to create a business that operated as ethically as possible and inspired other businesses to do the same.
Plastic packaging is one of the most significant problems that our planet is faced with. There is a terrifying amount of plastic waste that ends up in landfills and our oceans. People assume plastic is recycled, yet only 9% of all plastic ever made has ever been recycled…
I knew that liquid-based beauty products, such as shampoo and conditioner, are composed of up to 95% water and thus, need to be packaged in plastic materials. It seems pretty obvious to me that if you took the water out of the products, then they could be formulated into solid bars which can be packaged in 100% compostable materials.
So Ethique is here to show the world that it is possible to operate as ethically as possible and provide consumers with eco-friendly alternatives.
After many experiments in my kitchen, I was eventually able to replicate many beauty products in a solid bar form which could, in turn, be packaged in zero waste material – and so Ethique was born!
What are the challenges of offering a 100% zero-waste, plastic-free, compostable range of products?
Anyone who has ever been involved in growing a startup, I'm sure, knows that there are just as many challenges as there are successes (if you're lucky… sometimes there are far more challenges)! It has been a challenge over the years to get consumers to trust that solid bar formulas are just as good, if not better than other liquid-based products.
That is why, first and foremost when developing a product, we consider how easy it will be to use it and that it must be as good as the leading product in the category, if not better. It is all well and good having a product that ticks all the ethical boxes, but people won't buy it again if it doesn't work. We also worked on the storage issue by developing compostable in-shower containers made of bamboo & corn starch. They look like plastic but are plastic-free and will biodegrade in your garden, yet last at least five years in your bathroom.
Of course, encouraging retailers and warehouses to ditch plastic is tricky, but as we grow, we have greater clout to encourage people to make these changes, so our impact is spreading into other companies, which is the greatest success.
With people becoming more and more interested in products which come in plastic-free packaging, have you seen an increased interest in your products? How are you managing this? 
Yes definitely! There is enormous momentum around the world for change, not just to become plastic-free, but also wanting to know if the ingredients are free from child labour, sustainably produced and that the people who produce them are paid well.
It's amazing to see that people are increasingly making more eco-friendly choices and have become truly loyal to the brand and love the products. We want to ensure our products are widely available, which is why we've partnered with some great retailers in the UK, including Holland & Barrett, Boots and Amazon. With more and more consumers switching to sustainable alternatives, we're also aware that we need to be innovative and continually think about our product offering to ensure we're delivering high-quality products that cater to everyone.
We have some very exciting product launches coming out soon!
What are your goals and plans for the future of Ethique? 
We have some big goals and some hefty plans to achieve them.
We have lots of new products and a whole new range set to launch next year – we want to create as many products as possible to help tackle plastic waste! My goal is for Ethique to become a globally trusted brand that 'puts a bar in every shower' and I mean that by inspiring other companies to make bar products too, as we can't do it by ourselves. I want to inspire other companies to follow suit and encourage them to look closely at their supply chains, packaging and every other aspect of their company to see how they can lessen their impact. We also of course want to continue to encourage consumers to make more considered choices when it comes to where they buy their products, but the onus needs to be businesses to make these changes. The consumer should not be shouldering the blame.
I want to inspire other companies to follow suit and encourage them to look closely at their supply chains, packaging and every other aspect of their company to see how they can lessen their impact.
What does true sustainability mean to you? 
It's simple really. On the environmental side, it means that we give back more to the planet than we take when we produce and use something. It means the entire life cycle is considered from sourcing, to manufacture, use and disposal.
On social sustainability, including everyone, it means paying people fairly, again throughout the entire lifecycle of the business and not valuing shareholders above all else.
It's treating everything and everyone like you want it to be there in 100 years.
What's your advice to businesses that are planning to transition to plastic-free packaging? 
It depends so much on the industry really, and in a lot of situations, transitioning to entirely plastic-free packaging is a non-starter. But it's about taking each step one at a time, eliminating something that is unnecessary or unsustainable (and not assuming that just because it's plastic, it's the worst option as some plastic options are better than wooden or paper ones for example).