Apple's Floating Store Opens in Singapore
The firs of its kind, Apple's third retail location in Singapore is entirely surrounded by the water of Marina Bay.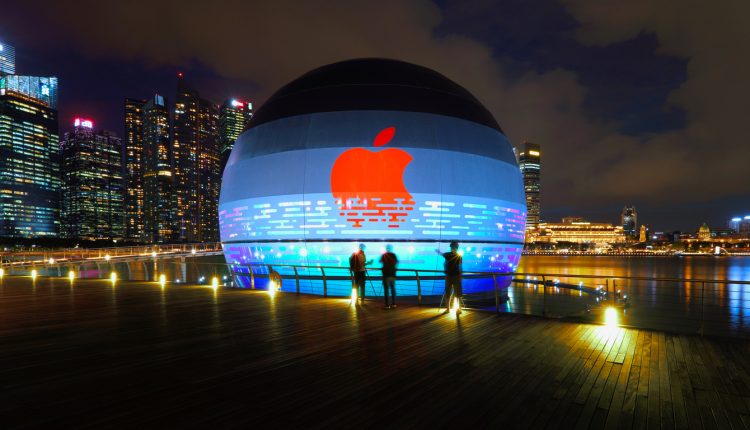 Thursday saw the opening of Apple's landmark Marina Bay Sands store in Singapore, following its unveiling on Wednesday.
Unique in its design, the store sits alongside the Marina Bay Sands hotel and is completely surrounded by the water of the bay, reachable only by a 45-metre underwater tunnel that can be accessed from the nearby shopping centre.
The store is spherical, composed of 114 pieces of glass and a mere 10 vertical mullions for structural connection. Its main space is an open-plan area that sits within the 30-metre-diameter done, affording visitors a 360-degree panoramic view of Singapore from the water.
It also features an oculus at the apex of the dome, allowing light to stream in from above, while a series of concentric light sunshade rings provide shade. The interior of the dome is lined with custom baffles shaped specifically to counter sun angles and provide illumination at night. Several trees also line the interior, casting softer shadows.
Perhaps most impressive is the lower level of the store, which contains Apple's first underwater boardroom, a wholly unique area for developers and entrepreneurs to hold meetings with Apple team members. Owing to Singapore's status as a hub of international business, the store's 150 staff speak a combined 23 languages.
The store was designed by London-based architecture studio Foster + Partners, which is known for other ambitious building projects primarily involving glass and steel. Some of its better-known projects include 30 St Mary Axe in London, more commonly known as the Gherkin, as well as the 2004 Millau Viaduct in France and the 1986 Hong Kong & Shanghai Bank headquarters in Hong Kong. It has also designed various other Apple stores globally.
The studio described the Marina Bay Sands store as its "most ambitious retail project" to date, and noted that its design was inspired by the Roman Pantheon.