Alcatel's UK & IRE Country Director William Paterson on the Future of Smartphones
This month we had the pleasure to connect with William Paterson - the UK and Ireland Country Director for both TCL and Alcatel, who has over 30 years' experience working within the mobile technology landscape. Below, we discuss all things Alcatel, technology and the smartphones of the future.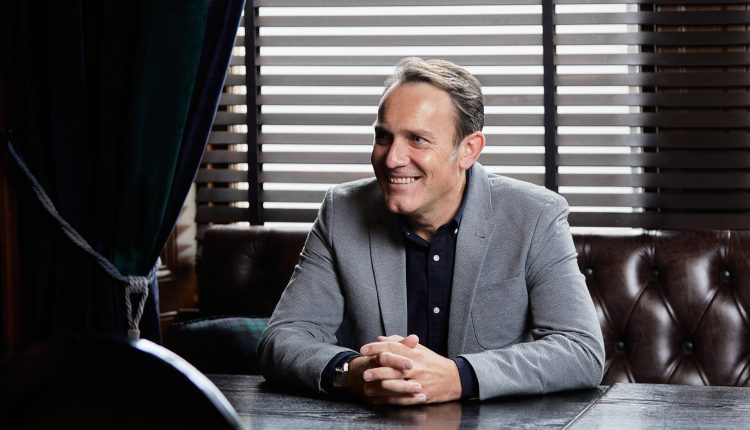 You've recently increased your activity in the world of B2B with the Alcatel brand. What drove that move and how is it going?
B2B is an area we've always worked in Alcatel; however, the current climate has made us rethink our focus. We've primarily been a consumer-driven brand, however, with COVID-19 impacting retail as heavily as it did, we knew early on that it would be essential to develop a new major facet to the business. We saw the importance of moving away from the brick and mortar stores and put more emphasis on channels outside of that.
We also recognised that given the current climate, businesses were going to have to make tough decisions about their costs and outlays. Our market positioning and catalogue of products allow us to help businesses who needed to reduce spend, ideally without sacrificing quality. That's where Alcatel Enterprise shines, as we can offer top-tier features at market leading prices.
Price isn't the only reason the company thrives in this sphere. Our range of products suit a multitude of business needs, whether looking for entry-level mobile phones, 4G smartphones, mobile broadband routers or tablets – we have the range to suit.
A great example of our success is in the healthcare sector. Our Alcatel 1S is the most affordable smartphone in the market boasting NFC functionality, a key feature used in many modern workspaces to tag in and out of offices or access rooms. In healthcare this is essential, so being able to offer it at an unbeatable price point instantly made us a player in that field.
The sudden enforcing of the 'home office' was another key moment for Alcatel Enterprise in 2020, as our mobile broadband product was an ideal solution for businesses requiring a secure network anywhere.
Both of these show how important already having this vast catalogue of products was for making our focused move into B2B so emphatic and seamless.
The catalogue of products is fantastic, but obviously, the thing that really drives us apart from the competition is price. Alcatel Enterprise, and you'll know this if you get in touch, just blow the competition out of the water on the prices we can offer. The old adage of 'too good to be true' might be ringing in some heads right now, but it's simple production chain efficiency. Alcatel products are sold in over 160 countries, so we're working in quantities that few can rival. We also own our own screen manufacturing plant, meaning we're producing incredible HD+ screens with blue light resilience at a fraction of the cost others are.
You know exactly what you're getting with an Alcatel handset, and that is safety, reliability and quality at a price point no one else can match.
It's exciting to be at the centre of an industry where every day, there's a new opportunity.
You've focused specifically on a few key products with that move. What made you fixate on those especially?
As I said earlier, we have a fantastic catalogue of products already at Alcatel, but we wanted to ensure that we had a few targeted products for when we entered into the B2B sector.
The easy decisions were focusing on the mobile broadband provided by our LinkZone MW40 device and the functionality available from our Alcatel 3T8 tablet. Both are ideal for this new working normal, where your home office is essential.
The Linkzone MW40 gives up to 15 secure Wi-Fi connections, ensuring your staff can stay connected safely no matter where they are. The Alcatel 3T8 is simply the best value tablet on the market, with 4G, Android 10 and much more out of the box at an amazing price point.
It's important to note that all Alcatel devices boast Zero Touch technology out of the box, meaning that when a business turns to Alcatel Enterprise for their telecom solution, our phones are ready to support them instantly, regardless of their enterprise mobility management (EMM) platform.
Making sure that our handsets are ready to handle whatever your business needs to throw at them.  It is a key reason we went with the Alcatel 1S and Alcatel 3L. With the Alcatel 1S boasting 3GB of memory, a feature that not long ago only belonged on budget-breaking handsets, it's got enough memory to support however your business wants to internally control handsets.
In what ways has the pandemic affected Alcatel and how has the company responded to the challenges it's presented you with?
As with all businesses globally, the pandemic meant we had to rethink the whole of our 2020 calendar activity as well as consumer needs. Fortunately, we're a very flexible, resilient organisation and our ability to react quickly worked in our favour. We have a very close-knit team; our Communications and Digital agency has worked with us for over a decade and a heavy emphasis on being digitally active has always been important to Alcatel. We ramped that up even further, making sure our messaging was always focused on being aware of the issues our consumers were facing and simultaneously driving traffic to our website to buy products.
We're lucky that product distribution wasn't an issue for us in the way it seems to have been for many companies, being one of the leading causes of loss incursion during COVID. Product was available to every channel that needed it and our sales team have incredible contacts with retailers, meaning we were always available when retail was crying out for the product to sell.
Another challenge during this time was also identifying new channels to sell through, to attempt to replace some of the lost revenue streams from the demise of brick and mortar during lockdown. One of the most successful examples was a partnership with television retail channel IdealWorld. We've since had several campaigns on their platform and, without revealing details, can say it was a massive success.
In the same vein, as we focused on product for our move to B2B, we also did similarly when deciding our strategy for the height of lockdown. We focused on the productivity products we have in that amazingly big portfolio, whether that be tablets acting as all-in-one entertainment stations for children and families, to mobile broadband when the Wi-Fi has been battered by use.
All of the above is how we worked to maintain profits during lockdown, but that genuinely wasn't our only priority. One thing we pride ourselves on at Alcatel is that we truly believe that technology should be available to everyone because people need to communicate. With that in mind, we donated tablets to the NHS to ensure that patients could keep in contact with loved ones. We also offered our Tech Team's services online, creating a huge amount of tutorial videos to help people who hadn't yet embraced technology understand how to keep connected with their families.
If you thought your phone was essential to your day-to-day before, just you wait for what's coming.
With over 30 years in the world of mobile phones, what do you think is the most amazing invention that has fully disrupted the industry?
The thing I've found most amazing about the industry isn't an invention, but more how fast-paced and ever-evolving it is. Constantly evolving and changing at an incredibly rapid pace. In what industry, over a 30-year period, could you see the type of technological advancement we've seen, especially in just the last decade?!
We've had analogue, 2G – 5G, Mobile and Smartphones all the way to foldable devices now which I am sure we will continue to see becoming more common.
It's also incredibly exciting to look at the near future. If we've done what we have in the last 10 years, what do the next 10 hold? It's exciting to be at the centre of an industry where every day, there's a new opportunity.
What do you think the future of smartphones will look like?
Two big changes are coming to smartphones that I'm excited for, and we can already see them coming.
Firstly, your phone is going to become effectively the only thing you need to carry. Currently, phone payments and 'wallets' are on their way to becoming normal, and that's a sign of what's to come. Your phone will soon function as your ID, your car keys, your home keys and the hub to your entire home.
It's a thing of the not distant future that as you drive home, with your destination pre-set by your phone and car driving itself when you hit a pre-determined location on your commute, your oven will turn on, heating get going, whatever it is you need to make your arrival back at your home as comfortable as possible.
If you thought your phone was essential to your day-to-day before, just you wait for what's coming.
The second big change I can't wait for is the development of form factors. Currently, a smartphone is a black rectangle and has been for a while now. But that's only because we're still perfecting the tech that goes inside it. Now that we're approaching a peak of the inner workings of the modern smartphone, we can start revolutionising how they look, and that's starting with the foldable phones that are starting to be released.
But flexible displays are just the beginning. Smartwatches are a good sign of what's coming, as the entire power of a smartphone on your wrist is an exciting development. Losing a phone can be easily done, but if its entire functionality is strapped to your wrist in a package the size of a watch. The premise of being 'attached to your phone' takes on a whole new meaning.
What's next for Alcatel? What is the company currently working on?
We really pride ourselves on our ethos of 'Great Tech, Great Price'. We evaluate and take time to look at what happened in the industry last year and build upon that to create an affordable product. Will we lead the market in innovation? No, but the mobile phone industry is full of companies who are just running to the next big technological advancement, always at great expense to the consumer. Not enough are looking at the most crucial step of innovation: democratising it.
What's the point of the world taking leaps forward in technology, if most people are priced out of the market? Especially just now, when money for 90% of the planet is at a premium, someone has to be out there bringing all this great innovation to the regular phone user, who wants the best tech, but without choosing between that and paying their bills.
That's the space we occupy now, and the one we intend to stay in. We're dedicated to constantly evolving with our customers to keep giving them what they need most. Great Tech, at a Great Price.
What have been your biggest achievements with Alcatel? What are you most proud of?
There are a few obvious answers to this question, and each of them means a lot to me.
There's making Alcatel the number 3 brand in the UK, truly being the People's Champion of phone brands. Great Tech at a Great Price resonates with people and it's the reason we're a go-to phone for people who can't afford or don't want the latest, cutting edge tech. I'm also delighted to say that the UK is the biggest country in Europe for the Alcatel brand.
Another thing I'm immensely proud of is being involved in the challenge of evolving a brand that's been part of the market consistently longer than any other. We've done that by always engaging with our customers in the best way possible. Alcatel prides itself on identifying their needs and providing them at market leading prices, and that challenge to innovate and provide means I'm never tired of doing this.
However, and this is the honest truth, the thing I'm most proud of is that, despite selling millions of products, I still get a thrill when I see someone in the street using our handset.